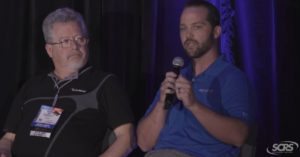 The Society of Collision Repair Specialists on Tuesday announced it had posted video of its 2019  OEM Collision Repair Technology Summit sessions.
The footage available for free on the SCRSCollision YouTube channel allows repairers who couldn't make last year's SEMA to hear from the automakers and other subject matter experts gathered there.
If your shop is still experiencing a business lull due to the COVID-19 coronavirus response, why not fire up one of the videos and learn about vehicle technology, welding, or OEM repair procedures?
"SCRS encourages our audience to watch, and vigorously share all three videos throughout the industry," the trade group wrote in a news release Tuesday
'From substrate to surface'
The "From substrate to surface – preparing for emerging trends in automotive technology" video features SEMA vehicle technology Vice President John Waraniak, Materials Sciences Corporation Chief Technology Officer Matt Murphy and DEKRA Services managing director Christian Ruecker.
Whet your appetite for the course with our coverage of two of its speakers:
'OEM procedures and technical support'
"HELP! A comprehensive conversation surrounding accessibility to OEM procedures and technical support" saw Collision Advice CEO Mike Anderson moderating a panel featuring Dan Black, FCA advanced body development and collision repair manager; Honda collision repair chief instructor Scott Kaboos; Subaru wholesale parts specialist Nicole Riedel; and Eric Mendoza of Toyota collision operations.
SCRS said the session offered "a fast-paced panel discussion" as the automakers present "highlight accessibility and use of OEM procedures, and resources that exist in the way of help lines, technical support, and other means to support repair facility businesses who have adopted an OEM focus on repairs."
If you're having difficulty finding items in FCA, Honda, Subaru and Toyota repair procedures or have questions or suggestions about those procedures, this is the course for you.
Here's prior coverage to give you an idea of what to expect:
'Meeting the OEM expectation in welding'
SCRS released video of its final session, "Meeting the OEM expectation in welding," on Thursday. It's a must-watch session for repairers, for the panel discussion suggested that the industry might be delivering improperly welded vehicles to consumers.
Vehicle Collision Experts CEO Mark Olson moderated panelists Audi collision instructor and curriculum designer Shawn Hart, Jaguar Land Rover program consultant Rick Miller, Reliable Automotive Equipment President Dave Gruskos, Spanesi Americas technical training specialists and OEM liaison Robert Hiser and Pro Spot training development manager Ryan Swanson.
"The nearly two-hour long program explores the topic of resistance welding; one of the most critical steps in joining together the structural elements of a vehicle, and one that can be impacted by both practice and process within your facility," SCRS wrote Tuesday. "The panel … focuses on improving weld performance through maintenance, frequent training, practice protocols, destructive testing, quality control considerations, and expands on questions posed by the live audience.
Here's prior coverage from Repairer Driven News:
Subscribe to the SCRSCollision YouTube channel to learn when new content appears.
More information:
"SCRS Releases all Three OEM Summit Videos"
Society of Collision Repair Specialists, June 2, 2020
"SCRS OEM Summit: Audi, JLR, RAE, Spanesi and Pro Spot discuss the OEM expectation in welding"
SCRSCollision YouTube channel, May 28, 2020
"SCRS OEM Summit: FCA, Toyota, Subaru and Honda discuss OEM procedures and technical support"
SCRSCollision YouTube channel, April 2, 2020
"SCRS OEM Summit: From Substrate to Surface – Emerging Trends in Automotive Technology"
SCRSCollision YouTube channel, March 19, 2020
NASTF OEM repair procedure portal
Featured image: Spanesi Americas technical training specialists and OEM liaison Robert Hiser, left, and Pro Spot training development manager Ryan Swanson participate in the SCRS OEM Collision Repair Technology Summit on Nov. 7, 2019. (Screenshot from SCRS YouTube channel)
Share This: