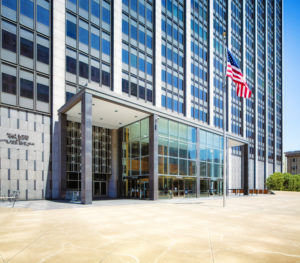 The Northern District of California U.S. Attorney's Office has charged a collision repairer with two counts of wire fraud and and one count of making a false statement in a loan application, alleging June 5 the man had since 2013 "fraudulently obtained at least $8 million through his illegal conduct."
One of Geoffrey Palermo's wire fraud charges involves behavior the FBI called part of a construction kickback scheme at a San Francisco, Calif., Hilton.
The other two charges allege Palermo, 56, of Novato, Calif., misled lenders and improperly borrowed about $6.7 million for his auto body company GMP Cars — including about $1.7 million though an April Paycheck Protection Program loan.
"What is particularly galling about the conduct alleged in the complaint is that while Geoffrey Palermo was wrongfully receiving PPP funds, he was not paying required payroll taxes for his employees, making it difficult or impossible for his employees to obtain the benefits to which they were rightfully entitled," U.S. Attorney David Anderson said in a statement June 5. "PPP funds are intended to protect the many, not to enrich the few.  The fraud alleged in the indictment reversed Congressional intent by depriving employees and enriching Palermo."
If convicted, Palermo could face up to 20 years for the wire fraud allegations and up to 30 years on the false statement accusation.
Attorney responds
Palermo's criminal attorney Matthew Jacobs, a partner at Vinson & Elkins, said Palermo would defend himself "vigorously in court."
"Mr. Palermo intends to fight these various charges," said Jacobs, who we interviewed regarding both the criminal case and recent civil cases by Justice Investors and FinishMaster against Palermo. (David Bate of Bate & Bate, Palermo's attorney in the civil litigation, referred us to Jacobs.)
"… We're looking forward to the opportunity to clear his name," Jacobs said.
Jacobs said the criminal case seemed to mimic the Justice Investors case, calling it "unusual" for the government to use allegations from a civil case wholesale.
A GMP Cars representative said the company had no statement.
Jacobs said GMP Cars remained open. It was "actively in business and serving its customers" in an "excellent way," he said.
GMP Cars' website lists six locations. It says the MSO carries multiple OEM certifications.
The U.S. Attorney's Office alleged that "Palermo's reliance on the company's funds to finance his personal expenditures left the company in financial distress."
Asked if staff and vendors were concerned about paychecks and accounts receivable, Jacobs said the case involved merely "unproven allegations" and employees were serving customers at the shop.
"There's a long way to go here," he said.
Palermo appeared before the court June 10 and has surrendered his passport. Court records show he had been assigned an unsecured bond of $4 million and an appearance bond of $1 million.
Hotel allegations
The government accused Palermo of embezzling "large sums of money" from the San Francisco Hilton he managed for owner Justice Investors.
"One contractor frequently hired by Palermo for projects at the hotel is suspected of paying Palermo approximately $1.5 million in kickbacks between March 2013 and June 2016," the U.S. Attorney's Office wrote in a news release. "Palermo allegedly ensured that the contractor's inflated or fraudulent invoices were paid by Justice Investors, LP, the owner of the hotel.  After depositing Justice Investor checks to his business banking account, the contractor transferred funds into an illegitimate living trust bank account and then wrote checks back to Palermo or entities associated with Palermo."
Justice Investors sued Palermo in June 2018. In September 2018, it filed an amended complaint alleging he had been part of a "fraudulent scheme spanning years" The company accused him of fraud; breach of fiduciary duty, contract and implied covenant of good faith and fair dealing; conversion and violation of California Penal Code Section 496. It also sued for claim and delivery, accounting and rescission or restoration.
A companion 2019 lawsuit against former Justice Investors Director of Finance Kristara Santos alleged she was part of Palermo's scheme and also moonlighted as chief financial officer of GMP Cars. Justice Investors estimated that Alonzo and her personnel spent more than 50 percent of their time working for a different hotel, Palermo and/or his companies like GMP Cars.
Justice Investors accused both Santos and Palermo of causing it to pay $3,000 monthly for a June-December 2014 exotic car event benefiting Palermo and GMP Cars; $39,300 between 2014 and 2015 for other GMP Cars exotic car events; more than $81,500 to sponsor Palermo's Ferrari Owners Group events in part to benefit GMP Cars; and $3,300 for a rendering at the Golden Gate Ferrari Festival to benefit the auto body shop.
Justice Investors claimed Santos amortized these over a year "in an attempt to cover them up by making them seem smaller than they actually are. As a further cover up, she disguised many of these wrongful expenditures as 'public relations' expenses, which they were not."
The company alleged she also "facilitated the transfer of millions of dollars from GMP Management to Palermo and GMP Cars, effectively laundering the funds GMP Management had embezzled from Justice." Justice Investors said this included nearly $1.74 million to GMP Cars without notification to Justice's managing general partner.
Bate, who also represents Santos, did not respond to a request for comment on her case.
The Justice Investors cases against Palermo and Santos are slated to go to an amended arbitration procedure with both Palermo and Santos acting as co-respondents.
FBI: Loans obtained despite 'immense financial difficulty'
Palermo moved to GMP Cars after leaving the Hilton in 2016. An affidavit by FBI Special Agent Alexandra Bryant accused him of using the local multi-shop operation's money "to pay for personal auto racing expenses and other lifestyle purchases, leaving the company with mounting debt." Bryant said she thought by 2019, the business was in "immense financial difficult due to PALERMO's lavish spending habits."
Bryant said Palermo had by mid-2019 "significantly overdrawn" the auto body shop's bank accounts and failed to pay money it allegedly owed to vendors and the former owner of German Motors Collision Center. GMP Cars bought the competitor in January 2019.
GMP Cars had accounts at CW Bank since August 2018. By summer 2019, the shop "was writing checks with insufficient funds to cover the checks, depositing checks that bounced, and overdrawing the accounts," Bryant wrote. "A CW Bank employee regularly spoke to PALERMO about these issues."
On Aug. 20, the bank told Palermo his company carried an $850,926.60 overdraft, according to Bryant. In September, the bank agreed to accept a check from Palermo's personal account, and he submitted three checks worth a combined $435,000, she wrote.
"All three checks bounced due to insufficient funds," Bryant wrote.
GMP Cars's overdraft sat at $738,706.44 on Sept. 30, 2019, and the bank restricted his accounts, the affidavit stated. Palermo allegedly blamed the bounced checks on his other bank and his own recent hospitalization for heart surgery but ultimately acknowledged he didn't have the money, according to Bryant. By Nov. 29, 2019, the GMP Cars operating account carried a negative balance of $338,875.08, she wrote.
Meanwhile an "INVESTOR A" who owned 1 percent of the shop permitted Palermo to use his American Express card in September to handle a cash-flow issue, according to Bryant. (Palermo told the investor the shop lacked a line of credit, Bryant wrote.) Bryant said the agreement involved the card being used just once.
"PALERMO, however, used INVESTOR A's American Express card multiple times, and by September 2019, INVESTOR A's American Express card had approximately $190,000 in unauthorized GMP Cars charges, for which PALERMO had not reimbursed INVESTOR A," Bryant wrote. As of January 2020, the investor was still owed $171,000, she wrote.
Palermo and his wife's own American Express cards records showed him making payments of more than $10.7 million between January 2015 and August 2019, according to Bryant. Yet on Aug. 31, 2019, American Express cut his limit from $200,000 to $50,000 amid a balance of $192,405.20, Bryant wrote. By Dec. 31, 2019, the credit card company cancelled his account with an outstanding balance of about $192,000, she wrote.
Palermo also charged about $1,061,110 at GMP Cars to his own American Express card between July 2018 and August 2019, according to Bryant. "I believe PALERMO did this to generate cash at the stores and possibly also to artificially inflate revenue," she wrote.
Palermo also in summer 2019 allegedly owed German Motors Corporation after purchasing its German Motors Collision Center for $5.2 million on Jan. 31, 2019.
"The president and vice president of German Motors Corporation stated during an FBI interview that they were surprised at the closing because PALERMO wired approximately $1.1 million, but then wanted to enter into a promissory note for the remaining $4.15 million due," Bryant wrote.
The seller agreed to accept monthly payments of $250,000 and 8 percent interest between that point and Dec. 31, 2019; Palermo was also supposed to contribute funds raised by auctioning off some vehicles, Bryant wrote.
She said that Palermo quit paying on the debt and modified the deal terms May 31, 2019, to pay $203,553 in back principal and interest.
"PALERMO was also supposed to send $500,000 within 60 days of this updated note, but PALERMO did not do so," she wrote. "Palermo also did not auction off the vehicles as specified."
As of May 30, 2019, Palermo still owed the former owners nearly $3.93 million, according to Bryant.
German Motors Corporation then allowed a second loan modification on Aug. 20, 2019, demanding $500,000 no later than Sept. 27, 2019, according to Bryant. As of Aug. 31, 2019, Palermo still owed nearly $3.83 million, she said.
With a few million in debt outstanding, Palermo applied for more than $4.8 million in Small Business Administration loans on Aug. 8, 2019, according to Bryant. The lender had provided an approval memo for its loan committee by Sept. 26, 2019, and told GMP Cars on Oct. 1, 2019, it would submit the loan to the SBA, she said. The loan cleared Dec. 19, 2019, she said.
Neither the overdraft, usage of the investor's American Express card or German Motors Corporation payment modifications were disclosed to the SBA lender in a debt schedule, Bryant alleged.
She said Palermo's loan application also included a falsified copy of the January 2019 promissory note to German Motors Corporation.
"I believe paragraphs 2.2 and 3 were altered to make it appear that PALERMO only owed monthly interest payments and the maturity date was 2021, when in fact in the original promissory note, PALERMO owed interest and principal payments and the maturity date was December 31, 2019," Bryant wrote. (Emphasis hers.)
According to Bryant, German Motors Corporation ultimately did approve a 2021 maturity date, but not until the May 2019 loan modification.
"Our office will aggressively investigate any false statements made to gain access to SBA's programs," SBA Office of the Inspector General Special Agent in Charge Weston King said in a statement. "OIG and its law enforcement partners are poised to root out fraud in SBA's programs and bring wrongdoers to justice."
Bryant said current and former GMP Cars employees told the FBI GMP was not generating a profit in 2019. She said a former general manager of one location believed almost every store was losing money in 2019 and the broader company must be in the red.
"A former general manager of one GMP Cars location told me that GMP Cars had a bad reputation with other auto shops and auto parts vendors," Bryant wrote. "Some auto part vendors would not sell GMP Cars parts and others would not allow GMP Cars to pay by check. PG&E would shut off the electricity in 2019 for non-payment. Employees' paychecks sometimes bounced."
A staff accountant also told the FBI that each GMP Cars location constantly lost money last year, according to Bryant. "The staff accountant did not think there was any way the company was generating a profit or positive net income in 2019," she wrote.
PPP loan questioned over payroll taxes
The FBI challenged Palermo's PPP loan application on different grounds than the other SBA-backed loan. According to Bryant, Palermo's request for a $1,733,000 PPP loan included confirming that his company "had employees for whom it paid salaries and payroll taxes."
Bryant alleged this to be false "because there is probably cause to believe that PALERMO did not properly pay payroll taxes for his employees in 2019 to 2020."
"The FBI, along with our federal partners, will actively pursue this type of criminal behavior—especially of those seeking to fraudulently profit from the current health crisis," FBI Special Agent in Charge John Bennett said in a statement. "This case exemplifies how collaboration with our federal partners is vital to these investigations."
Bryant said GMP Cars reported 100 employees to the California Employment Development Department in the first quarter of 2019. But GMP Cars said it only had five employees in the second quarter and a single employee in the third quarter, according to Bryant.
A GMP Cars human resources employee told the FBI that laid-off GMP Cars employees say the California unemployment agency have them on record as making nothing or a tiny amount, according to Bryant. The HR employee wound up reporting correct salary information to the EDD manually, Bryant said.
A former GMP Cars HR employee also said the state had told GMP Cars employees they hadn't paid taxes despite W-2s saying they did, according to Bryant. "The former employee thought this was a red flag and decided to investigate," Bryant wrote.
That former employee provided the FBI with an internal GMP spreadsheet appearing to show $341,732.80 owed in payroll taxes, Bryant's affidavit states.
Bryant said she only found four payments on Palermo's American Express card for a combined $61,469.64 to the Employment Development Department between January 2015 to August 2019. She said she found no payments to the agency on a GMP Cars LLC account.
More information:
"Bay Area Hospitality And Automotive Executive Charged With Fraud"
U.S. Attorney's Office, Northern District of California, June 5, 2020
Featured image: The San Francisco Federal Courthouse building is shown. (Nicolas McComber/iStock)
Share This: