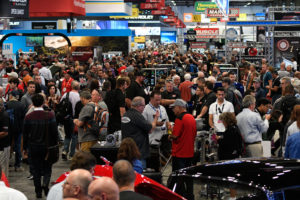 SEMA announced Thursday that attendees must wear a mask or face shield to attend the massive automotive aftermarket trade show Nov. 3-6 as a precaution against the COVID-19 coronavirus.
The organization will also "Designate entrance and exit areas to control and screen visitors with discrete daily health queries, incorporating non-invasive thermal cameras, etc.," it wrote in a news release Thursday.
"Just like the world we live in today, this year's SEMA Show will be different," SEMA events Vice President Tom Gattuso said in a statement. "We recognize the challenges that the industry is going through, and we've made changes so that the industry will be able to gather and conduct business safely."
The floorplan will include hand sanitizer every 200 feet and "one-way aisles where possible," SEMA wrote in the news release. It also plans to reduce touch points at onsite registration and reduce registration density with satellite stations, preregistration and badges delivered by mail.
SEMA is closed to the public and would-be attendees checked for badges during normal times. But a SEMA "Safety Guidelines" webpage also describes a plan to "Secure venue to allow only qualified Showgoers onto a closed campus both indoors and outdoors" as a new step for this year, perhaps implying a tighter perimeter than usual.
SEMA wrote in the news release it also plans to require "frequent hand washing and social distancing."
"SEMA staff, contractors, exhibit staff will be REQUIRED to follow SEMA safety protocols, including use of personal protective equipment at all times, health queries, temperature checks, frequent hand washing, etc.," SEMA wrote on the safety guidelines webpage. "Exhibitor Appointed Contractors (EAC) and union labor will also be REQUIRED to follow SEMA safety protocols, as well as ESCA safety guidelines."
Common areas and the show floor will receive sanitizing every hour for "high traffic areas … including doorways, elevators, and escalators," according to SEMA's news release. SEMA also described nightly sanitization as part of its work with the Las Vegas Convention Center "in their advancements to be among the first in the nation to pursue certification for safety measures aimed at outbreak prevention through actions such as sanitizing the facility nightly."
SEMA said the show has 1,800 exhibitors this year, which is 600 lower than the final tally listed in the SEMA 2019 fact sheet but still a good sign for the show. SEMA preregistration typically draws around 2,000, Gattuso said.
Plus, it's only July. Gattuso said SEMA still is open to exhibitor applications for months after the preregistration deadline, which was March 27 this year.
"As a trade event focused on doing business, the SEMA Show is unique," Gattuso said in a statement Thursday. "We're confident that we can successfully host an event where businesses can connect safely."
SEMA predicted the show would bring value despite the changes.
"In some respects, it will be one of the most challenging events the association has delivered," SEMA wrote on its safety guidelines webpage. "But it will also be among the most rewarding for those participating. SEMA members have made clear the event is essential this year to help the industry renew business ties, find new opportunities, and accelerate into a successful 2021. While there's no doubt that the 2020 Show will be different, the SEMA team is making plans to preserve the Show's core business value in a safety-first environment."
Hear a SEMA update directly from Gattuso during the Society of Collision Repair Specialists virtual Zoom open board meeting from noon to 2 p.m. CT on July 20. The event is free, and all are welcome, members and nonmembers alike. SCRS only asks that you preregister here.
Nevada as of 10:30 a.m. Thursday had 31,915 confirmed COVID-19 coronavirus cases and 626 deaths.
More information:
SEMA Show "Safety Guidelines" webpage
SEMA, July 16, 2020
SEMA, July 16, 2020
"2020 SEMA Show Safety Precautions"
SEMA, July 16, 2020
"2020 SEMA Show Safety Update"
SEMA YouTube channel, July 16, 2020
Featured image: SEMA 2017 is shown. (Provided by SEMA)
Share This: