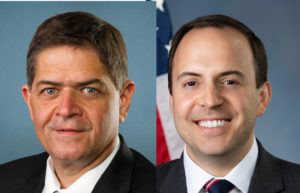 A bipartisan duo of Texas U.S. representatives on July 20 filed a bill proposing government grants worth four months of certain operating expenses to bolster small businesses impacted by the COVID-19 response.
Unlike the popular Paycheck Protection Program's forgiven loans, House Resolution 7671, the "Small Business Comeback Act," essentially treats its payouts of up to $50 million as a gift. There's no interest or maturity date involved.
The bill sponsored by U.S. Rep Filemon Vela, D-Texas, and Lance Gooden, R-Texas, establishes a program intended to act like the 9/11 Victims Compensation Fund. A special administrator appointed by the treasury secretary would set up the system and dispense the funds quickly. The president would nominate and the Senate approve an inspector general to keep tabs on the administrator, and congressional leaders would also appoint a five-member oversight board to keep an eye on everything.
Businesses could request the lesser of four months of operating expenses or $50 million, with the caveat that the monthly payments can be adjusted "to take into account increases or decreases in such applicant's revenue over the previous month." For example, if auto crashes pick up and your body shop posts higher sales, the government would cut you a smaller check the next month.
"Small businesses in the 34th District of Texas and across the nation are struggling to keep their doors open," Vela said in a statement July 20. "This bill seeks to fill the gaps of previous legislation by providing immediate relief in the form of flexible grants to establishments in need. As the uncertainty of this public health crisis continues to grow, I remain committed to ensuring businesses in my community and across the nation have access to the resources they need to see it through these difficult times, the Small Business Comeback Act helps accomplish that."
Within six months of the end of a covered period, the business reports its operating costs and revenue to the special administrator and must pay back any "excess recovery compensation" in what's called a "final netting."
Companies can spend the money on payroll, health benefits, insurance premiums, mortgage interest, rent, utilities, disaster loan payments, PPP loan payments, interest on any debt before March 1 — and federal, state and local taxes.
"This legislation will deliver a massive win for small businesses, workers, and consumers all across America. It improves upon the framework used in the Paycheck Protection Program because it is designed to provide freedom and flexibility to the businesses who were harmed by mandated closures," Gooden said in a statement July 20. "We wanted to reduce restrictions on how they could use the money. We're not helping anyone if we cover them in red tape and new regulations just as they're trying to get back on their feet. With this legislation, we can take a strong step toward seeing our economy through one of the greatest challenges it's faced in a century."
Businesses must retain 90 percent of the workforce in place when they applied to the fund. They must also restore pay and benefits to at least 75 percent of their March 1 workforce four months after whenever the national COVID-19 public health emergency ends. Companies must also keep paying employees who tested positive for COVID-19 or were exposed to COVID-19 on the job.
Body shops who apply to the fund will receive access to money quickly. The special administrator must approve, deny or request more information on an application within 30 days and authorize the actual payment within another five days.
But it's possible for the applicant to receive 25-75 percent of the full amount even sooner to help tide them over. The law calls for the special administrator to make a decision on such interim compensation requests within 15 days, with the money authorized in the next five more days after that.
Anyone applying for monthly payments above $1 million can receive 25 percent of that amount early. Anyone seeking more than $100,000 but less than $1 million a month can request up to 50 percent early, and anyone hoping for grants averaging $100,000 or less monthly can pursue up to 75 percent of the cash.
The bill doesn't establish an upper limit on who can apply. However, it commands the special administrator to prioritize funding for small businesses, independently owned franchises, female- or minority-owned businesses, businesses in low- to moderate-income or rural areas and businesses who are suffering worse than others because of COVID-19.
More than 100 local and national businesses associations — including automotive aftermarket players like the Society of Collision Repair Specialists, Automotive Service Association and Auto Care Association — have joined together as the America's Recovery Fund Coalition and advocated a federal COVID-19 business grant initiative. The coalition expressed enthusiasm July 20 for Vela and Gooden's approach.
"We wholeheartedly endorse and support the legislation introduced by Representatives Vela and Gooden to establish the Small Business Comeback Act," AFRC research director Trevor Hanger, said ina statement. "In this bill, we finally have a vehicle to cultivate a sustainable economic recovery. By prioritizing the hardest-hit businesses and with greater flexibility in how the money can be used, the Comeback Act will help fill the gaps left by earlier programs and give business owners the immediate relief and certainty needed to keep their doors open. As repeated shutdowns and rollbacks of reopening plans continue to disrupt the economy, this legislation will provide the stability that Main Streets across America so desperately need. We thank Representatives Vela and Gooden and call on Congress to pass the Small Business Comeback Act now. The longer we wait, the more costly – and perilous – inaction becomes."
Be heard: Congressional contact information can be found here.
More information:
"PRESS RELEASE: CONGRESSMAN VELA AND GOODEN UNVEIL LEGISLATION TO CREATE RECOVERY FUND FOR AMERICA'S SMALL BUSINESSES"
U.S. Rep. Filemon Vela's office, July 20, 2020
"LEGISLATION CALLS FOR FEDERAL GRANTS TO SUPPORT BUSINESSES DEVASTATED BY PANDEMIC"
America's Recovery Fund Coalition, July 2020
From left: U.S. Reps. Filemon Vela, D-Texas, and Lance Gooden, R-Texas. (Provided by Congressional Pictoral Directory, Gooden's office)
Share This: