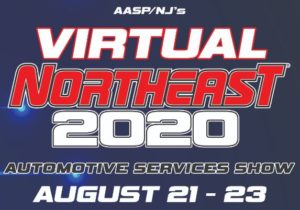 NORTHEAST has more than 100 vendors signed up for its virtual format, with some even offering show discounts on their wares, organizer Thomas Greco Publishing said Wednesday.
The turnout and deals seem like good signs for a collision industry event that TGP President Thomas Greco noted would serve as the "litmus test" for virtual trade shows during the COVID-19 pandemic.
"We'll learn from it," said Greco, whose company who hosts the show in partnership with the Alliance of Automotive Service Providers of New Jersey. While the event would never be a true substitute for a physical show, it might be possible to augment future NORTHEASTs with a virtual feature, he said.
Greco said one person given a sneak preview of the 2020 NORTHEAST called the format "'much better than I expected.'"
The free show also received a boost from the recent addition of a high-profile opening act.
Gold sponsor Ford has invited all NORTHEAST attendees to a free workshop 3-5 p.m. Friday on repairing its vehicles after a collision.
"This two-hour workshop will be presented by Ford in cooperation with I-CAR© and is intended to provide a variety of useful information about Ford vehicles, technological advancements and collision repairs," NORTHEAST wrote in an email Wednesday.
"The workshop will be held in an online webinar format and is designed specifically for shop management, estimators and auto physical damage appraisers. It will overview Ford's collision philosophy, review current product lines, navigate the repair website, identify the most frequent types of damage on Ford vehicles and discuss the latest collision repair methods for Ford vehicles."
The physical NORTHEAST, which is typically held in March, was an early casualty of the coronavirus as the disease emerged as a U.S. threat that month. Thomas Greco Publishing and AASP-NJ originally postponed the show to Aug. 21-23, but in June dropped plans for an in-person event in favor of a virtual one.
The virtual show will still run the same hours as the in-person August version would have: 5-10 p.m. Friday, Aug. 21; 10 a.m.-5 p.m. Saturday, Aug. 22; and 10 a.m.-3 p.m. on Sunday, Aug. 23. It's free to everyone, AASP-NJ members and nonmembers alike.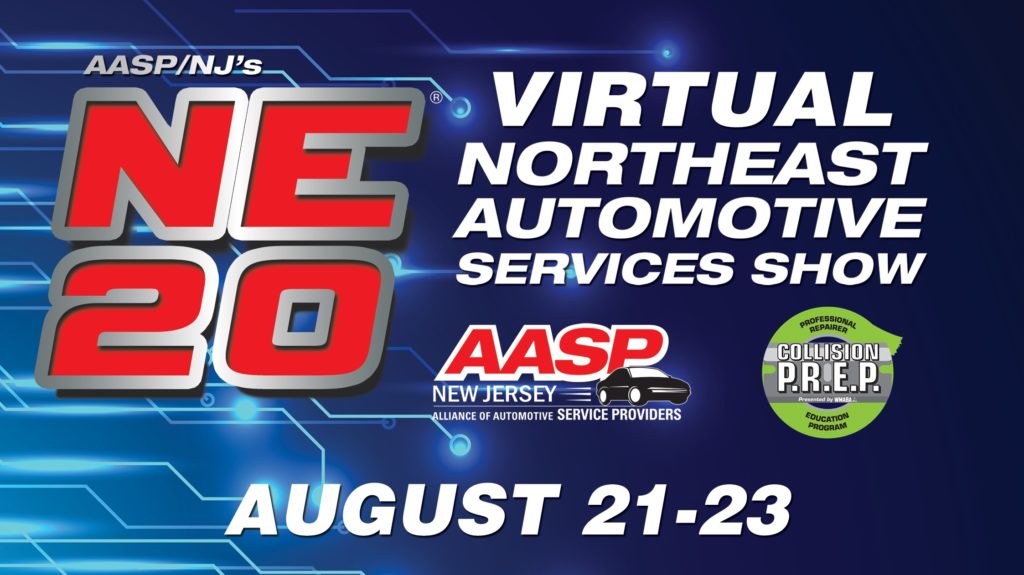 "It's a courtesy on our part," Greco said. His sentiment was echoed Monday by the Alliance of Automotive Service Providers of New Jersey.
"As excited as we are, we know nothing can take the place of an actual in-person NORTHEAST trade show and we aren't expecting nor trying to duplicate the unique experience that our vendors and attendees have come to know over the last five decades," AASP-NJ President Jerry McNee (Ultimate Collision Repair). "But we live in a different world right now and as hopeful and optimistic as we are for the future, right now we are doing everything we can to help those who have supported us all these years. The virtual show is our way of showing our appreciation, of showing that we aren't just going to let 2020 go by without a NORTHEAST presence. Hopefully, everyone will get something out of it and build on that for NORTHEAST 2021."
AASP-NJ on Monday said attendees could "visit exhibitors' virtual 'booth' pages online, view product information and videos, and even schedule virtual meetings with vendors."
Thomas Greco Publishing sales director and Vice President Alicia Figurelli pointed out that this would house brands in a single location, rather than a collision repairer seeking out a series of separate vendor websites.
"It's one-stop shopping," she said.
The virtual show will be sortable by company name and product category.
If you needed a bench, for example, you could check out a Celette site, then immediately view competitors' virtual booths within the same category on the NORTHEAST website. You wouldn't need to seek out a series of separate vendor websites, Figurelli said.
While vendors aren't required to man virtual booths during the entire event, attendees will find some representatives available for either immediate one-on-one Zoom conversations or scheduleable meetings, according to Figurelli.
"We are still disappointed that we were forced to cancel the actual NORTHEAST show," McNee said in a statement. "But we are very excited to be able to bring some semblance of the experience to our exhibitors and attendees through the virtual show starting next weekend."
NORTHEAST's Collision P.R.E.P. educational series presented by the Washington Metropolitan Auto Body Association also has returned in a virtual format, though none of its courses will be held during the virtual NORTHEAST.
The first class ran Aug. 6. It'll be followed on Aug. 27 by "Positioning Your Business for Sustainability Among Constant Change" by BASF business development manager John Shoemaker. Next up will be "Utilizing the Vehicle Owner's Manual to Educate Consumers and Insurers," presented by Database Enhancement Gateway Administrator Danny Gredinberg and Collision Advice CEO Mike Anderson on Sept. 30. The final Collision P.R.E.P. class, "Vehicle Diagnostics & Calibrations: Know what you know…but more importantly, what you don't know," is scheduled Oct. 22 and will be taught by AirPro automotive technology Senior Vice President Chuck Olson and AirPro strategic business operations Vice President Josh McFarlin.
All Collision P.R.E.P. courses will be held at 1 p.m. ET. They're $50, but free with pre-registration and to WMABA members.
More information:
Collision P.R.E.P. courses on NORTHEAST website
"AASP/NJ Gearing Up for Upcoming Virtual NORTHEAST 2020 This Weekend"
Alliance of Automotive Service Providers, Aug. 17, 2020
Images:
NORTHEAST will host a virtual version of the popular trade show in 2020. (Screenshot from www.aaspnjnortheast.com)
NORTHEAST will host a virtual version of the popular trade show in 2020. (Provided by NORTHEAST)
Share This: