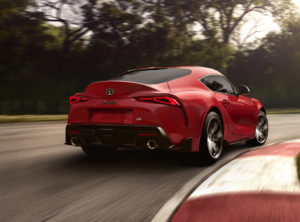 The latest Toyota Collision Pros magazine draws attention to the OEM's collision repair restrictions on two of its rear bumper fascias.
The OEM showed a screenshot from a repair procedure section containing rules for repairs and refinishing the certain 2020 Camrys. (The image came from the Toyota manual for 2020 Camrys produced between September 2019 and March 2020. A separate manual exists for Camrys built after that time period.)
Certain operations aren't permitted in the rear bumper fascia area through which the blind spot monitoring system's electromagnetic waves pass. The repair procedure also provides the measurements a repairer will need to find the boundaries of that restricted area.
You can't repair at least some 2020 Supra rear bumper fascias at all, according to the Collision Pros article.
"Note that under the "Work Notices and Precautions" section no repairs are to be performed—the part must be replaced if it is damaged," Toyota wrote in the magazine. It added a screenshot from its OEM repair procedures pertaining to Supra blind spot monitors.
"If the rear bumper is damaged, replace it," Toyota's Supra repair procedures stated Monday. "Do not perform repairs, as the damage may have affected various sensors."
The document also said you only get one crack at refinishing a replacement bumper.
"The unpainted replacement rear bumper can only be painted 1 time," Toyota wrote in the repair procedures. "Afterward, the rear bumper cannot be repainted."
It's unclear what restrictions apply if the driver didn't buy the Supra options package containing blind spot monitoring.
The instructions on the fascias came during a Collision Pros article explaining broader characteristics of Toyota plastic and resin parts.
Toyota said shops will encounter some thermoplastic parts and some thermoset parts.
According to the OEM, the major distinction is that thermoplastic parts can be softened temporarily with heat or solvents, while thermosets can't.
It said repairs planning to work on a plastic or resin part need to know which kind of plastic it is. (For example, a fasica might be thermoplastic, while the 2012-18 Prius v's polycarbonate roof is thermoset, according to Toyota.) Check the repair procedures, Toyota said.
The Collision Pros article showed an example of such information off the exterior resin parts instructions for the September 2019-March 2020 run of 2020 Camrys. That document highlighted repair considerations for a variety of plastic/resin Camry parts, including the rear bumper fascia.
According to the Toyota OEM repair procedures, the fascia is "TOYOTA Super Olefine Polymer," which won't suffer any ill effects from gas, alcohol or "(m)ost solvents."  The part is heat resistant until 176 degrees Fahrenheit (80 degrees Celsius); that temperature and beyond "may cause heat deformation during a procedure," according to Toyota.
Check out this article and all other new Collision Pros content on the Toyota Collision Repair and Refinish Training website. Read Toyota OEM repair procedures on techinfo.toyota.com.
More information:
"PLASTIC AND RESIN BODY PART REPAIRS"
Toyota Collision Pros, 2020
Featured image: The rear of a 2020 Toyota Supra is shown. (Provided by Toyota)
Share This: