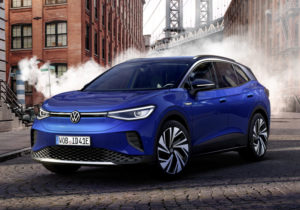 Volkswagen on Wednesday unveiled an all-electric 2021 ID.4 SUV that could run as cheap as a higher-end Tiguan and will include three years of free charging.
The vehicle might make a compelling argument for some Americans to go electric. Volkswagen will first bring the 2021 ID.4 to America at $39,995 — but the possibility of a $7,500 federal tax credit could cut it down to a Tiguan SEL's price, the OEM said. After VW starts U.S. production of the SUV in 2022, the MSRP is expected to fall to "around $35,000." Volkswagen will also throw in three free years of Electrify America fast charging.
"The ID.4 was engineered, loaded and priced to win the hearts of SUV owners who are simply ready to go electric—and fall in love with Volkswagen again," Volkswagen Group of America Scott Keogh said in a statement Wednesday. "It drives like a GTI, it has the packaging of a Tiguan and the purpose of the Beetle. All the best things about VW in one package."
If the vehicle is indeed a hit, repairers will repeatedly encounter a structure that mixes steel and aluminum.
"The heart of the ID.4 is a battery pack comprised of 288 pouch cells in 12 modules, positioned in the underbody to create a low center of gravity for optimal driving dynamics as well as extremely well-balanced weight distribution," Volkswagen wrote Wednesday. "It is housed in a lightweight aluminum structure that is bolted to the frame, helping to improve rigidity. …
"With regards to the battery, an extruded aluminum frame protects the battery system against damage in the event of a crash, and a replaceable aluminum underbody panel protects the battery against the road."
But the chassis and body are steel, according to Volkswagen.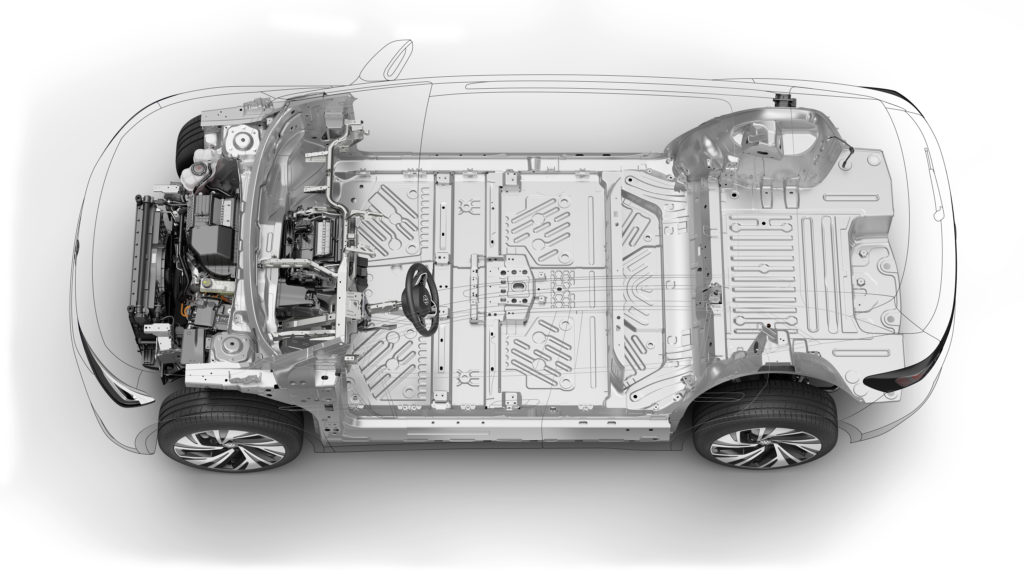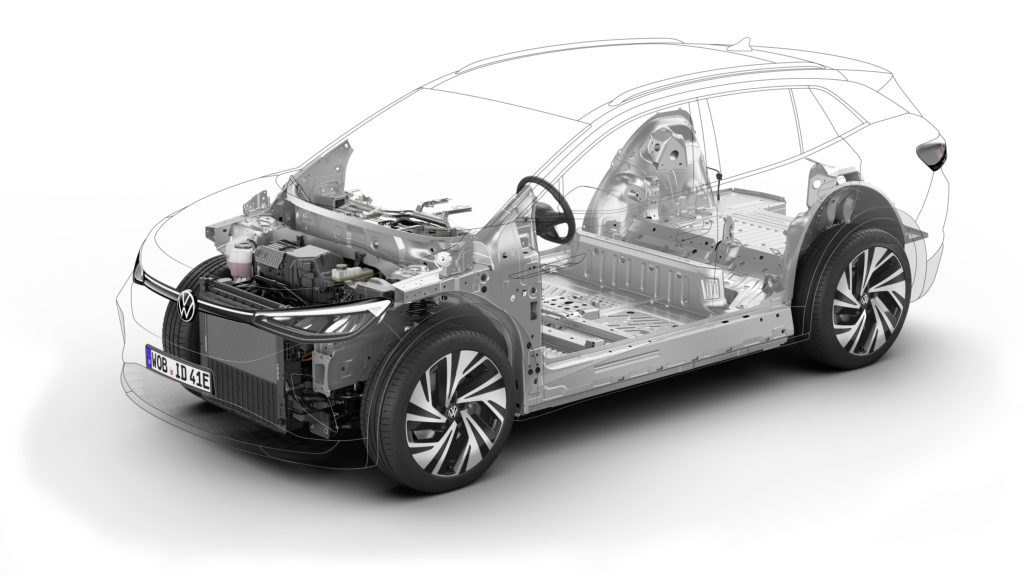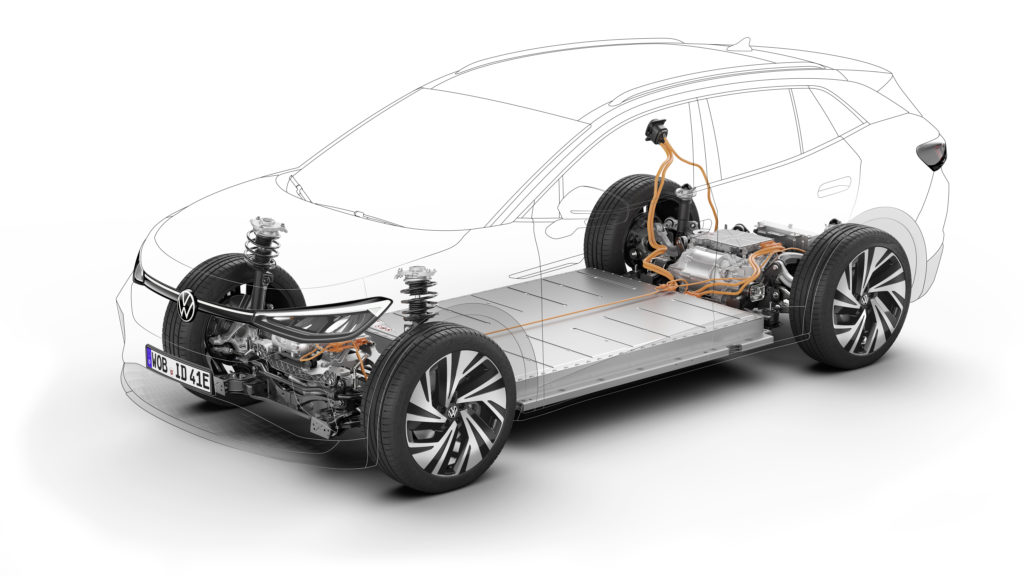 Contacted by Repairer Driven News on Wednesday, Volkswagen said it would offer more information into the ID.4's lightweighting closer to it going on sale."
"While we have a lot more in the release than we typically would at reveal, it'll be a while yet before we can dig in on the more technical side of things," spokeswoman Jessica Anderson wrote in an email. "More details to come as we get closer to launch."
Other body-related items of note:
"The front suspension is a strut-type with lower control arms, coil springs, telescopic dampers and anti-roll bar," Volkswagen wrote Wednesday. "In the rear, the ID.4 uses a multi-link rear axle with coil springs, telescopic dampers and an anti-roll bar.
The ID.4's "sculpted front bumper with large intake-like scoops and honeycomb accents give the car a powerful presence," Volkswagen said. The SUV has no grille. A "long spoiler" extends from the rear of the vehicle.
Large LED lights are standard, and the door handles are illuminated. Customers can also buy a "Statement package" that includes an illuminated Volkswagen logo and light line on the front of the vehicle.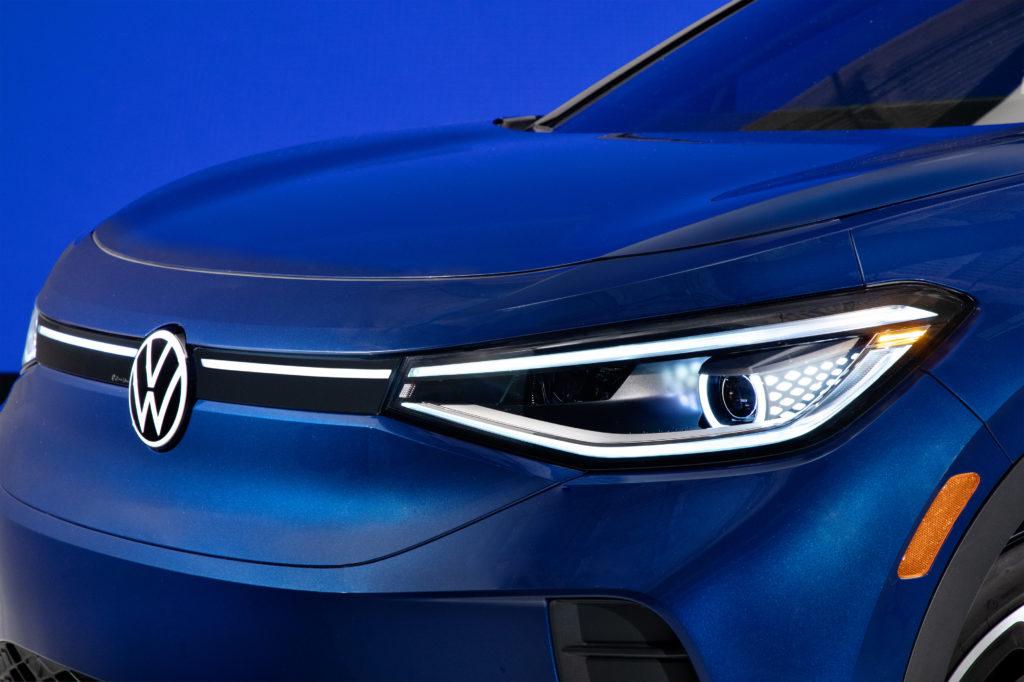 The Statement package also adds a panoramic fixed-glass roof, while the Gradient package paints the remainder of the roof black (normally, it's body color) and adds silver accents and roof rails.
Volkswagen will sell the ID.4 in six main paint colors — five of which carry the adjective "Metallic."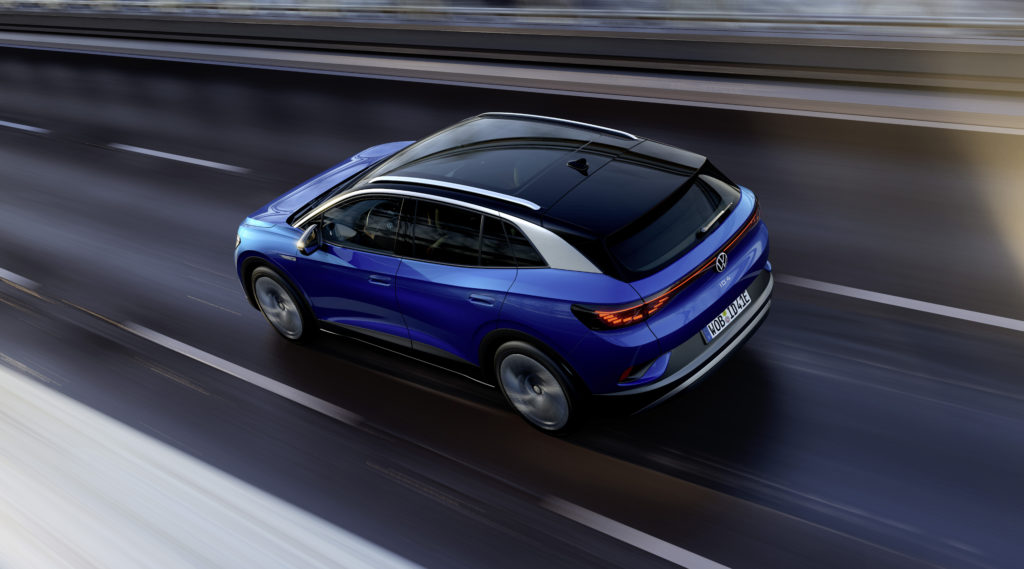 MEB
Volkswagen said it built the ID.4 on its modular electric drive architecture, known as "MEB."
"The MEB has two major unique selling propositions," VW wrote in 2018. "First, it is not a platform for vehicles with combustion engines that has been retroactively modified. Instead it is a modular assembly matrix designed specifically for pure electric cars, which enables Volkswagen to utilize this technology to maximum effect. Second, the vehicle concept and design can be structured in a more flexible way than ever before—the spectrum ranges from compact cars to SUVs and MPVs. This will enable the Group to achieve economies of scale, thereby making electric cars cheaper and more affordable for many people.
"The MEB—designed with purely electric drive systems in mind—enables the size of a vehicle's wheelbase to be increased while reducing the body overhangs, resulting in more dynamic proportions. In addition to allowing the designers to create a standalone design DNA for the new zero-emissions vehicles, the chassis design leads to much larger and more versatile vehicle interiors."
The OEM in 2018 said its battery setup offered advantages like "weight optimization" related to an aluminum housing and "integrated cooling."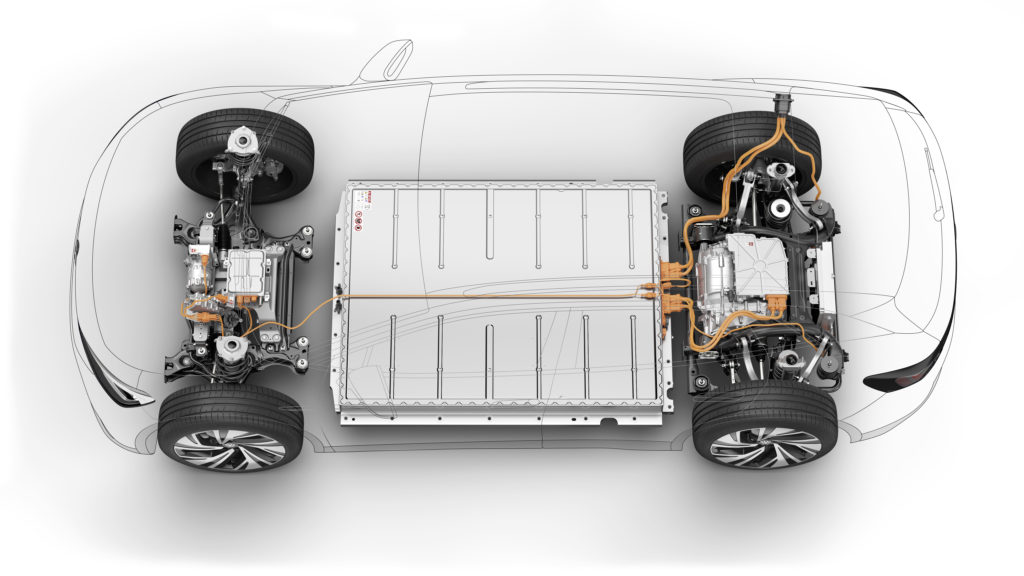 The battery
The battery on the ID.4 1st Edition rear-wheel drive variant is expected to provide 250 miles of range, according to Volkswagen. Like the VW Beetle, the electric motor of the ID.4 and all other MEB vehicles sits in the back of the chassis. (Presumably, VW will stick another motor in the front for the all-wheel drive version coming out "later in 2021.")
A motorist using a 125-kilowatt direct-current fast charger can take the battery from 5 percent to 80 percent charge in about 38 minutes, according to Volkswagen. On a home (240 volts) or public (208 volts) Level 2 charger, the "tank" can be filled up in about 7.5 hours.
Electrify America said Monday it had more than 470 charging stations providing more than 2,000 fast-chargers but wants to have built "or have under development" 800 stations and 3,500 fast-chargers before by December 2021. It said it recently finished a route permitting electric vehicles to make it from Washington, D.C., to Los Angeles, Calif.
More information:
"Volkswagen unveils the all-new 2021 ID.4 electric SUV"
Volkswagen, Sept. 23, 2020
"Electrify America and Volkswagen of America Announce Agreement Providing Unlimited Charging Plan for Owners of the All-New 2021 VW ID.4 Electric SUV"
Volkswagen, Sept. 21, 2020
Images:
A 2021 Volkswagen ID.4 1st Edition with the Gradient package is shown. (Provided by Volkswagen)
The platform of a 2021 Volkswagen ID.4 is shown. (Provided by Volkswagen)
The powertrain of a 2021 Volkswagen ID.4 is shown. (Provided by Volkswagen)
The steering column and suspension of a 2021 Volkswagen ID.4 is shown. (Provided by Volkswagen)
A 2021 Volkswagen ID.4 1st Edition with the Gradient package is shown. (Provided by Volkswagen)
Share This: