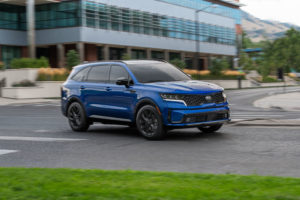 Kia on Tuesday unveiled a next-generation 2021 Kia Sorento 119 pounds lighter than its predecessor yet boasting a higher average tensile strength.
Kia expects the 2021 Sorento to reach dealers and go on sale later this year. As the model inevitably begins to get in crashes, auto body shops might encounter more components with repair restrictions than were present on the 2020 version.
Higher-strength steels tend to be more heat-sensitive than lower-strength ones. They also tend to be unsuitable for sectioning anywhere other than specified by an automaker given their role in crash energy management.
To the latter point, Kia said the 2021 Sorento spreads "impact kinetic energy forces through multi-load-path body structure."
Straightening might also be unacceptable for some steels. I-CAR in 2017 quoted a Kia repair manual as stating, "In most cases, ultra high strength (hot stamped) steel will not be deformed (bent/twisted) from external impact, and once it is deformed, it cannot be corrected. Therefore, in case of deformation in parts with ultra high strength (hot stamped) steel among vehicle components, it be must replaced as an assembly." You'll have to check the current Kia repair procedures to see if this still holds true and what other steel restrictions exist.
The outgoing Sorento design generation began with the 2016 Sorento, which Kia in 2014 described as carrying a 53 percent advanced-high-strength steel unibody and a "significantly modified platform" including adhesives, dual-seal lip joints and large-diameter and laster welding. The OEM later tweaked the structure to reinforced the Sorento's passenger-side toepan and door sill for the 2019 model year, according to the IIHS.
On Tuesday, Kia said the 2021 Sorento will be even stronger. "Average tensile strength is improved by 4% compared to the previous Sorento," the OEM wrote.
At the same time, "Body-in-white weight is reduced by 5.6% and overall weight is reduced by 3.1% (119 lbs.)," Kia wrote.
Kia said shops will also encounter a "New aluminum bumper plate for improved durability" on the new Sorento. This might require shops to take precautions like dedicated tools and space to avoid issues like corrosion. Of course, considering the three most popular vehicles in the country already mix steel and aluminum, one would hope the industry has already geared and trained up for the nonferrous metal.
The 2021 Sorento uses Kia's third-generation "N3" platform, which the OEM called "a lighter, stronger and more flexible design."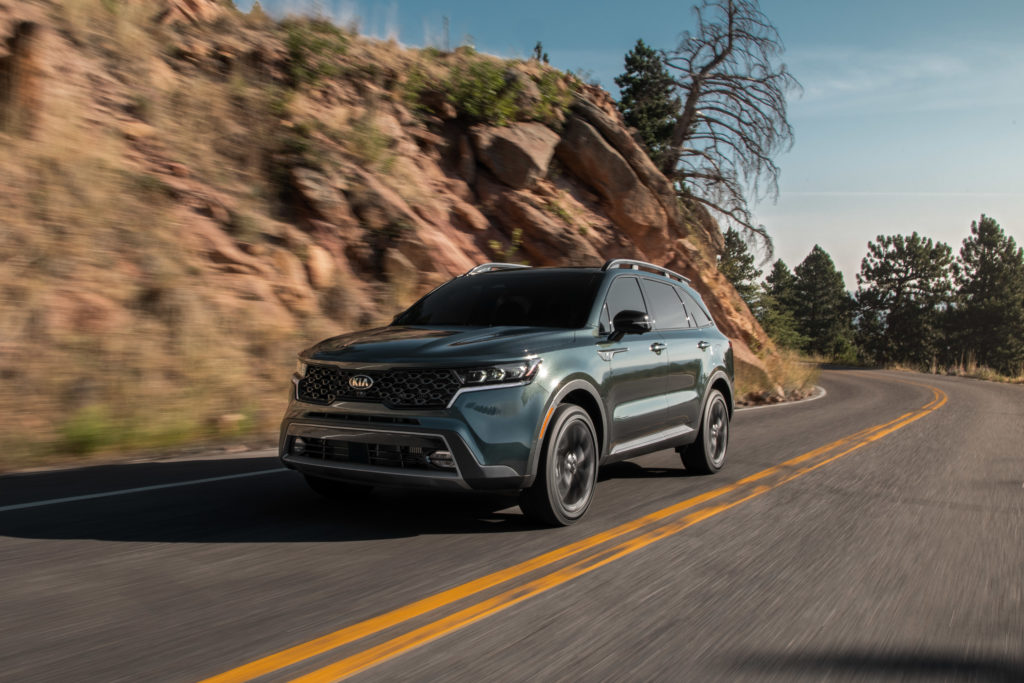 It said the Sorento's structure can be modified to account for its two hybrid powertrain options — as well as a plug-in hybrid variant releasing in 2021. Unlike a typical hybrid, a plug-in hybrid can run for a commuter's range on electric power alone; Kia said the Sorento PHEV should get 30 miles. This means Kia will have to fit a large battery somewhere on the structure.
In other body-related news, Kia noted the 2021 Sorento carried a hood edge which "wraps around the body side and integrates into the rear shoulder line" and a grille "extending into the headlight and hood structure." It also said LED headlights come standard, while options include a panoramic sunroof. Kia also said the Sorento will offer the largest pool of alloy wheel choices ever at six variants.
The vehicle will carry five trims, but a sixth arguably exists as well. The top-tier SX-Prestige trim can be upgraded to the "hero model" SX-Prestige with an X-Line appearance package and all-wheel drive. That variant will feature differences including a special bumper design and ride height an inch higher than the regular Sorento.
Advanced driver assistance systems span at least 16 standard or optional features. Standard features include autobraking for vehicles and pedestrian, lane centering, and driving monitoring (the system looks for the car behaving in a way that suggests an inattentive motorist and makes a noise to alert the driver. There's even "Standard Intelligent Speed Limit Assist," which uses the camera (or GPS) to look for speed limit details and adjusts adaptive cruise control accordingly.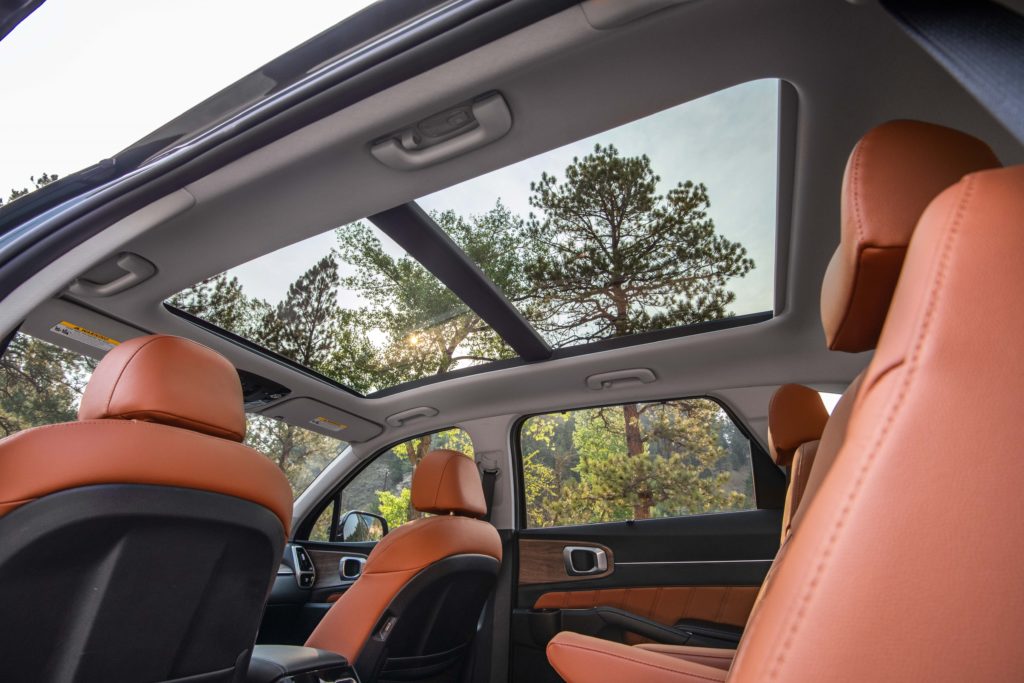 The 2021 Sorento will also come standard with ultrasonic sensors checking for movement in the vehicle's second and third rows after the doors lock. If the sensors find something, the Sorento will automatically hit the horn and hazard lights to warn the driver they might have left a kid or pet in the back.
"Sorento has always been one of Kia's premier products," Kia North America CEO Sean Yoon said in a statement. "Its combination of style, utility, safety and comfort have made it a perennial customer favorite. This stunning new Sorento sets the bar in the compact SUV class even higher and represents the pinnacle of Kia design and engineering. We're extremely proud to add it to our line-up of incredible automobiles."
More information:
"STUNNING ALL-NEW 2021 KIA SORENTO SETS A NEW SUV BENCHMARK"
Kia, Sept. 22, 2020
Images:
The 2021 Kia Sorento SX is shown. (Provided by Kia)
The 2021 Kia Sorento SX-Prestige AWD X-Line is shown. (Provided by Kia)
The 2021 Kia Sorento will offer an optional panoramic sunroof. The 2021 Kia Sorento SX-Prestige AWD X-Line is shown. (Provided by Kia)
Share This: