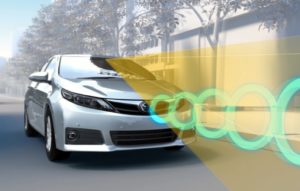 Swiss Re announced Monday that Toyota Insurance Services would work with it on Swiss Re's "ADAS risk score."
Advanced driver assistance systems are proven to prevent crashes. But there seems to be uncertainty into how much of a discount an insurer should give a driver with such technology.
"Insurers face the challenge of knowing which ADAS features are installed in a vehicle, what their impact on safety is, and to what extent drivers use them," Swiss Re wrote in a news release.
Swiss Re and BMW have been working on the idea of an ADAS risk score for the insurance industry since 2018, with both companies observing then that insurers tend to ignore ADAS in calculating premiums.
Both companies invited global automakers "to join forces and together create a market standard for ADAS risk assessment," Swiss Re wrote in 2018. "We aim for a win-win situation. By enabling insurers to include ADAS in risk assessments, customers will benefit from purchasing safety-enhancing systems, and our roads will become even more safer."
Swiss Re will now be able to calculate risk scores for Toyotas and Lexuses. "The rollout of these risk scores is planned to start in 2021 and will initially focus on European countries," the insurer wrote.
Swiss Re said an ADAS risk score would help an OEM by incentivizing customers to buy vehicles with such technology. Motorists could incur a lower overall cost of ownership, it said.
"We're very pleased to announce the partnership with Toyota Insurance Services through which Swiss Re clients will be able to harness the predictive power of the ADAS risk score to all Toyota's and Lexus' passenger vehicles," Swiss Re casualty underwriting reinsurance head Jason Richards said in a statement. "By giving customers another incentive to purchase advanced driving assistance systems, we indirectly contribute to reducing accidents. This completely fits with our vision to make the world more resilient."
Swiss Re said it can even score vehicles before they hit the market.
Auto insurers who fail to adjust pricing for the impact of advanced driver assistance systems can leave more than two-thirds of a book under- or over-paying for a policy, Swiss Re casualty underwriting Vice President Kim Nielsen said in July.
Nielsen presented data from a "major" European auto insurer to Reuters Events' free virtual Auto Insurance USA 2020 summit on July 29.
The insurer's existing model, built "way before" ADAS existed, was "not actually that close" in every case, he said. It missed the real-world outcomes by more than 10 percent sometimes, he said.
But the Swiss Re ADAS risk predictions wound up "fairly close to the truth," Nielsen said.
An ADAS risk score is interesting concept from a body shop's perspective. Perhaps most importantly, it gives the repairer and customer a good counterargument if an adjuster refuses to cover a  necessary repair procedure related to ADAS. By failing to restore the technology, the claims rep just sabotaged their own company: The actuaries will be offering a discount for ADAS that no longer works.
"We have always aimed to use the data on repairs and, more recently, telematics driving data, to help improve the safety performance of Toyota and Lexus cars and its drivers," Toyota Insurance Services CEO Michael Kainzbauer said in a statement. "This partnership with Swiss Re takes that mission a step further, enabling our customers to benefit from optimised insurance premiums that reflect the safety improvements it will deliver, as well as contribute to reducing the overall cost of ownership for Toyota and Lexus customers."
The news also would seem to make Toyota's insurance arm something to watch.
Toyota national manager of service and collision operations George Irving Jr. at the April IBIS USA said Toyota would eventually offer policies through dealers in a "one-stop shop" transaction. Former Tesla insurance head Alex Tsetsenekos observed during the Auto Insurance USA conference such a distribution option allows a carrier to cut marketing expenses.
Combine lower sales expenses with actuarial confidence that Toyota's ADAS is reducing frequency risk, and the OEM's insurance program might be able to offer a more attractive premium than a traditional carrier.
More information:
"Toyota Insurance Services to join Swiss Re ADAS risk platform"
Swiss Re, Sept. 21, 2020
Swiss Re ADAS risk score webpage
Featured image: A representation of the Toyota Safety Sense advanced driver assistance system suite is shown. (Provided by Toyota)
Share This: