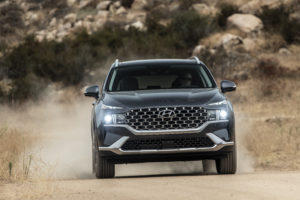 Hyundai on Monday announced it would incorporate functional as well as aesthetic changes to the body of the refreshed 2021 Santa Fe.
"The 2021 Santa Fe body structure includes increased high-tensile steel for greater body rigidity, improving ride and handling while reducing weight," the OEM wrote in an news release.
We asked which parts received the tensile-strength upgrade. Hyundai product and advanced powertrain PR senior manager Derek Joyce said he wasn't told.
"It appears to be a slightly higher percentage of high-tensile steel," he wrote.
A 2018 Hyundai global news release estimated the 2019 Santa Fe — the start of the current design generation — to already contain 57 percent high-strength steel.
"Passive safety is enhanced by increased body rigidity to protect passengers in the event of a collision," Hyundai wrote at the time. "Thanks to hot stamping being applied over an enlarged area along with larger weld diameters, the car's overall weight is reduced while providing top-level crashworthiness. The Santa Fe features more high-strength steel than any other Hyundai vehicle with 57 percent—that is 15 percent above the previous model."
Hyundai also redesigned the isolation pad in the instrument panel to reduce noise and made functional changes to the underbody.
"(T)he aerodynamic coefficient of drag (Cd) for Santa Fe has improved from 0.34 to 0.33 Cd through redesigned undercovers for the subframe, engine compartment, and center/rear floor areas," Hyundai wrote.
Joyce observed that the SUV's "unibody has new adaptations for the hybrid propulsion system."
The 2021 Santa Fe will be the first Hyundai SUV to receive a hybrid option when it arrives in the first three months of 2021. (The internal combustion engine 2021 Santa Fe is due this year.) The OEM says it also expects to produce a plug-in hybrid Santa Fe later next year.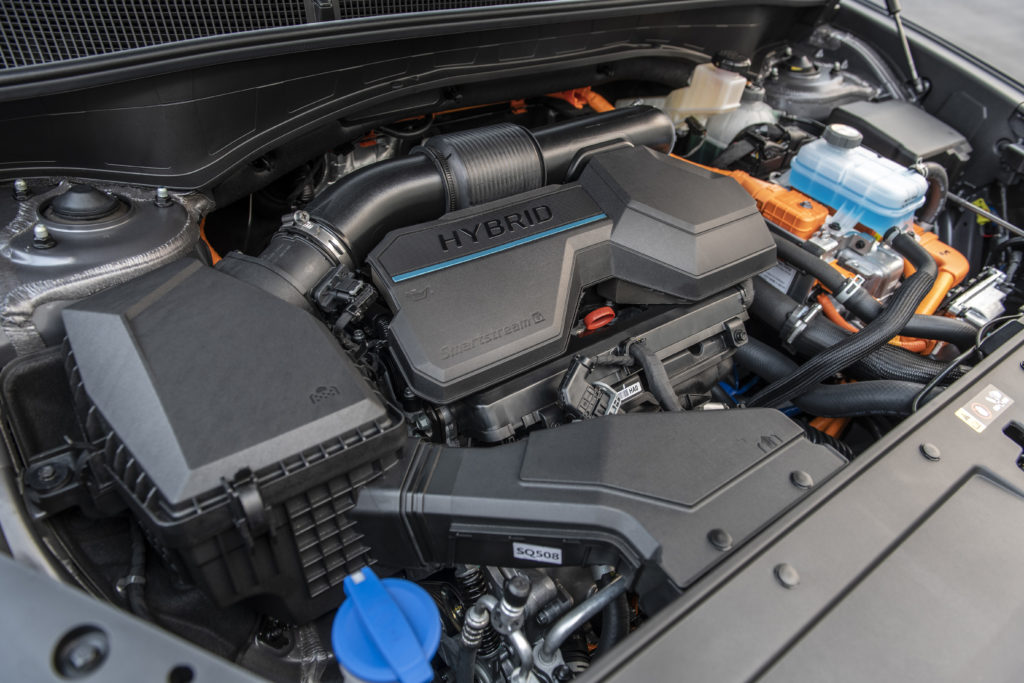 Regular hybrid Santa Fes will use a lithium-ion battery and come standard with Hyundai's "HRTAC" all-wheel drive, according to Hyundai. The OEM didn't elaborate on its plans for the plug-in hybrid version. Either revision might add new procedures to protect the battery or protect staffers from the higher voltage system.
Aesthetically, Hyundai made significant changes to the front end of the vehicle.
"The bold new face of the Santa Fe is enhanced with a wider, three-dimensional grille and a striking T-shaped LED illumination signature, including daytime running lights," Hyundai wrote Monday. "The new silhouette sports a horizontal cabin profile, scalloped lower door panels and a long, highly-defined hood, with character lines extending from front to rear. Sharp shoulder crease lines connect front and rear LED lights, while rear reflector accents visually link the LED rear taillights."
It's unclear if the LED headlights and taillights are now standard on all trims.
An optional premium Calligraphy trim will swap out the grille with a "premium-finish" one.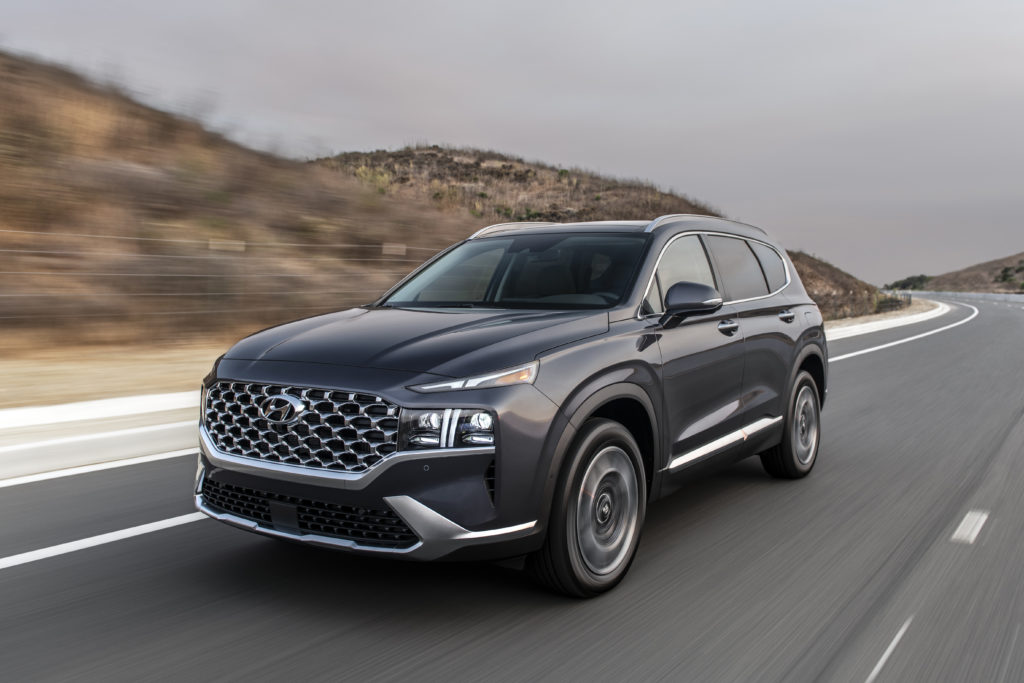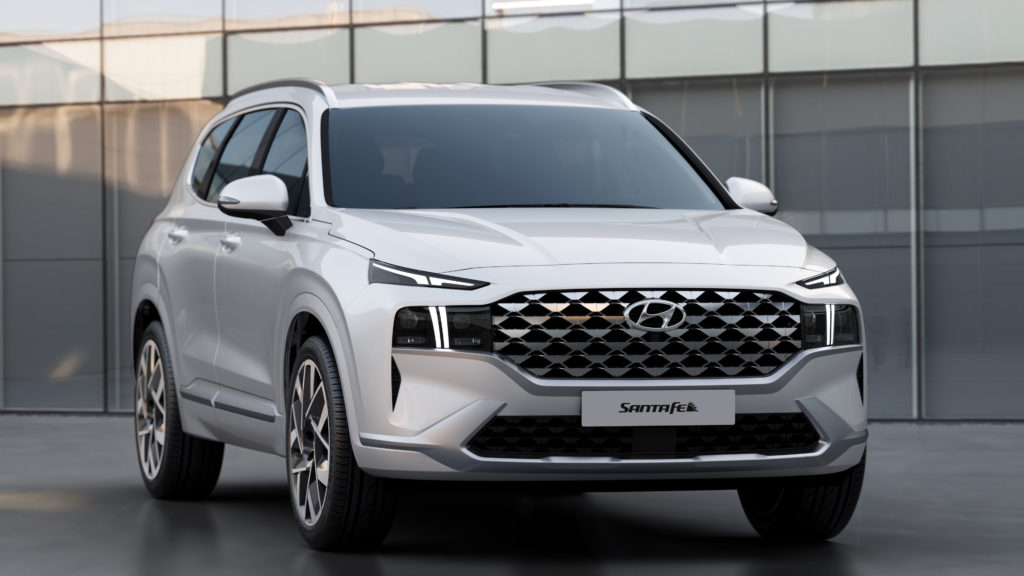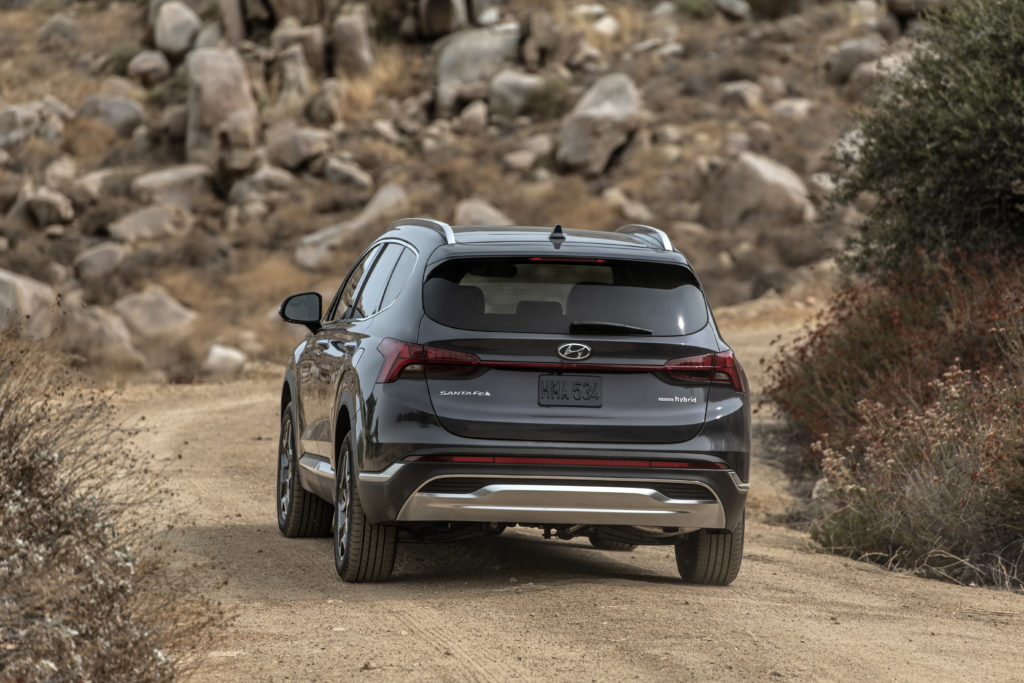 The OEM redesigned the the front and rear bumper fasciae and skid plates, roof rails and alloy wheels (the Calligraphy trim has its own wheel design).
Shops might also notice optional new puddle lamps and power-folding mirrors.
Hyundai sold 127,373 Santa Fes last year, which means repairers will definitely need to research and adapt properly to the new changes using Hyundai OEM repair procedures. The automaker has made collision repair instructions available for some models — including the 2019 and 2020 Santa Fe. So you should hopefully have a 2021 Santa Fe collision manual when the refreshed SUV appears later this year.
More information:
"2021 Hyundai Santa Fe Adds Innovative Design, Powertrain and Driver Convenience Technologies"
Hyundai, Oct. 12, 2020
Images:
A 2021 Hyundai Santa Fe hybrid is shown. (Provided by Hyundai)
A 2021 Hyundai Santa Fe with the Calligraphy trim is shown. (Provided by Hyundai)
The 2021 Hyundai Santa Fe hybrid has a new rear bumper fascia and skid plate. (Provided by Hyundai)
Share This: