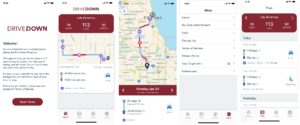 Top 30 insurer Southern Farm Bureau announced Tuesday it had launched a DriveDown telematics program tracking real-world trips and rewarding good drivers with reduced deductibles.
The system uses Arity's "Routely" smartphone app — there's no dongles or other peripheral devices — to scrutinize behavior on the road. A safe-driving Southern Farm Bureau policyholder receives a monthly percentage knocked off their deductible, starting at 5 percent just for enrolling in the program. (Glass claims are ineligible for the discounted deductible, according to an FAQ.)
A user can't put the rewards towards a new or repaired windshield, Southern Farm Bureau said. "No, these claims are not eligible for the deductible reward to be applied," it stated in the FAQ.
"Safe driving is a very important issue for Southern Farm Bureau, and we are always looking for ways to protect our customers from the hazards of the road," Southern Farm Bureau actuary and R&D Vice President Ben Kimmons said in a statement. "With Arity's deep expertise in insurance telematics, wealth of data insights through its 400+ billion miles of driving data, country-wide regulatory approval of its driver score, and engaging app design, we believe no other partner would be able to help us get our customers the experience, accuracy, transparency, and rewards that they deserve."
Unlike other insurers adopting similar telematics offerings, Southern Farm Bureau said it won't alter premiums based upon driving performance.
It'll be interesting to see if giving a break on a deductible proves a competitive strategy in the face of rival insurers with telematics offering premium cuts as a reward for good driving. Perhaps overall savings are comparable if a driver starts out with a lower rate tied to a higher deductible — and then lowers the deductible through safe driving.

Southern Farm Bureau said it won't raise a DriveDown user's deductible back up for filing a claim. "You do not lose the reward percentage, it remains at the level you've earned," the insurer wrote in a FAQ.
"As drivers continue to request insurance pricing that reflects their individual driving habits, it's especially important for companies to leverage the power of telematics and empower drivers to use their data for their own benefit, especially during a major disruption, like COVID-19," Arity insurance product director Gina Minick said in a statement. "Arity is excited to partner with Southern Farm Bureau in bringing DriveDown to its customers and deliver insights that can help make the roads safer."
The news release Tuesday didn't say if the service would allow crash detection and electronic first notice of loss, a capability which telematics can also make possible. But Arity confirmed Wednesday this was possible.
"Yes, we currently have collision detection capabilities built within our technology," Minick said in a statement. "Our technology has already detected more than 75K possible collisions and has been used to assist our clients users in critical times of need. We do have this feature available for insurers to use within their experience to both assist with faster claims settling or improved customer safety experiences."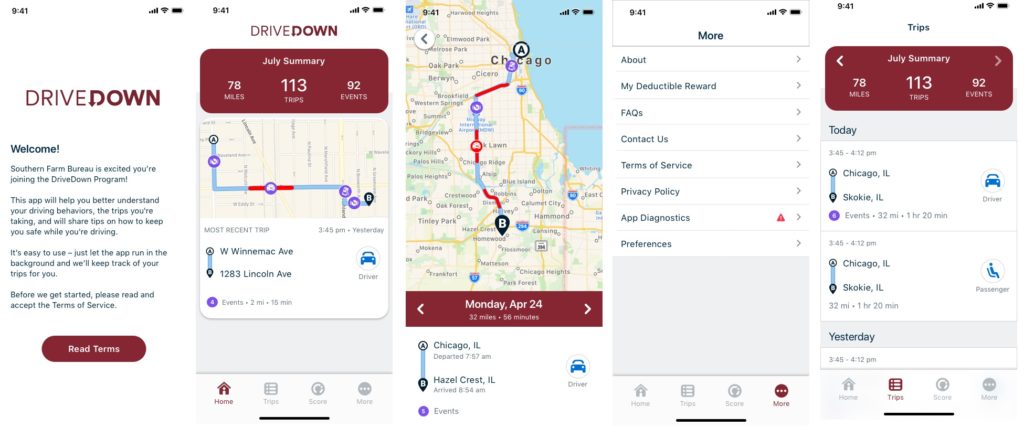 More information:
"Southern Farm Bureau launches new insurance program, DriveDown, that rewards drivers based on safe driving behavior captured from mobile app"
Southern Farm Bureau via PR Newswire
DriveDown frequently asked questions
Images:
Top 30 insurer Southern Farm Bureau announced Tuesday it had launched a DriveDown telematics program tracking real-world trips and rewarding good drivers with reduced deductibles. (Provided by Arity)
Top 30 insurer Southern Farm Bureau announced Tuesday it had launched a DriveDown telematics program tracking real-world trips and rewarding good drivers with reduced deductibles. (Provided by Arity)
Share This: