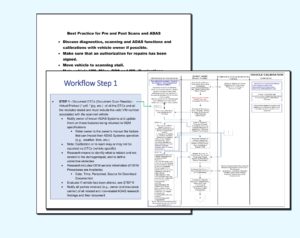 The Collision Industry Electronic Commerce Association Calibration Committee early this fall released what, for now, ought to serve as a free and final version of a suggested ADAS workflow for collision repair facilities.
Committee member Chuck Olsen (AirPro) said "this will be a living document with periodic updates as needed."
Inspired by the work, a draft version of which first appeared at the July Collision Industry Conference, industry trainer Toby Chess has produced a guide and associated checklist on the broader strokes of such a process. It offers another way for a shop to understand the work involved and perhaps and a means of easing in to the more intricate SOP in the CIECA flowchart. Chess stressed his documents were independent of the committee's work; they're just a free resource he wanted to offer the industry.
Neither work product will be a substitute for researching and following the specific OEM repair procedures for the vehicle in front of you. In fact, both Chess and the CIECA committee direct you to use the manufacturer instructions. But they might help body shop owners and managers organize their staff, operations, documentation, and thinking. They might also help insurers and customers to understand that process.
An informal July CIC audience poll saw 79 percent of respondents agreeing that a standard "best practices" process for ADAS would benefit their operation.
"I guess that's rather compelling," CIECA Calibration Committee Chairman Darrell Amberson (LaMettry's Collision) said.
Check out and download the final, Aug. 25 version of the CIECA flowchart here.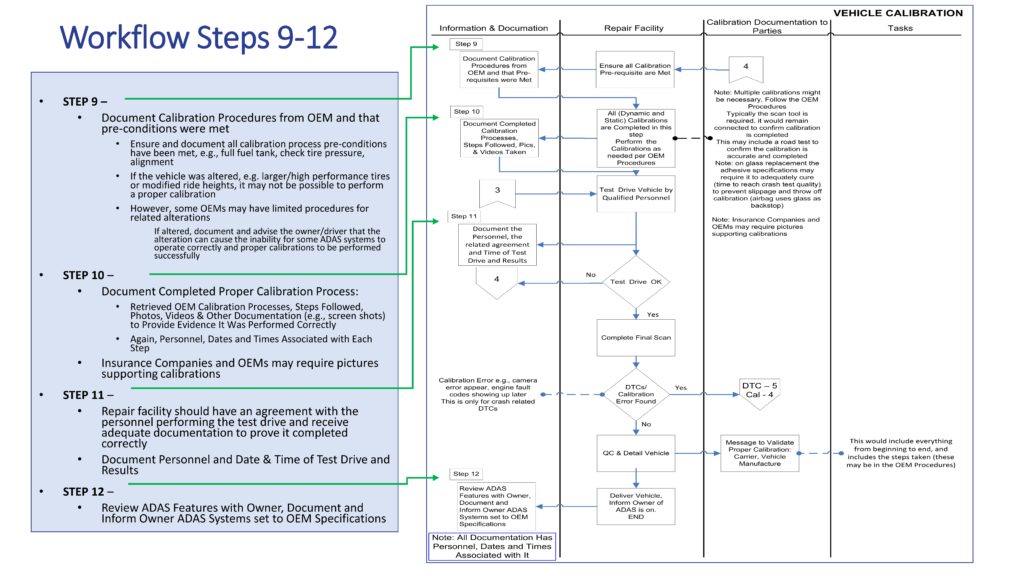 See and download Chess' guide and checklist documents here and here.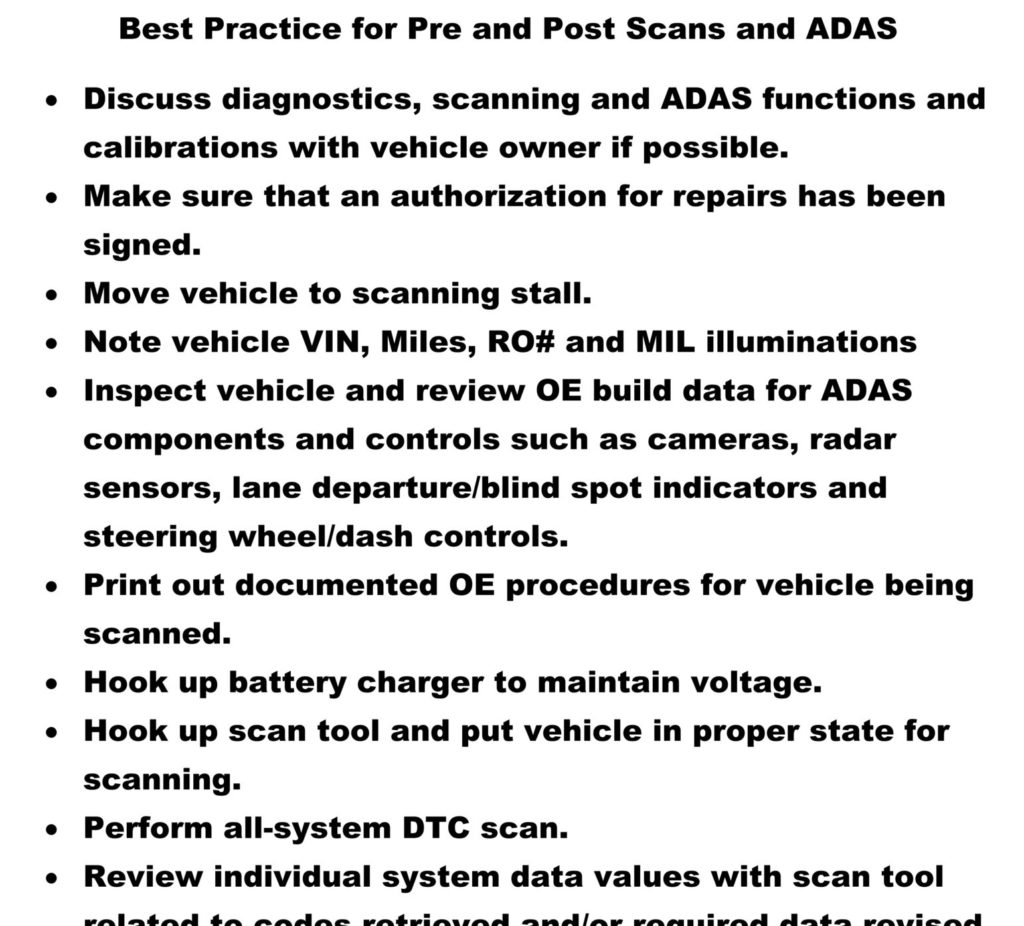 More information:
Collision Industry Electronic Commerce Association Calibration Committee ADAS workflow
CIECA, Aug. 25, 2020
"Best Practice for Pre and Post Scans and ADAS" guide
Toby Chess, Oct. 13, 2020
"Best Practice for Pre and Post Scans and ADAS" checklist
Toby Chess, Oct. 13, 2020
NASTF official OEM repair procedure websites portal
Images:
The Collision Industry Electronic Commerce Association Calibration Committee early this fall released what, for now, ought to serve as a final draft of a suggested ADAS workflow for collision repair facilities. Inspired by the work, a draft version of which first appeared at the July Collision Industry Conference, industry trainer Toby Chess has produced a guide and checklist on the broader strokes of such a process. (Provided by Collision Industry Electronic Commerce Association, Toby Chess)
The CIECA Calibration Committee in August 2020 released what, for now, ought to serve as a final draft of a suggested ADAS workflow for collision repair facilities. (Provided by Collision Industry Electronic Commerce Association)
Industry trainer Toby Chess has produced a guide and checklist on the broader strokes of the repair process related to scanning and ADAS. (Provided by Collision Industry Electronic Commerce Association, Toby Chess)
Share This: