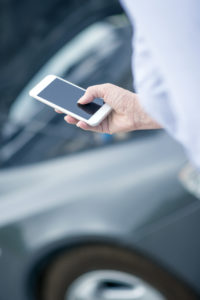 J.D. Power on Thursday announced customer usage of digital auto and home claims options has risen 18 percent since 2017.
Ironically, the tech doesn't seem to have really made consumers any happier.
"Satisfaction scores among claimants who use digital channels at any point in the claims process is one point higher, on average, than among those who do not use digital channels," J.D. Power wrote in a news release Thursday.
Customers who kept things old-school posted an average satisfaction score of 871 out of 1,000, compared to 872 for customers who used one of the insurer's digital claims mechanisms. J.D. Power said examples of digital claims channels could include "first notice of loss, estimation and status updates."
This is an interesting consideration as insurers argue that consumers want more digital options. The growing usage suggests that the customers certainly might want them — but then wind up in the same emotional place they would have anyway. On the other hand, the fact that digital initiatives don't decrease satisfaction might give the P&C insurance industry confidence to keep revamping traditional claims operations in favor of digital alternatives which might be cheaper and faster.
"Digital has never been more important to modern claims operations," J.D. Power property and casualty insurance intelligence head Tom Super said in a statement. "Personal interaction continues to be a critical part of any claims operation. However, 84% of claimants say they've used digital at some point during their claim,  placing insurers on notice of the evolving expectations of today's insurance customers."
However, the study did find at least one tool that definitely resonated with consumers — and it concerns auto claims.
"The overall satisfaction score among customers who scheduled their vehicle repairs through the insurer's mobile app is 909, higher than for any other method," J.D. Power wrote in a news release Thursday.
Super said Tuesday that 24 percent of the subset of digital-using consumers used the app to schedule a repair. He called this a "pretty high number" for an insurance industry typically experiencing low levels of engagement.
He attributed this to the fact that "it's seamlessly integrated" and "low-complexity interaction" for the customer.
About 40 percent of the digital customer population used an insurer app to receive a repair estimate, Super said.
Super observed that mobile "hasn't taken off" for the insurance sector's customers the way it has for other industries, such as banking. However, there's a high level of mobile adoption at the claims process, he said.
As the customer scheduling and estimate viewing statistics indicate, consumers don't use digital for every aspect of their claims.
Super estimated more than 60-70 percent of customers used mobile to check the status of their claim. However, digital usage continued to be low for first notice of loss, "which makes sense," he said. Customers weren't going to download the app right then on the road, he said.
He said J.D. Power advocates insurers offering customers a mix of personal contact and digital interaction, for customers experiencing both tend to have the highest satisfaction overall.
The 2020 U.S. Claims Digital Experience Study ran between July and September. It examined 2,224 evaluations by auto or home insurance customers who'd filed a claim within the prior 12 months — which means between July 2019 and September. This means some of the claims could have occurred before COVID-19 prompted Americans to lean more on digital tools.
"Digital interaction—particularly via a mobile device—is becoming the most important battleground for the insurance customer experience," Michael Ellison, president of survey partner Corporate Insight, said in a statement. "Increasingly, the experience customers have scheduling a repair, getting updates on the progress of their claim and even reporting a new claim is occurring on an app or website, and insurers need to be able to convey their values and their unique brand attributes through those digital interactions."
More information:
"Digital Adoption Rises Nearly 20% for Insurance Claims, J.D. Power Finds"
J.D. Power, Oct. 22, 2020
Featured image: J.D. Power on Oct. 22, 2020, announced customer usage of digital auto and home claims options has risen 18 percent since 2017. (Ivanko_Brnjakovic/iStock)
Share This: