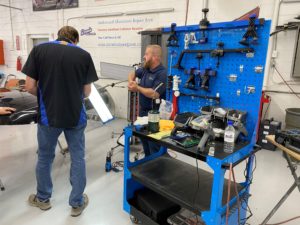 Considerations like proper heat and surface preparation can be the key to success with glue pulling, according to a repairer and a new free best practices guide to the less invasive repair technique.
Industry trainer Toby Chess (Kent Automotive), who developed the best practices document in consultation with KECO Body Repair Products, said his first attempts at glue pulling produced mixed results.
But he was overlooking some important factors, Chess said. He said the instructions in the best practices guide should allow a repairer's glue pulling efforts to work "10 times better," regardless of glue pull system.
One critical component of the process might be surface preparation. A repairer should use a "good wax & grease remover" on the area and apply at least 90 percent isopropyl alcohol to the tabs and repair area, according to the best practices guide.
Chess said he had been cleaning with 70 percent isoprophyl alcohol — only to be told by KECO owner Chris White that this was "'like water.' … 'You need 90 and above.'" Chess ended up buying 99 percent isopropyl alcohol. (White said a 99 percent concentration is also what you'd use to dissolve the glue following the repair.)
Chess said he also had been overlooking the role of heat. The guide advises using a heat gun to warm the tabs to 90-100 Fahrenheit and the panel to 120-140 degrees following cleaning. Then let the substrate drop to 80 degrees before pulling. (Use a noncontact thermometer to check, Chess suggested.)
White explained Wednesday that "the situation is that if you warm to 120 F (and you should), by the time you put down your infrared, pick up your tab, pick up your glue gun, glue bead the tab,& stick it, the panel temp will be around 100 or less. Then wait till 80 to start to pull."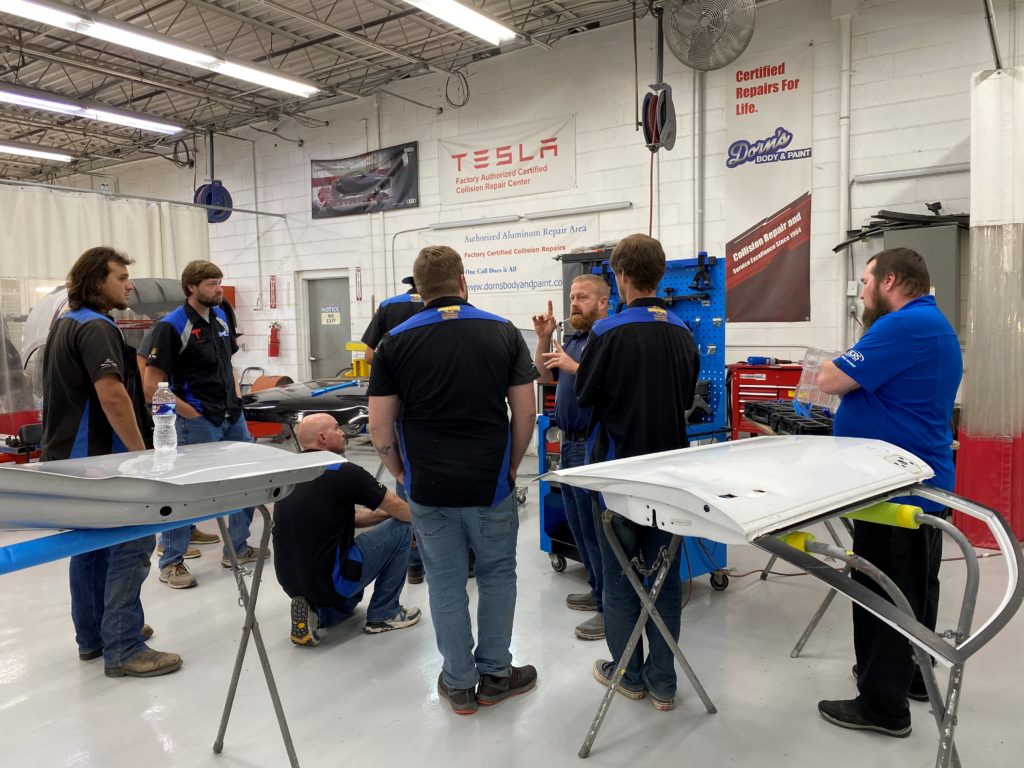 Proper training and adherence to such steps might turn a repairer from a glue-pull skeptic to a believer.
Dorn's Body & Paint owner Barry Dorn said Wednesday his shop had "dabbled" with some inexpensive glue systems, but "they didn't really work," and his technicians were "disenchanted."
KECO argued, "'You really need to be trained on this,'" and though "we were skeptical," Dorn's agreed.
The training revealed "very quickly" that even his proficient repairers didn't know what they were doing during prior glue-pull efforts, he said.
Dorn said it was an example of the old adage: "'You don't know what you don't know.'" He said one could see the "'Oh my God'" realization in technicians' eyes of what they had been doing wrong.
"The pieces of the puzzle came right together," he said.
Repairers can experience such KECO training online in SCRS' virtual Repairer Education course "Comprehensive Training in Glue Pull Repair – Advanced Session." The class, featuring White and Gene Fetty of Dent Repair Now, will be released online Nov. 2 and replayable through Aug. 31, 2021. It'll fit what's normally a $700, full-day course into around a two-hour, $75 session. White called it the "same content" despite the compression.

Previously, Dorn's shop had stuck to weld-tab pulls, assuming glue pulling was another "failed product." Now, "that's pretty much all we do," he said. It only relies on weld-tabs for situations where the OEM procedures demand it.
A weld tab leaves a "very minimal" footprint, but glue is "no issue," he said. Weld-tab issues like backside corrosion or grinding the panel don't arise with glue pulls, Dorn's said.
He called it "unbelievable" how quickly panels which would have been a replacement become repairable.
In other KECO news, Chess said the company recently coordinated with the March Taylor Memorial Fund to donate its best kit to Honolulu Community College's 24-student collision program.
"We need to support these programs," Chess said.
Sign up for White and Fetty's course here. Individual RDE classes are $75 and replayable on-demand through Aug. 31, 2021. SCRS also will offer a $375 full-series pass good for entry to the more than a dozen virtual sessions and the $150 virtual OEM Collision Repair Technology Summit.
More information:
Glue-pull best practices guide
Toby Chess, Oct. 23, 2020
Society of Collision Repair Specialists virtual Repairer Driven Education website
Featured images: Mechanicsville, Va.-based Dorn's Body and Paint became converts to glue pulling following KECO Body Repair Products training. (Provided by Dorn's Body and Paint)
Share This: