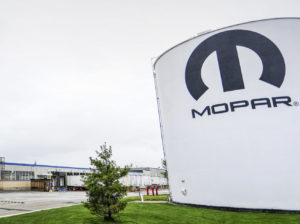 FCA has warned collision repairers against using "Opt OE" parts in a new position statement.
"Mopar does not have an Opt OE program or an OE surplus program and does not recognize the sale of Opt OE parts," the automaker wrote in the new document.
FCA cautioned that buying such a part might be a crapshoot on the part of the repairer.
"These parts may not come from an FCA dealer and may not be manufactured to meet the same high standards as the original part, "FCA wrote. "Only Authentic Mopar® OE parts are designed, engineered, manufactured and tested to the FCA US LLC internal and government-mandated standards and are the only equivalent to the originally installed components. Even though parts classified as Opt OE may appear in various estimating systems or parts ordering documentation, there is no guarantee that they are genuine Mopar parts. …
"Often, these parts are imported from other markets where vehicle content, safety standards, and appearance may differ as compared to North America. In other cases, Opt OE parts may be manufactured by OE suppliers. It is important to know that no supplier is authorized to utilize FCA US LLC tooling, test equipment or Intellectual Property in the development or production of aftermarket parts. Even when offered by OE suppliers, aftermarket parts are often made with materials and processes that do not adhere to FCA US LLC standards."
Opt-OE components have grown to command a larger slice of the collision parts market over the past decade, based on data from the 2020 CCC "Crash Course."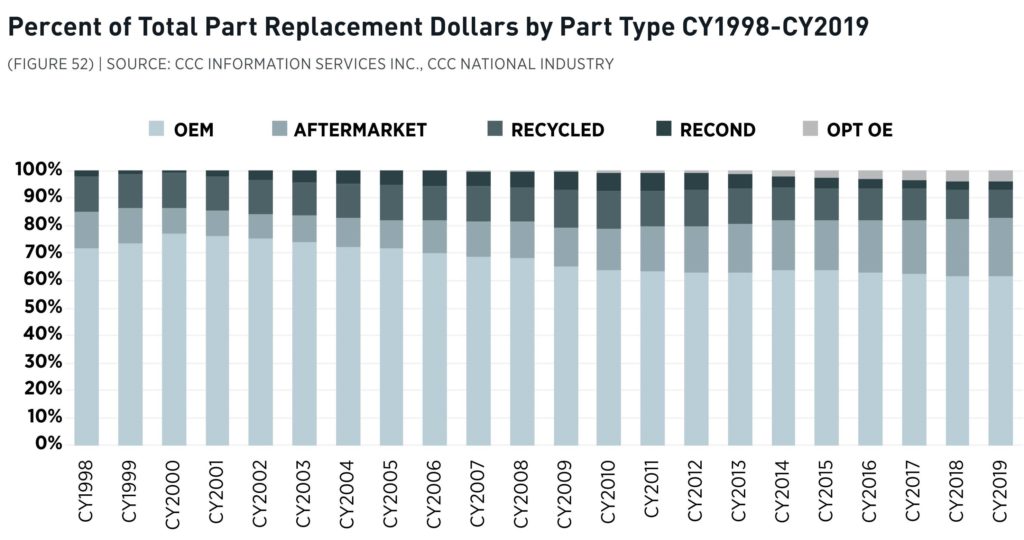 A variety of definitions exist in the market for parts receiving terms along the lines of "Opt OE." This summer, parts procurement platforms and estimating systems shared their classifications with the Collision Industry Conference:
Audatex
OE Surplus: New and possibly slightly blemished surplus parts available at a discount from outside normal and varying OE distribution channels.
CCC
Optional OEM: New OEM part manufactured by or for the OEM according to the OEM's specifications for United States distribution and available from the vendor specified on the estimate at vendor's discounted list price. Parts are delivered to repair shop in the original OEM manufacturer packaging and or labeling.
Mitchell
OE Discount: New, original equipment manufacturer part.
APU
Surplus OEM (New OEM): Boxed OEM, Dealer Surplus, Factory Surplus TRUE OEM – Parts are not graded; expectation is new in quality.
Car-Part.com
OE Discount: New original equipment manufacturer part manufactured by or for the original equipment manufacturer according to the original equipment manufacturer's specifications for the applicable market.
PartsTrader
OEM Surplus: PartsTrader uses common industry part type description options and allows the suppliers to represent their parts the best they see fit.
More information:
FCA, November 2020
Collision Industry Conference Parts and Materials Committee slides with scenarios, IP and parts platform definitions
CIC, July 22, 2020
Images:
The Mopar Parts Distribution Center in Center Line, Mich. is shown. (Provided by FCA)
Opt-OE components have grown to command a larger slice of the collision parts market, based on data from the 2020 CCC "Crash Course." (Provided by CCC)
Share This: