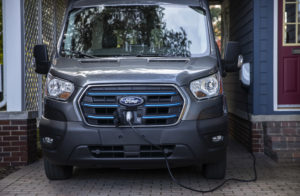 Ford on Thursday revealed its 2022 E-Transit, an all-electric version of the world's No. 1 cargo van it'll start selling at the end of next year.
While the new powertrain might bring new safety and repair considerations, Ford took it easy on repairers with the body. An engineer confirmed it's quite similar to the gas-powered 2020 Transit.
"We made no changes to the carryover Transit body sheet metal or other carryover parts, so carryover parts that are steel on current Transit are still steel, parts that are Aluminium or plastic are still Aluminium or plastic, and any repairer can use the same repair techniques for those parts on E-Transit as on current Transit," Ford North America Transit chief program engineer Ray Eyles wrote in a message shared Friday by a Transit spokeswoman.
In 2014, Ford said the gas-powered 2015 Transit's "all-new unibody structure makes extensive use of boron steel for weight savings, improved torsional stiffness and long-term durability." The 2015 model year was the first for the current generation of Transits.
However, Eyles said repairers should expect some structural and chassis differences related to the powertrain on the 2022 E-Transit.
"We only changed the parts that we had to for Electric Powertrain and related systems, and where we made a change we made an optimum material choice for weight, strength, cost. For example on battery support cradle, rear subframe for heavy-duty independent rear suspension etc.," he wrote.
Ford's news release described the battery as below the body, which is pretty typical for electric vehicles. Ford also noted that it "redesigned E-Transit's rear-wheel drive and rear suspension to optimize cargo space, creating a heavy-duty semi-trailing arm suspension system enabling better steering precision and more confident handling, plus better traction both in laden and unladen conditions."
Ford images indicate the grille contains the vehicle's charging port.
It also mentioned that the E-Transit's dimensions and modification mounting points were the same as for gas Transits.
"The majority of U.S. Transit vehicles sold last year were upfitted, and Ford continues to provide the same upfit financing support for van customers, including those who purchase or lease," Ford wrote Thursday. "With 13 upfitters located conveniently within 30 miles of the assembly plant, customers get fast delivery to the upfitter of their choice right when they order their van, removing the need for an upfit after delivery and helping them get on the road quickly."
Regardless of whatever lightweighting and structural changes exist, body shops — particularly those who specialize in fleet work — should still take note of the vehicle.
It might be a harbringer of a burst of electrification in the commercial space, one that could outpace even private passenger adoption. For example, competing electric vehicle manufacturer Rivian — whose pickup will beat the upcoming electric F-150 to market — plans to crank out a bunch of electric vans for Amazon starting in 2022.
A shop with a commercial-heavy clientele might want to get ahead of the curve by training on EV safety and obtaining necessary equipment over the next year. Ford is already requiring its certified collision network to be EV-ready anyway for the 2021 Mustang Mach-E.
Ford has sold 93,670 Transits and another 25,241 Transit Connects in the first nine months of the year. The OEM said it holds a 45 percent share in the commercial pickup and van market.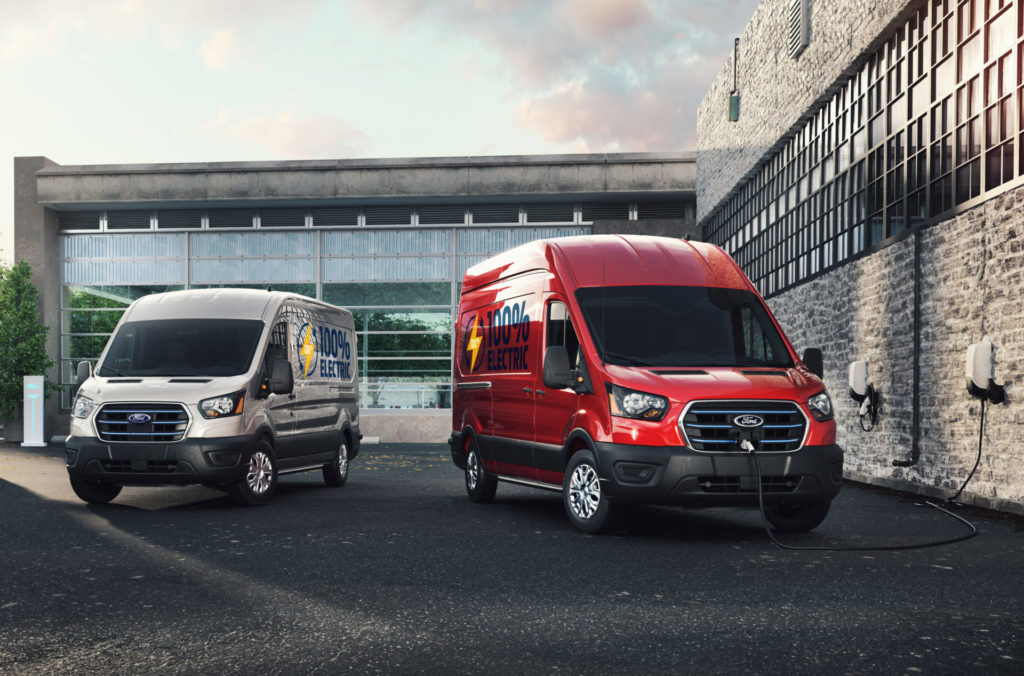 Value proposition
As Ford suggested Thursday, an EV might be more attractive to a commercial customer than a private passenger owner — and Ford said it'll sweeten the pot with optional telematics features and the option to use the van as a 2.4-kilowatt generator on job sites.
The 2022 E-Transit will offer up to 126 miles of range in its low-roof cargo van format. Ford said folks with access to a DC fast charger could get 45 miles of range in 15 minutes. Otherwise, they could recharge 10 miles of range each our on a standard 240-volt outlet or 15 miles hourly with a home 48-amp Ford Connected Charge Station. (Rather than drive the battery to near empty and then refill the whole thing every few days, many owners would probably treat such EVs like smartphones. Use it during the day and then plug it in to top off the battery while parked every night.)
The base model starts at less than $45,000. Ford told CNBC the van is profitable for the OEM.
"This makes E-Transit ideal for commercial customers who know their drive routes and often work in urban environments," Ford North America commercial business general manager Ted Cannis said in a statement. "Affordability is key, and our customers buy only what they need to get the job done. E-Transit provides ample range at a price that makes the transition to electric easy. And Ford is just getting started."
The price and range show why the commercial space could ramp up electrification much faster than the private passenger market. A commercial owner isn't driving their Transit 300 miles to Grandma's house, so range anxiety is less of an issue. They're running a business and not getting the kind of gas mileage a passenger vehicle does, which means fuel cost poses a greater concern. The fewer moving parts on electric vehicles theoretically mean less maintenance and downtime, and Ford plans an eight-year, 100,000-mile warranty on the electric components.
"E-Transit will not only help companies operate with the benefits of electrification, it offers clear business advantages," Ford wrote in a news release. "Scheduled maintenance costs for the all-electric Transit are estimated to be 40 percent less than the average scheduled maintenance costs for a gas-powered 2020 Transit over eight years/100,000 miles. And with lower maintenance requirements and the opportunity to avoid fill-ups, companies can improve customer uptime and productivity."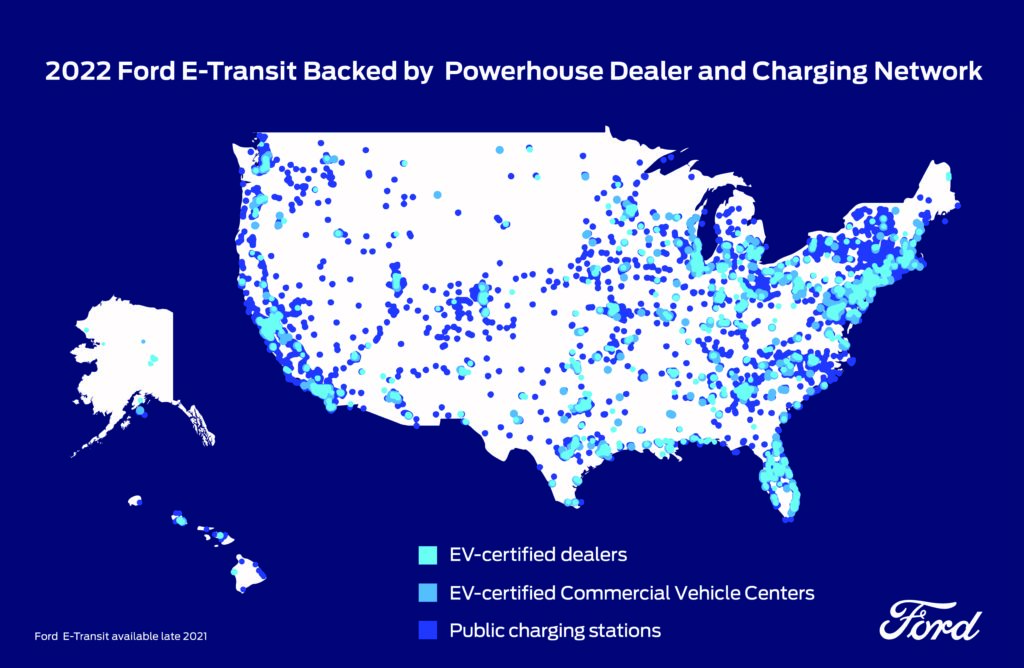 Let's look at the fuel savings as well.
According to the U.S. Department of Energy, the average light truck or van logs 11,543 miles a year, the average delivery truck drives 12,435 miles and the average paratransit shuttle puts in 29,429 miles annually.
Let's be conservative and say the average commercial Transit owner logs as many miles as the shuttle. That only works out to about 80.6 miles a day of travel — comfortably manageable on a 126-mile battery.
Let's be conservative on gas as well and pretend all Transit owners put in paratransit-level distance but get the 2020 Transit's top 19 mpg highway gas mileage the whole time.
A gas 2020 Transit burns through about 1,548.9 gallons of fuel a year. The U.S. Energy Information Administration calculated the average gallon to cost about $2.10 on Monday.  That's $3,252.69 in gas annually.
True, our fleet owner has to cover the cost of electricity — but they still come out way ahead on "fuel" costs. The EIA estimates the transportation sector pays about $0.102 per kiloWatt-hour for electricity. Running this stat through 67 kWh, 126-mile battery specs and 29,429 miles of travel works out to our E-Transit owner paying about $1,596.68 in "fuel" costs annually.
Saving $1,656.01 in fuel annually could make a $45,000 E-Transit look better than a $34,510 gas 2020 Transit long-term — particularly if gas prices rise significantly again.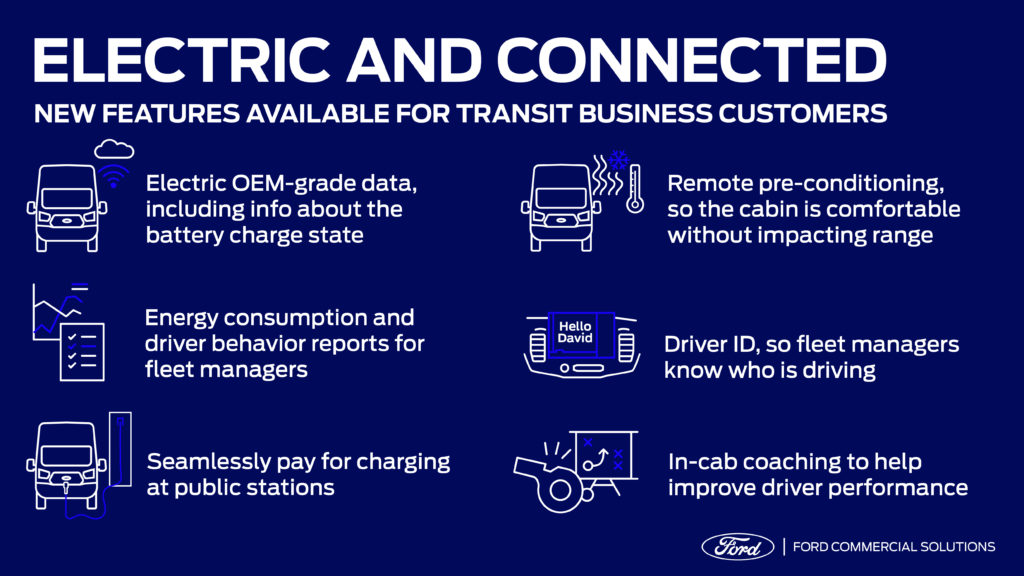 Telematics
Ford also touted telematics options as a perk for fleet owners on Tuesday. Some of these features were available on gas Transits too, and others were EV-specific.
"A range of dedicated electric vehicle services are available through Ford Commercial Solutions, including electric vehicle data enhancements from Ford Telematics and Ford Data Services," Ford wrote.
It said options existed to optimize the vehicle cabin temperature while the vehicle was charging and to track and reimburse employees who charge their vehicles at home. Fleet owners can also receive alerts if a vehicle isn't plugged in at the necessary time and use data on charge speed, remaining charge, and kWh usage to maximize productive time.
"Knowledge is power – and Ford is empowering commercial businesses by giving them the information they need to get the most out of their electric vehicles," Ford Commercial Solutions Chief Operating Officer Julius Marchwicki said in a statement. "Our new connected services and telematics-based offerings from Ford don't just help fleets optimize the performance of their fleet and help improve the performance of their drivers – they help ensure businesses can stay focused on providing great service to their customers."
Ford said it was also adding driver coaching as a feature for its SYNC 4 connectivity and offering integrated Driver ID to learn "which driver is using which vehicle" and track and coach that person's performance over time.
"We've heard directly from our customers how important driver coaching systems are to them," Marchwicki said in a statement.  "By integrating this service directly into our vehicles, businesses can better promote safe driving behavior, optimize energy usage on their vehicles, and reduce wear and tear without installing extra hardware."
Ford said these telematics features built on "Ford Data Services, which provides manufacturer-grade data from vehicles for integration with proprietary software or existing authorized telematics providers."
A better driver workforce obviously means fewer crashes to fix, and the E-Transit will potentially cut crashes even further with various standard and optional ADAS technology. The vehicle will come standard with the ADAS suite Ford Co-Pilot 360, "designed to help fleet customers reduce driver-based insurance claims," and offer optional rear autobraking and alerts.
More information:
"LEADING THE CHARGE: ALL-ELECTRIC FORD E-TRANSIT POWERS THE FUTURE OF BUSINESS WITH NEXT-LEVEL SOFTWARE, SERVICES AND CAPABILITY"
Ford, Nov. 12, 2020
"NEW DATA FOR AN ELECTRIC WORLD: CONNECTED FLEET MANAGEMENT TOOLS FROM FORD HELP OPTIMIZE ELECTRIC FLEETS AND SECURE VEHICLES"
Ford, Nov. 12, 2020
Images:
The 2022 Ford E-Transit is shown. (Provided by Ford)
2022 Ford E-Transits are shown. (Provided by Ford)
Ford on Nov. 12, 2020, said about 90 percent of its 645 commercial dealerships are EV-certified. (Provided by Ford)
Ford on Nov. 12, 2020, discussed telematics options for electric and gas commercial vehicles. (Provided by Ford)
Share This: