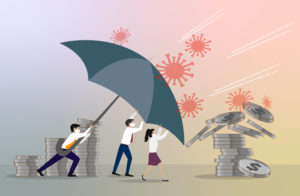 Newly released PPP information indicates that collision repairers continued to need, seek and obtain federal COVID-19 assistance during the extension granted after the program's original end date.
Congress' decision to extend the Paycheck Protection Program to Aug. 8 brought more than $22.4 million in additional funds to auto body shops and related businesses, based on a Repairer Driven News analysis of freshly released Small Business Administration data.
The new SBA records reveal that 858 companies in what the feds classify as the NAICS 811121 "Automotive Body, Paint, and Interior Repair and Maintenance" sector received PPP loans between July 6 and Aug. 8. The financing might have helped protect at least 2,014 more industry jobs
NAICS 811121 is broad enough to include companies like classic/restoration, trailer repair and upholstery shops as well as traditional auto body and paint shops. However, it's narrow enough to exclude auto glass shops and traditional auto mechanical and repair companies. So it ought to work pretty well for our purposes here.
PPP history
The Paycheck Protection Program, seeded with $659 billion in funding during during two spring bills, offered forgivable loans of up to $10 million for companies with up to 500 employees.
The program was supposed to expire June 30, and interest appeared to be waning by that point, relatively speaking.
An initial surge of applications exhausted the initial $349 billion and prompted Congress to add $310 billion more in funding. However, only about $521.5 billion of the PPP funds had been disbursed by June 30. The average loan across all of the nation's small businesses at that point was $107,000.
Nevertheless, Congress in early July approved an extension, which Republican President Donald Trump signed in to law Saturday, July 4. Based on the SBA data, PPP loans resumed as early as Monday, July 6.
Auto body recipients through June 30, Aug. 8
Though most shops applied in April or May, "Automotive Body"-related companies requested and obtained PPP loans right up through June 30, including 94 on that final day.
The average auto body sector PPP loan between the program's April 3 launch and June 30 was nearly $75,800, helping what roughly works out to be an average of 7.91 jobs per company. (The SBA records are weirdly littered with companies associated with numerous blank or "0" job tallies — despite the loan amounts being contingent on the shop's payroll. Best we could do here was average the records of companies that reported at least 1 job.)
However, the shops that applied between July 6 and Aug. 8 only borrowed on average of more than $26,100. On average, those applicants reported nearly 2.9 jobs each.
Nevertheless, it wasn't always only the smaller shops who requested aid that late into the PPP cycle.
Two "Automotive Body" companies spanning a combined 140 jobs borrowed more than $900,000 each between July 6 and Aug. 8 Overall, 33 companies were borrowing more than the national April 3-June 30 average of $107,000 that late in the game (A 34th auto body company was on the bubble, borrowing more than $106,800.)
The data suggests that at best economic uncertainty and at worst a lousy market persisted for collision repairers through the third month of the summer. One wonders how long demand would have progressed among the sector had Congress left the PPP program open until all $659 billion was exhausted.
All 'Automotive Body' PPP results
Examining the data from April 3 through Aug. 8, the "Automotive Body" segment collected nearly $1.5 billion in PPP loans, helping to protect at least 130,809 jobs. The average company drew a loan of nearly $73,700 and had an average of more than 7.7 jobs to protect.
More information:
Small Business Administration PPP data through Aug. 8, 2020
Repairer Driven News compilation of NAICS 811121 "Automotive Body, Paint, and Interior Repair and Maintenance" PPP data through Aug. 8, 2020
Featured image: Newly released Paycheck Protection Program information reveals that collision repairers continued to need, seek and obtain federal COVID-19 assistance during the extension granted after the program's original end date. (Maria Stavreva/iStock)
Share This: