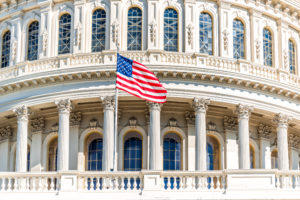 NPR reported early Wednesday afternoon that congressional leaders were closing in on a new COVID-19 relief deal "expected to include many elements of the bipartisan proposal" suggested by some Senate and House lawmakers Monday.
This could be positive news for collision repairers and other small businesses who could use a second Paycheck Protection Program loan and/or an easier forgiveness process.
The bipartisan group of 11 senators and two U.S. representatives on Monday announced their idea for a potentially $748 billion "Bipartisan COVID-19 Emergency Relief Act of 2020." (Which we'll call BECRA for convenience's sake.)
"COVID infections are rising. Small businesses owners and their employees are afraid of going bankrupt and losing their jobs," U.S. Sen. Bill Cassidy, R-La., one of the would-be sponsors of that bill, said in a statement Monday. "Families are wondering how to afford food and rent. This bill reflects weeks of good-faith negotiations from both Republicans and Democrats to find a solution that delivers relief to struggling Americans. This is Congress' last chance to pass a relief bill before Christmas. We must deliver for the good of our country."
The proposal would contain Paycheck Protection Program funding for some small businesses, according to a summary shared by Cassidy. The bipartisan group's legislation also includes a easier PPP loan forgiveness format for businesses receiving $150,000 or less.
"A dozen Senators usually can't agree on a lunch order, let alone almost a trillion dollars in federal spending – so the fact that we're standing here today with a bipartisan bill is evidence of the urgency," Sen. Mark R. Warner, D-Va., another member of the group, said in a statement. "I will be the first to admit that this deal is imperfect. But these challenges are simply too urgent to allow politics to interfere. With unemployment and other benefits scheduled to run out just before Christmas, the American people cannot afford for us to wait. After several weeks of work, I hope that this bipartisan bill moves us closer to providing real relief to the American people without further delay."
A representative of a coalition of businesses seeking simpler PPP forgiveness said Tuesday that the BECRA bill's PPP provisions saw "broad agreement" in Washington and had a shot of making a congressional COVID-19 relief deal.
Senate Majority Leader Mitch McConnell, R-Ky., on Wednesday tweeted a vow "to keep working until we get it (a COVID-19 deal) done." He also described a need "to re-up the Paycheck Protection Program to save jobs."
The American people need more help. We need vaccine distribution money. We need to re-up the Paycheck Protection Program to save jobs. We need to continue to provide for laid-off Americans.

Congressional leaders on both sides are going to keep working until we get it done.

— Leader McConnell (@senatemajldr) December 16, 2020
BECRA would allow any company with no more than 300 employees to collect a second PPP loan, according to the summary.  The company must have experienced a 30 percent revenue decline in any 2020 quarter compared to the same period in 2019.
April-June repairable appraisals — which would hopefully represent the worst quarter of the COVID-19 lockdown-related economy — were down 35 percent nationally over 2019, according to CCC. Third-quarter repairable appraisals were still down 20.3 percent over 2019, CCC said.
Higher severity from altered traffic patterns might have helped alleviate this loss of frequency and propped up body shop revenue. But it seems likely many shops would still meet the "down 30 percent in a quarter" criteria.
The Boyd Group reported its same-store sales had fallen 33 percent from 2019 second-quarter levels and were down 15 percent in the third quarter.
"Average shop revenues are down 25-30% across the country although it varies by region and by the intensity of regional COVID cases," collision industry financial firm Focus Advisors wrote in August. "Most shops are slowly returning to higher volumes. The best news – many operators have figured out how to maintain close to normal margins on dramatically reduced revenues.  The recession of 2009 taught operators how to both survive and then improve operations while under financial duress.  Lessons well learned then are helping the best operators weather this even more extraordinary downturn."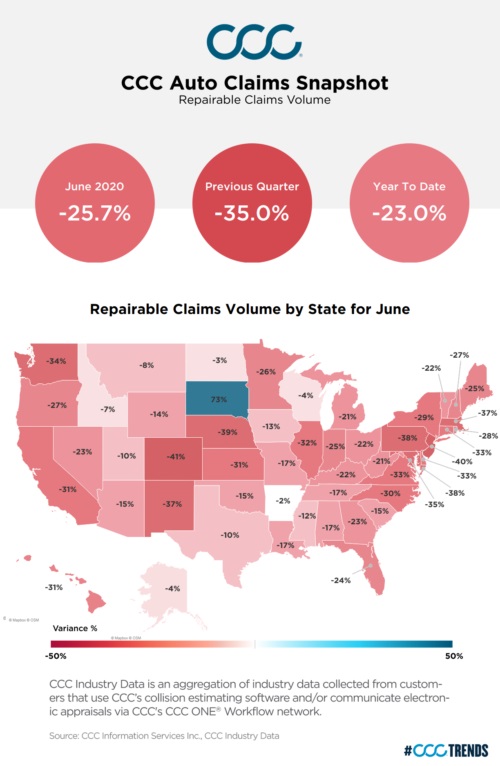 It's unclear how much money would be available for the new PPP program. Cassidy's summary describes giving the SBA $300 billion for a variety of SBA support programs, not jut the PPP loans.
The draft bill text appropriates another $120.64 billion for the PPP above the $659 billion allotted for it before. But the PPP as we knew it only gave out more than $525 billion of that $659 billion by its Aug. 8 deadline.
The draft bill also describes allocating $267.5 billion for PPP loans.
The initial PPP, which ran through Aug. 8, allowed businesses with up to 500 employees to take out the forgivable loans. Some collision industry businesses might have been down 30 percent in a quarter but have too many employees to qualify for this new round of PPP funding.
Newly released comprehensive SBA data reveals that only 10 of the 20,351 PPP loan recipients within the NAICS 811121 "Automotive Body, Paint, and Interior Repair and Maintenance" sector reported more than 300 jobs.
However, the Small Business Administration's records also list a few thousand auto body companies which saved either zero or an unspecified number of jobs — and some of those businessees had borrowed hundreds of thousands or even millions of dollars.
However, if you throw out the blank and zero workforce examples, you still find nearly 83.4 percent (16,971 companies) of the auto body businesses who received PPP loans had 300 or fewer employees and would qualify.
The bipartisan bill also would forgive a broader range of loan expenses. The summary states that these would include "supplier costs and investments in facility modifications and personal protective equipment to operate safely."
Finally, the bill would allow companies to deduct expenses covered by the PPP loans on one's taxes, overriding an IRS position that viewed this to be double-dipping. (The businesses were receiving untaxable income but getting to deduct that amount in expenses as well.)
The summary called this "consistent with Congressional intent in the CARES Act."
PPP forgiveness
PPP loans would be forgiven under BECRA with language similar to a earlier proposal supported by numerous business trade groups.
A draft of BECRA available on Cassidy's website states that the government would generally automatically forgive PPP borrowers of up to $150,000 "if the eligible recipient submits to the lender a one-page online or paper form (from the SBA) … that attests that the eligible recipient complied with the requirements under section 7(a)(36) of the Small Business Act (15 U.S.C. 636(a)(36))."
Essentially, fill out a 1-page form declaring your company was in compliance, and you're forgiven.
The bill would also hold all lenders harmless for their borrowers who lied on that form.
If a body shop borrowed $150,000.01 through $2 million, the company was also excused from filing some forgiveness documentation, making life easier. However such small businesses do need to keep "all employment records relevant to the application for loan forgiveness for the 4-year period following submission of the application." They also need to hang on to "all other supporting documentation relevant to the application for loan forgiveness for the 3-year period following submission of the application."
Lender review of applications for loan forgiveness "shall be limited to whether the lender received a complete application, with all fields completed, initialed, or signed, as applicable."
However, the SBA can still audit those loans and adjust the amount of a covered loan or forgiveness amount if it finds fraud, ineligiblility or other noncompliance.
The SBA also can audit all PPP loans regardless of size, but its enforcement of the $150,000-and-under loans is limited to instances where the borrower committed fraud or spent money on items not permitted under the PPP. In the latter case, "the Administrator may apply the standards and procedures that the Administrator would apply with respect to a loan under another paragraph of such section 7(a)" of the Small Business Act.
Be heard: Congressional contact information can be found here.
More information:
"Cassidy, Lawmakers Share Text of Bipartisan COVID-19 Emergency Relief Bills"
Sen. Bill Cassidy, Dec. 14, 2020
"Warner, Colleagues Unveil Details of Bipartisan, Bicameral COVID-19 Relief"
Sen. Mark Warner, Dec. 14, 2020
"Bipartisan COVID-19 Emergency Relief Act of 2020" summary
Sen. Bill Cassidy, Dec. 14, 2020
Repairer Driven News compilation of NAICS 811121 "Automotive Body, Paint, and Interior Repair and Maintenance" PPP data through Aug. 8, 2020
Images:
The U.S. Capitol is shown. (krblokhin/iStock)
Auto appraisal volume tracked by CCC found June 2020 repairable vehicle appraisals at 25.7 percent of June 2019 numbers. (Provided by CCC)
Share This: