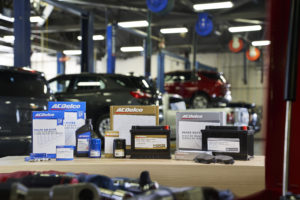 General Motors on Wednesday announced a new marketing campaign supporting GM and ACDelco parts brands.
"This marketing campaign is the next step in our journey to drive a focused, disciplined strategy for GM's maintenance and repair parts brands," GM customer care and aftersales global Vice President John Roth said in a statement. "Based around certainty, the campaign highlights the authenticity and customer benefits that only brands with parts designed and backed by GM can provide."
The "Certainty Starts Here" promotion includes eight videos which tout GM and ACDelco parts for different replacement parts situations — including a collision repair. Wednesday's news release highlighted the collision film and five others.
GM spokeswoman Kristen Ackerman on Friday described the company's plans to get videos before consumers.
"The videos are available now for consumers to view directly on the website, certaintystartshere.com," Ackerman (Weber Shandwick) wrote in an email. "We'll expand their reach through several channels, including social media, digital and CRM, and our broader national media campaign will continue roll out throughout the year with a mix of native, social and print advertising."
"If it's your GM vehicle that took it on the chin, the journey onward starts with the genuine GM parts and the ACDelco GM original equipment you're entitled to request," the narrator of the collision video tells consumers.
He said using such parts means "you're choosing to keep your GM a GM" with parts which meet the OEM's "safety performance requirements."
"Because GM incorporates collision repair solutions when designing a new vehicle, if things go wrong, it can more easily be put right," he continues.
The video features an unspecified Silverado that the narrator tells the audience "was engineered with pre-determined fix locations in the front and in the rear." He said the technician can just swap out a broken area "with preconstructed assemblies" to save time and leave the engine and cab intact.
"And an OE fix also sees you straight through the finish," the narrator states. "Like with a preprepped GM OE front or rear fascia that helps techs ensure extra layers of paint don't interfere with vehicle safety system sensors"
He says "Certainty Starts Here" with OEM parts "and the foresight that only true pros can offer."
Another video aimed at professionals delivers a message specifically to auto body shops.
"Not all repairs happen in the service bay," the narrator states. "That's why we created the GM Collision Repair Network. Imagine repairing a vehicle with tools and techniques from the folks who engineered it. Actually you don't have to imagine. Just join."
It also promotes ACDelco training options and rewards for using GM parts.
"Ask your rep how you can partner with GM Genuine Parts and ACDelco," the narrator says.
As Roth indicated, the ads are one element of a broader GM rebranding effort. The initiative started in December 2020, when GM announced a new, consistent packaging look for its GM and ACDelco OEM parts and its ACDelco aftermarket components.
"This is a transformative moment for our team as the rebranding initiative coincides with the recent announcement of GM's new brand identity, EV and AV initiatives," Roth said in a statement Wednesday. "In concert with the new direction of our company, we will amplify our long-term vision for Customer Care and Aftersales with service and parts solutions to meet the needs of our evolving vehicle platforms. Our integration plan is well underway and will begin to take shape in market later this year."
More information:
"General Motors Customer Care and Aftersales Launches New GM Genuine Parts and ACDelco Marketing Campaign"
General Motors, Feb. 10, 2021
GM "Certainty Starts Here" playlist
GM Genuine Parts & ACDelco YouTube channel, Feb. 1, 2021
GM "Certainty Starts Here" webpage
Featured image: General Motors on Dec. 9, 2020, announced new packaging for GM Genuine Parts and ACDelco components. (Copyright General Motors)
Share This: