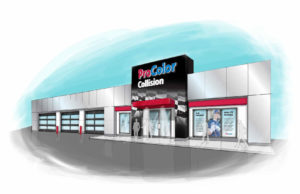 Fix Network World on Thursday announced three auto body shops in Southern California had joined its ProColor franchise — the first locations in the U.S. for the two major international collision brands.
Fix Network World bought the Canadian brand ProColor from Uni-Select in 2019, declaring that the 172 ProColor shops combined with nearly 300 from Fix Auto Canada added up to the largest collision chain in Canada. A year later, Fix Network World announced it would expand the ProColor brand into the U.S.
Avalon Holdings USA owns the La Puente, Chino and Yucca Valley, Calif., collision repair facilities joining the the ProColor brand. CEO Ashraf Jakvani desires "to establish a network of advanced, one-stop collision repair facilities across the state of California," according to Fix Network World.
"The inclusion of the three locations in the network sees our ProColor Collision brand off to a solid start in the US," Fix Network World CEO Steve Leal said in a statement. "Ashraf and his team are amazing forward-thinkers who understand the importance of being part of an international network and are keen to establish fully functional and advanced collision repair facilities."
While Fix Network World owns the Fix Auto USA brand, it doesn't actually own or operate the U.S. collision network doing business under the name. Instead, Fix Network has for years granted that collision company a license to use the brand in America; the deal runs out in 2027.
So the ProColor expansion to SoCal truly represents the opening shot in Fix Network World's campaign to expand to the U.S. Fix Network World said it first planned to target California, Florida, Georgia, North Carolina and South Carolina for potential shops.
In addition to its Canadian interests, Fix Network World has ties to Fix Autos in nearly a dozen other countries. Its scope makes it a competitor — or partner — body shops should watch.
"We were always keen to expand our operations beyond our traditional boundaries. To realize this dream, the support of an established aftermarket network such as Fix Network World is critical," Avalon operations director Lou Romo said in a statement. "We were impressed by the ProColor Collision brand's focus on customer service as well the team's commitment to helping us optimize our operations. We are leaning on their rich experience in developing end-to-end collision repair facilities in other parts of the world and sharing those proven practices to help us better service our customers."
Fix Network said Avalon was "impressed by Fix Network World's leadership at the corporate level along with their professionalism in implementing standard operating procedures."
The three shops are I-CAR Gold and all handle calibration in-house, according to Fix Network. It said Avalon expects to soon obtain Ford, Honda, Subaru and Tesla certifications.
Fix Network also highlighted "front-end customer services and a separate aluminum room" at ProColor Chino, and it said ProColor La Puente carries "touchscreen technology for estimations" and windshield repair and replacement services from Fix Network subsidiary Novus.
In other recent chain-expansion-into-new-states news: Crash Champions on Feb. 2 announced it had purchased Weaver's Auto Center in Shawnee, Kan. Though the company already had a presence in the Kansas City, Mo., area, it's the first truly Kansas location for the growing MSO.
Featured image: A rendering of a possible ProColor USA shop design is shown. (Provided by Fix Network World)
Share This: