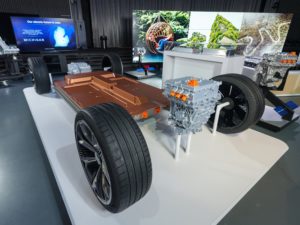 General Motors executives last year reassured auto body shops that the OEM is thinking of the collision industry as the automaker pursues electrification.
GM aftersales engineers and a GM collision program manager examined electrification with a nod to the auto body industry during a virtual OEM Collision Repairer Technology Summit session released in November 2020. The GM video and more than a dozen other Society of Collision Repair Specialists' virtual Repairer Driven Education courses will be available for replay through Aug. 31.
The OEM Summit video came on the heels of GM's fall 2020 reveal of the 2022 HUMMER EV. Less than three months after the video aired, GM pledged to make 40 percent of its models fully battery electric by 2025. The OEM said it wants "to eliminate tailpipe emissions from new light-duty vehicles by 2035."
Thirty all-electric models will be available worldwide midway through this decade, GM said.
GM Global Aftersales Mechanical Engineering director Jennifer Goforth told the OEM Summit audience to expect electric vehicles to be "more mainstream" and to expect electric crossovers, SUVs and trucks.
"These are all very high-volume vehicles," she said during the virtual "Global perspective on electrification, safety systems, emerging trends and collision repair" event.
GM said in January it would dedicate more than half of its capital budget and product development team to "electric and electric-autonomous vehicle programs. And in the coming years, GM plans to offer an EV for every customer, from crossovers and SUVs to trucks and sedans."
Nathaniel Skutt of GM body structure advanced serviceability of design engineering said repairers would need to perform a "gap analysis" between their businesses today and where they would like it to be. They must decide if they wish to handle repairs on what was likely to be an booming population of electric vehicles, he suggested.
GM electric vehicles will carry new innovative battery technology, new electrical systems — and body structure changes to protect the high-voltage powertrain, according to Goforth.
"We must expand the number of repair professionals who are skilled at working at battery-electric vehicles," she said.
She said the OEM wants to be sure collision repairers are ready for the repair processes related to electric vehicles.
General Motors has developed a battery architecture known as "Ultium," which will represent a change from the electric powertrain repairers encountered on the 2017-present Chevrolet Bolt EV, according to Goforth and GM collision manager and session moderator John Eck.
The first Ultium electric vehicle will be the 2022 HUMMER EV late this year, according to GMC. This appears to be followed by the Cadillac LYRIQ going into production next year. A refreshed 2022 Bolt and brand new Bolt "EUV" crossover come out this summer but they use GM's current, pre-Ultium electric vehicle architecture.
Goforth said the Ultium framework relies on a "really great technology" enabling wireless battery management. She said this is a "primary driver" for GM's ability to adapt a standard set of battery parts into different EV types and allows the automaker to launch EVs "a bit faster."
She said the wireless setup cuts wiring within the battery by 90 percent, which she called a "big enabler" for lighter vehicles and more battery range. The wireless technology also permits upgrades via software and real-time battery health checks.
Goforth said GM would need to "work very, very closely" with the collision industry and learn its needs. She said that while the OEM couldn't answer all repairer questions at that time, "we know that you need this information."

Nathaniel Skutt of GM body structure advanced serviceability of design engineering said each new battery electric vehicles would likely present some challenges to the collision industry. However, GM's service engineering teams were working on these challenges, he said. He said many of them came out of the collision and mechanical repair industries and desired to produce serviceability in vehicles.
GM would "absolutely" have repair procedures for electric vehicles just as it does for internal combustion engine ones, he said.
Eck asked Skutt if electric vehicles would have a separate post-collision inspection process than internal combustion engine models.
"The industry seems to be struggling a bit with some of the OEM inspection processes," Eck said, noting that GM might examine if it could improve or clarify the process for ICE vehicles.
"There will be a separate inspection process for those BEVs," Skutt said. Auto body shops would find it within GM OEM repair procedures, he said. GM desired shops to "immediately go there" and reference the documents, according to Skutt. He said in the fall 2020 video that the OEM was working as far ahead as possible in writing them.
GM collision program manager Christopher Blackmore said electric vehicle work requires a "fundamental change" as an auto body shop.
"There's a basic level of risk" to examine as one plans their business and expansion, he said.
"It's more than just purchasing tool and equipment these days," Blackmore said.
Blackmore said then his collision branch was working closely with GM engineers on determining necessary tools and equipment to work on electric vehicles. (It's been a couple of months since the GM video, but it appears this is still under development based upon the current list, dated December 2020.).
"We know that the market is asking," Blackmore said, and while GM recognized they "owe the market answers," they're not available yet.
Asked about restricted electric vehicle structural parts, Blackmore said restricted parts creates a distribution optimization challenge for GM. It imposes a new manual process — an "abnormal process" — on both dealerships and the automaker, he said. Cycle time is also a concern.
GM would continue to examine the idea, but "I can't make any promises right now" on restricted electric vehicle parts, he said. To our knowledge, the 2017-2021 Bolt's parts weren't restricted, and Blackmore in the fall 2020 said GM only restricted parts on the Cadillac CT6 and Corvette C8.
"It's all about ensuring safe, proper repair, with a focus on the customer and the overall brand protection," Blackmore said.
More information:
"Global perspective on electrification, safety systems, emerging trends and collision repair" featuring General Motors (replayable through Aug. 31, 2021)
Society of Collision Repair Specialists, November 2020
Virtual Repairer Driven Education courses (replayable through Aug. 31, 2021)
General Motors' "EV News" media webpage
Featured image: General Motors showed off its modular battery-electric platform on March 4, 2020, in Warren, Mich. (Steve Fecht for General Motors)
Share This: