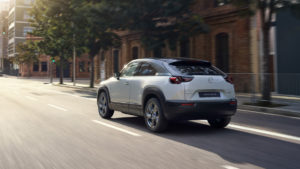 Mazda on Wednesday described its upcoming fully electric MX-30 "basically the same as any other Mazda" from a lightweighting and structural perspective.
The OEM didn't have to convert steel components to other substrates, such as aluminum or composites, to offset the battery mass or preserve range, according to Justin Pagtalunan of the Mazda product communication team.
Pagtalunan said Mazda instead lightweighted the Mazda MX-30 "primarily with the smaller battery size." He wasn't sure if the smaller 35.5 kilowatt-hour battery would still be deployed in a "skateboard" format — a common design in which the battery is basically the floor of the vehicle — or in a different configuration.
That said, repairers will still no doubt encounter plenty of light, tough higher-strength steels, so make sure to consult those Mazda OEM repair procedures. (Not to mention the instructions associated with the MX-30's high-voltage battery.)
Pagtalunan noted that Mazdas tend to be lighter anyway compared to other vehicle models. He also said the OEM still strove for efficiency and protection on the MX-30 body.
"Enhanced i-Activsense safety features help cover a wider range of safety scenarios while its high strength body helps protect the space-saving battery and most importantly the MX-30's occupants," Mazda wrote in a news release Wednesday. "Details and availability of these safety features will be shared closer to the launch of this vehicle."
Mazda also said Wednesday it made "enhancements to the Skyactiv-Vehicle Architecture" which contributed to "great driving dynamics" on the MX-30.
Mazda in 2019 boasted that the SKYACTIV platform, which was to debut on the 2019 Mazda3 and spread to other Mazdas, includes "the world's first cold-stamped vehicle body parts made from 1,310 MPa-class high-strength steel." A Mazda SKYACTIV webpage estimates more than 40 percent of a SKYACTIV body would feature steels of 590 megapascals or higher.
However, Mazda in 2018 also said it would build 30 percent of the 2019 Mazda3 body out of ultra-high-strength steels of 980 megapascals or higher — compared to just 3 percent of the outgoing 2018 Mazda3.
The MX-30 will arrive in fall 2021, starting with California dealerships.
Other details potentially of interest from Mazda's news release.
• The MX-30 has "freestyle doors."
• Mazda didn't provide a range estimate with its Wednesday news release for the MX-30, but a 35.5 kWh battery ought to yield around 111 miles, based on a Department of Energy estimate using 2016 vehicle technology. Mazda said 50-kilowatt DC faast-charging can bring the battery from 20 percent full to 80 percent in 36 minutes.
Though many EV manufacturers shoot for 200- to 300-mile ranges, the average person drives just a few dozen miles a day. So there's a strategic argument for OEMs to compete with lower-range models which are more affordable to manufacture and buy rather than add in cost for range their target audience won't use anyway.
• Mazda will also follow up the fully electric edition of the MX-30 with a "series plug-in hybrid" version that will use a rotary generator to charge the battery.
"The rotary generator will mark the return of our unique rotary powertrain," Mazda North American Operations President Jeff Guyton said in a statement. "This technology is being engineered for nearly silent operation and will replenish the battery rather than drive the wheels. As a result, the MX-30 will always drive like the engaging EV that it is, but with freedom to charge from the wall or on the go."
•  Mazda also plans to sell "a plug-in hybrid for our new large platform, and a traditional hybrid for our new American-made crossover."
More information:
"ALL-NEW ELECTRIFIED MX-30 FEATURES MAZDA'S GREAT DRIVING DYNAMICS"
Mazda, April 14, 2021
Featured image: The electric MX-30 is shown. It will go on sale in fall 2021. (Provided by Mazda)
Share This: