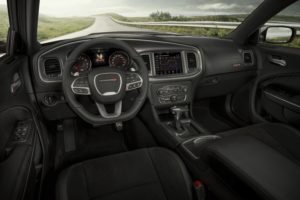 A new Stellantis position statement explains which crash damage triggers the need to replace a steering column in one of the OEM's vehicles.
"If the vehicle is involved in a collision where the airbag has been deployed or the steering wheel is visibly deformed, then steering column replacement is required," the document from the OEM formerly known as FCA states. "Internal component damage from such an event may not be visible; however, steering column replacement is required." The exact date of the position statement is unclear, but a copy posted to OEM1Stop.com carried an April 1, 2021, date.
The position statement resolves guidance Collision Hub industry relations director Jason Bartanen had criticized as vague during last summer's Collision Industry Conference. 
Bartanen in July 2020 had demonstrated how a prior Dodge Charger repair procedure mandated that steering columns "must be replaced" after any "front end collision," regardless of airbag deployment. This led to an auto body shop replacing a Charger's steering column after a raccoon strike produced the relatively minor damage seen below.
On Thursday, he reported the new Stellantis position statement to the Phoeniz, Ariz., CIC, called it a "very positive step forward" and thanked the people behind it.
The Stellantis document also describes a series of evaluations necessary when a steering rack/gear displays "visible damage or deformation" following a crash. These include:
● Steering wheel is off center
● Vehicle pulls left or right
● Perceived column/steering wheel free play
● Steering wheel has fore and aft looseness
● Perceived dash, vehicle, steering wheel vibration by driver
● Difficult steering in either or both directions
● Steering catches/sticks
● Steering wheel does not return to center position
● Excessive road feedback
● Noise or vibration such as a rattle, excessive clunk, popping, squeaking/rubbing, scrubbing/knocking (Minor formatting edits.)
If the shop finds any of these scenarios occurring, then it must "follow the Steering System Diagnosis & Testing instruction in FCA's published Service Information to correct the condition." Stellantis observed that the relevant OEM procedures don't always demand a new steering rack/gear.
And in other inspections-following-a-crash news Thursday:
• Bartanen said there'd been no new developments on the issue of new replacement OEM steering columns failing to match General Motors repair procedure specs. He'd brought up this concern during the same CIC he raised the FCA issue.
• I-CAR seeks reports from auto body shops which do indeed find damage during supplemental restraint system inspections mandated by automakers.
"We want a lot of data," I-CAR repairability technical support and OEM technical relations manager Scott VanHulle told the CIC Thursday. He also called for "pictures, pictures, pictures." Submit your examples here on the Repairability Technical Support portal here.
More information:
"Steering System Inspection After a Collision"
Stellantis, 2021
Stellantis OEM repair procedures
Featured image: A 2021 Dodge Charger Widebody Scat Pack with flat-bottom steering wheel is shown. A new position statement from Stellantis explains when a steering column would automatically need to be replaced after a collision.  (Provided by Dodge)
Share This: