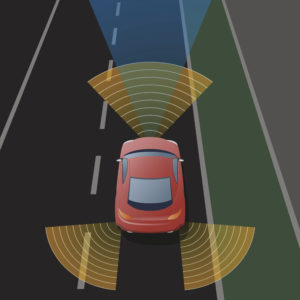 A new Society of Automotive Engineers EDGE Research Report alerts the auto industry to issues advanced driver assistance systems pose to the aftermarket and recommends steps like consolidating calibration procedures, shrinking space requirements and producing a means to verify calibration.
Such SAE reports are meant to draw attention to issues which arise as new technology comes to market. EDGE Report author John Waraniak last month called them a good catalyst for a new SAE standard.
Waraniak, the CEO of Have Blue and a 2019 SAE fellow, said his March report has seen a torrent of downloads since its announcement at a recent SAE World Congress. Waraniak, who spent 15 years as SEMA's vehicle technology vice president, said that for anyone involved in the customization, collision or update/upgrade industries, "you need to know what's in this report."
Waraniak said he and Motor and Equipment Manufacturers Association Chief Technology Officer Brian Daugherty contacted the SAE Motor Vehicle Council in late 2019 and said, "'There's chaos out there.'"
No standard definitions existed for ADAS technology, the consumer didn't know about it, and the collision, modification, customization and update industries had no guidance to draw upon, Waraniak said they explained.
The Motor Vehicle Council was supportive, and an announcement of the project at the Consumer Electronics Show led to an "overwhelming response," with about 40 people volunteering to serve on an SAE task force. A smaller subset of the group — including familiar collision industry names like SCRS, AirPro, Safelite owner Belron and Hunter Engineering — collaborated on the EDGE Report.
Asked about the prospects for the report to prompt change from OEMs or the SAE, Waraniak pointed to his experience on the task force. He called it it the "fastest-moving" and "most collaborative" one he'd ever served on and said it included automakers and Tier 1 suppliers.
As for the Motor Vehicle Council which backed the project, "that's all OEMs," according to Waraniak.
"They really jumped on board with this," Waraniak said. He said that when the effort began 18 months ago, automakers hadn't realized the degree of confusion out in the field.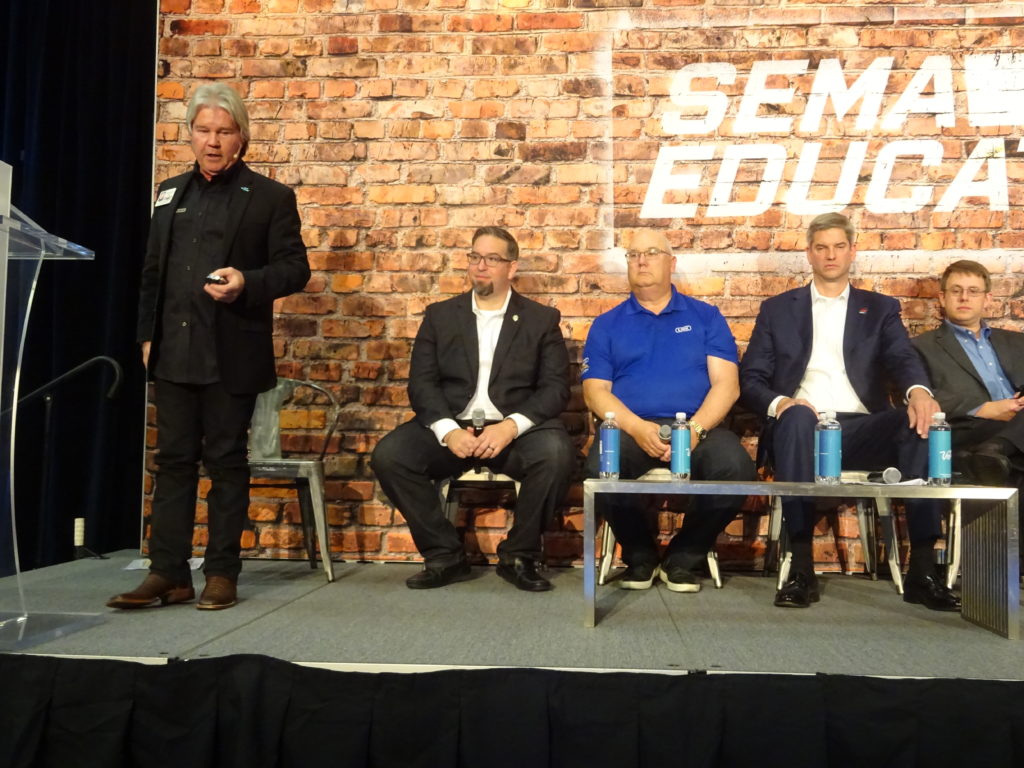 Standardizing terms
Before any calibration targets brought onto the shop floor, a shop needs to understand what ADAS even exists on the vehicle, look up the repair procedures accordingly, and capture them on an estimate. This task can be complicated by individual OEMs each assigning different terms for what's essentially the same feature.
Significant progress was made on this topic prior to Waraniak's report. SAE addressed the nomenclature and definition issue in 2020 by endorsing a generic set of terms it had developed along with parties like J.D. Power, AAA and Consumer Reports. It also agreed to revise its engineer-facing SAE J-3063 "Active Safety Systems Terms and Definitions" standard accordingly.
But Waraniak's report still points out that "many experts believe more must be done in the area of common naming—but at the component level.
"The problem is that many components that comprise ADAS have unique names and marketing terms provided by their manufacturers. That is despite the fact that those components are almost all sourced from the same handful of Tier One suppliers. For example, a recent Inter-Industry Conference on Auto Collision Repair (I-CAR) study found that there were around 52 different names for a front forward-facing camera."
It recommends standardizing those individual part names too. "For instance, a front O2 sensor is called a front O2 sensor on every vehicle," Waraniak wrote.
Similar to the overarching terminology for the ADAS systems, standardizing individual part names would help body shops search for instructions in OEM repair procedures, better understand the technology, and explain repairs to customers and insurers.
Greater standardization
Once you understand what's on the vehicle, you still need to restore it. Waraniak report alerts automakers to the difficulty collision repairers have keeping up with the different calibration protocols in the marketplace.
"One of the most important unsettled issues related to aftermarket ADAS calibrations is how to cut through the massive confusion surrounding OEM calibration procedures," Waraniak wrote." As an industry, one of the key issues is the overwhelming number of different sensor calibration procedures and processes, whether it is for radar sensors, machine vision/camera systems, or any other sensor system."
A single supplier's technology might have different calibration procedures for "basically the same sensor" among 20 different OEMs who buy the part. It's also possible that an OEM might use different sensors — which come with different calibration procedures — on different trims of the same vehicle, during the same model year, according to Waraniak.
Even if a shop learns all the procedures, they've still got to purchase the necessary targets to calibrate the vehicles.
"One of the Equipment and Tool Institute's (ETI's) member companies has 14 different rear camera targets, 10 different front camera targets, and 12 different miscellaneous targets," Waraniak wrote. "That equates to many different styles of targets that shops would have to buy just to cover vehicles from one OEM—let alone many OEMs—that they work on."
But according to Waraniak, "experts say cameras that need to be calibrated are mostly made by the same group of Tier One suppliers so they could come up with some standard targets that would work for everybody."
They also need enough space for the calibration. According to Waraniak, it's suggested a shop have at least a level 30-foot by 50-foot space — but they'll need 4,000 square feet to handle everything.
"According to many industry experts, the issues related to the static tests could be remedied by standardizing calibration procedures, targets, and tools. One option could be to use a standard 20 by 10-foot room, with walls painted consistently and with standard targets like Xs and 0s. Any make or model of vehicle, prepped in a consistent way, could be pulled into that room, and a standard static calibration could be performed."
The report also warns that without greater standardization, repairers might attempt to "spoof" the system. "They do not have a hundred feet of space to set the target up, so they find a different way," Waraniak wrote. "There are many online videos which show these procedures, which are not recommended by the OEM."
As for dynamic calibrations, Waraniak's report recommended loosening up their requirements, pointing out that instructions like "40 mph on a well-marked road for at least 20 minutes" could be difficult in certain parts of the country.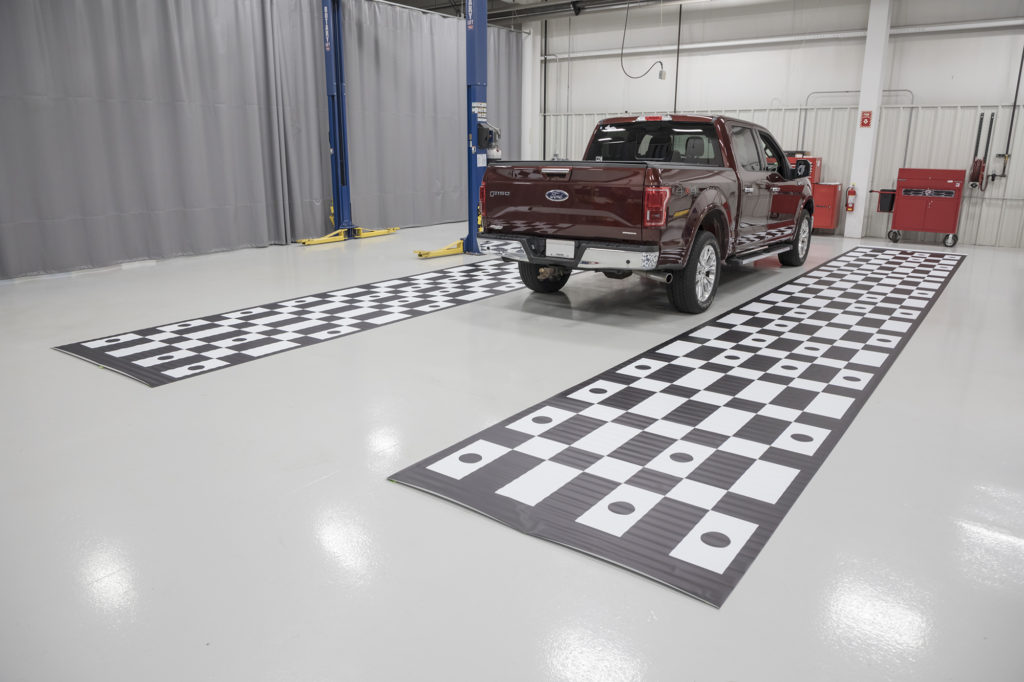 Validation
Even if the OEMs and Tier 1s cooperate by standardizing and minimizing calibration requirements, there's still the risk that the vehicle has been calibrated incorrectly inadvertently. For example, a target is placed too close or too far from the vehicle. The ADAS thinks it's looking at the right place when it hits the road, but it isn't. Waraniak proposed a variant of the "Check Engine" light for ADAS.
"Many experts believe there should be a similar onboard system that catches ADAS faults, but OEMs would have to be willing to comply. This is another area where the aftermarket wants to work with the industry—especially OEM partners. There needs to be some sort of compliance check to make sure that these systems are identifying when they are not operating properly and letting the
operator of that vehicle know that there is a problem with the vehicle.
"Vehicles with improper or incomplete ADAS recalibrations, which do not work as intended, may not be evident to the driver until a situation occurs that may result in a collision. This is an issue that many OEMs are working on, but experts think the industry could use some help in putting together a test system that would identify when ADAS-related functions are failing in real time."
We asked if this was even realistic. After all camera calibrated a degree off still thinks it's looking in the correct place. A blocked blind spot monitor thinks it's seeing a vehicle. How would the vehicle even know an error existed?
Waraniak suggested that sensor fusion — in which the feeds from different sensors and cameras are combined for a greater sense of the surroundings — meant that other, properly calibrated equipment on the vehicle could spot when one of their brethren wasn't correctly calibrated. A situation like a vehicle that has been lifted to a different height than factory spec could result in a scan message declaring, "'Front camera inoperative,'" according to Waraniak.
"Most of the sensors will just shut down and say, 'Inoperative,'" he said.
Waraniak recommended that the SAE recognize and accommodate aftermarket modifications like this hypothetical lifting. "The average collision repair or aftermarket modification shop might not know they are impacting crucial safety functionality or might not completely think through the entire product modification and installation process," he wrote.
He also raised another interesting point about sensor fusion and vehicle technology at the end of our  interview.
Features like drive-by-wire and brake-by-wire, which replace mechanical components with electronic ones, exist in the market. "The shops have to start getting used to this," Waraniak said.
Repairers planning to stay in business in the future need to stay current on technology, he said. Shocks, cameras and brakes might now be talking to each other and to the time-to-collision calculator on the vehicle. "You're messing with some pretty powerful stuff," he said.
Fortunately, he said the STEM and STEAM students aren't daunted by it.
Waraniak also said that digital vehicle architectures do help cut 100 electronic control units to one or two domain computers. They'll also allow many sensors to self-calibrate.
"We'll get through this," he said. However, today's vehicles will be on the road for a decade, so "a lot of work to do" exists.
Correction: An earlier version of this report contained an incorrect name for John Waraniak's business. Waraniak is the CEO of Have Blue. The article has since been corrected to reflect this.
Images:
Canadian and U.S. shops might be overlooking required calibrations, based on adasThink and CCC data, respectively, released in 2020. (chombosan/iStock)
Then-SEMA vehicle technology Vice President John Waraniak, left, speaks at "Customizing with Confidence," a SEMA 2018 session which examined modifying vehicles with advanced driver assistance systems. Waraniak, now the CEO of Have Blue, in March 2021 published an SAE EDGE Report exploring the issue of ADAS calibration in the automotive aftermarket. (John Huetter/Repairer Driven News)
Calibration mats are positioned along the left and right sides of the 2015 Ford F-150 to recalibrate the surround view cameras. (Provided by I-CAR)
Share This: