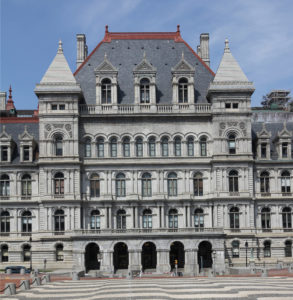 Both houses of the New York Legislature have passed a bill setting a "goal" that all new light-duty vehicles sold or leased in the state in 2035 are "zero-emissions."
The language in Assembly Bill 4302 would require new car dealers to sell or lease battery-electric vehicles. Presumably, hydrogen fuel cell vehicles would also be considered acceptable, as they only emit water vapor and not the carbon dioxide that everyone's trying to reduce.
Medium- and heavy-duty vehicles in New York would need to hit the zero-emission target by 2045 "where feasible," according to A4302.
The Assembly passed the measure April 20 in a 110-40 vote. The Senate OK'd it 44-18 on April 26.
"We need to take aggressive action and end carbon pollution to successfully combat the climate crisis," Assembly lead sponsor Steve Englebright, D-Setauket, said in a statement celebrating the bill's passage. "Transitioning to zero-emission vehicles in New York will definitely help reduce the dangerous pollutants that are harming our environment and causing myriad health problems for our residents. Also, building cleaner cars will mean more new manufacturing and service jobs across the country."
Democratic Gov. Andrew Cuomo has not yet signed the bill.
However, he and 11 other governors on April 21 asked Democratic President Joe Biden to mandate that all new light-duty vehicles "are zero-emission no later than 2035 with significant milestones along the way to monitor progress."
The governors also called on Biden to create policies and standards "that set a path towards 100% zero-emission sales by no later than 2045" for medium- and heavy-duty vehicles.
The governors of California, Connecticut, Hawaii, Maine, Massachusetts, New Jersey, New Mexico, North Carolina, Oregon, Rhode Island and Washington also signed the letter.
"By establishing a clear regulatory path to ensuring that all vehicles sold in the United States are zero-emission, we can finally clear the air and create high-road jobs," the governors wrote. "Moving quickly towards a zero-emission transportation future will protect the health of all communities."
Lawmakers in Washington state and California Gov. Gavin Newsom have established concrete zero-emission dates for passenger vehicles as well.
Washington House Bill 1287 would require all vehicles to be electric or hydrogen by 2030 if the state has enacted "a road usage charge, or equivalent fee or tax based on vehicle miles traveled." The measure cleared the Legislature in April, though Democratic Gov. Jay Inslee has not yet signed it into law.
Newsom, a Democrat, in 2020 ordered the California Air Resources Board to require zero emissions from all 2035 new car and passenger trucks.
"Requiring vehicles to be entirely free of carbon and other toxic emissions is the best way to ramp up our fight against climate change," New York Senate bill sponsor Sen. Pete Harckham, D-South Salem, said in a statement celebrating his bill's passage. "We need to take decisive action right now, and I am heartened that a number of other states have realized this as well. Together, we can make a difference, but it is going to take an all-out initiative to save our planet, and this is how New York and other states can impact the environment."
Some OEMs have described plans to be completely or nearly completely electric in the 2035 ballpark anyway, perhaps most notably No. 1 General Motors' vow to "eliminate tailpipe emissions from new light-duty vehicles by 2035." Jaguar, meanwhile, is actually shooting for all-electric by 2025.
Be heard: Cuomo can be reached here. Biden can be reached here.
More information:
12 governors' April 21, 2021, emissions letter to President Biden
Featured image: The New York Capitol is shown. (peterspiro/iStock)
Share This: