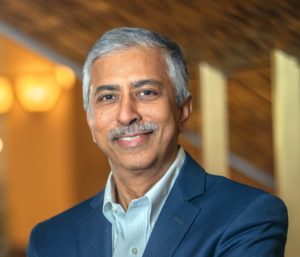 CCC CEO Githesh Ramamurthy on Thursday told investors the company had seen "less and less overlap" within body shops' estimating software.
"I would say shops still have multiple (systems)," Ramamurthy said. But he mentioned a trend moving in the other direction.
"We are seeing less and less overlap," he said.
Ramamurthy estimated that CCC has a foothold in between 25,000 and 26,000 of the more than 40,000 collision repairers in place today.
"We're continuing to add every month, every quarter, to those repair facilities. so we see continued growth," he said.
CCC received a significant boost in December 2020 when State Farm, which had long been platform-agnostics, said it would require all Select Service shops to use CCC effective April 1.
Both CCC and Audatex caught a break in April when General Motors said it would go platform-agnostic and no longer mandate Mitchell at certified auto body shops. However, Mazda shortly afterwards announced this month its new certified collision network would require Mitchell.
Multiple estimating systems in place
A 2019 Collision Advice-CRASH Network "Who Pays for What?" survey was the most recent version to ask about estimating system usage. It found 83.7 percent of responding shops had CCC installed. 27.9 percent used Mitchell, and 23.7 percent ran Audatex.
Nearly a third of shops — 30.3 percent — had multiple estimating services. In 2016, 34.1 percent did.

Two analysts had asked Ramamurthy about the collision industry's use of multiple estimating services. One inquired if repairers were still using multiple information providers, and the other wondered about CCC's progress in making its software ubiquitous.
Ramamurthy said CEO's plan to be ubiquitous involved focusing on a "killer product experience." He observed that CCC rates an 80 Net Promoter Score, which he called "way off the charts" for a piece of enterprise software.
"That lends itself naturally to customers choosing us," he said.
The "Who Pays?" data did find that CCC in 2019 was the only estimating service primarily chosen for a reason other than an insurer forced the body shop to do so. 35.9 percent of shops cited CCC's quality as their primary reason for using the platform, the No. 1 reason cited by CCC users in the study.
The second most common reason for picking CCC in 2019 was an insurer requirement, at 31.1 percent.
The margin of error was 3.5 percent if 750 respondents answered the question; it's unclear how many repairers replied to that inquiry.
In contrast, 51.2 percent of Audatex users and 35 percent of Mitchell customers called an insurer mandate their primary reason for buying the software.
Another 15.5 percent of Mitchell users, 10 percent of Audatex customers and 7.1 percent of CCC clients said they bought that particular system primarily "To match insurer-written estimates."

Ramamurthy said one of the key drivers of CCC's first-quarter growth was its ability to deliver new features to customers and create innovation scalable across the network.
CCC took pride in "deepening product penetration." He said nearly two-thirds of the 25,000 body shops used more than one CCC product, up from 11 percent a decade prior.
Asked if any upfront investment was necessary to add technology to a repairer, Ramamurthy said the switch to the CCC One cloud-based system years ago dramatically reduced the effort the company needs to put into local support and implementation.
'Land and expand'
Ramamurthy said CCC has a 98 percent software retention rate among all clients.
CCC Chief Financial Officer Brian Herb observed that CCC used a "'land and expand' model" drawing on high retention rates and additional growth from cross-selling and upselling more products to customers. It makes 96 percent of its money from recurring software revenue, with 80 percent of that coming from subscriptions and the remainder from per-transaction charges.
Herb said CCC posted a 98 percent gross dollar retention, a measurement reflecting the amount of money it retained from clients compared to the prior year.
He said he felt this reflected CCC's customer value and the "stickiness of the network effect" and called it a "core tenet" of the company.
CCC's software net dollar retention, which measures its ability to cross-sell and upsell more stuff to existing customers, was 106 percent in the first quarter. Herb called this a "key driver" of growth and described the NDR rate as historically 105-106 percent prior to the 2020 COVID-19 pandemic.
Herb called new customers a "meaningful" part of CCC's growth but expected the primary driver would be NDR. He said he expected that metric to grow to further as the year progressed.
On the whole, CCC put out 1,400 software releases last year and had 99.98 percent cloud uptime, according to Ramamurthy.
Sales performance
CCC did $157.8 million in revenue during the first quarter, up 7 percent when adjusted for its divesting of a first party clinical services business which had been present during the first quarter of 2020.
The company said it expected to bring in between $162-$164 million this quarter and $672-$678 million in sales for the year. It expected to clear $240-$245 million in adjusted earnings before interest, taxes, depreciation and amortization.
"CCC's first quarter performance benefitted from several positive trends across our business, and continued to demonstrate the significant value we deliver to all participants in the P&C insurance economy," Ramamurthy said in a statement. "Our first quarter results came in as expected, and our accelerating growth positions us well to deliver on our plan of double-digit revenue growth in the second quarter and for the full year (excluding First Party Clinical Services revenue which was divested in Q4 2020). Our customers are increasingly embracing digitization to improve efficiency, enhance the consumer experience, and manage the growing complexity of the auto insurance economy."
More information:
"CCC Information Services Inc. Announces First Quarter Fiscal 2021 Financial Results"
CCC, May 20, 2021
CCC first-quarter 2021 earnings call
CCC, May 20, 2021
Images:
A 2019 "Who Pays for What?" survey question found CCC with a significant market penetration among responding shops. (Provided by Collision Advice and CRASH Network)
A 2019 "Who Pays for What?" survey found insurer mandates were the primary driver for shops buying Audatex and Mitchell. (Provided by Collision Advice and CRASH Network)
Share This: