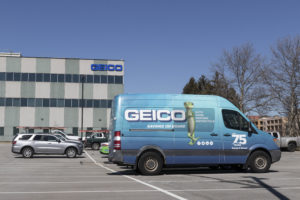 Tractable announced Wednesday that No. 2 U.S. auto insurer GEICO would use Tractable's AI Review photo estimating product to "within seconds" verify the quality of existing sheets.
"GEICO customers know us for our speed of service and value," GEICO CEO Todd Combs said in a statement Wednesday. "Tractable's artificial intelligence solution delivers both, helping us review estimates more quickly and accurately, getting our customers back on the road faster."
Unlike the Hartford, which is using Tractable's photo estimating artificial intelligence to prepare estimates on the the front end, GEICO is using its back-end solution AI Review. That product offers oversight on sheets already written by humans.
"An appraiser or repairer uploads an estimate and pictures for each claim to the insurer's claims management system," Tractable writes of AI Review. "For a large insurer with hundreds of thousands – if not millions – of claims per year, and each one traditionally taking approximately 30 minutes to review, it's impossible to manually review them all." But its software "takes just minutes to review all your estimates and spot any inefficiencies or errors."
Tractable said it could not discuss GEICO's specific plans for the AI Review software. The Wall Street Journal reported Tuesday that the scope of GEICO's deployment would include checking collision repairers' estimates. GEICO has not yet responded to a Thursday afternoon request for more information.
Tractable estimates AI Review can cut eight days out of cycle times and find "$80 additional variance … per claim thanks to AI consistency."
Tractable said the majority of estimates processed through AI Review are found to be fine and "processed without any human involvement whatsoever, but complex cases or those with potential inaccuracies are flagged for follow-up by human experts." It said 70 percent of claims on average can be reviewed without bringing in a human.
"We are honored to be chosen by GEICO, one of America's largest insurers," Tractable CEO Alex Dalyac said in a statement. "We are committed to accelerating accident recovery with AI. Through this partnership, our AI will make a positive difference to millions of lives."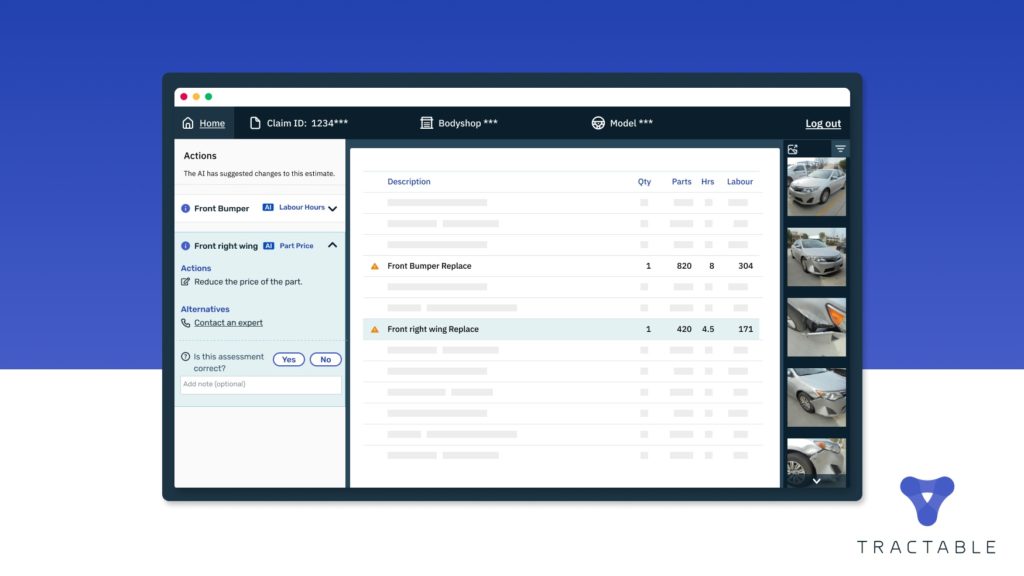 In other Tractable news, the company recently announced that France's largest insurer, Covéa, has expanded Tractable software to its thousands of network body shops.
"(I)t will assess auto claims from its three insurance brands (MAAF, MMA and GMF) in real-time, and on a national scale," Tractable wrote in a news release April 22.
"By speeding up decisions and making the process more efficient, the AI makes it possible to analyse claims in a few minutes, instead of a few days. It will also ensure bodyshops follow the most appropriate and safe repair methods, and allow experts to focus their attention on more complex tasks."
Tractable President Adrien Cohen described the process as a way to approve repairers' decisions with AI quickly rather than waiting for a human adjuster.
Tractable also recently heralded major Polish insurer Warta's 2020 deployment of AI Review across all claims handled by its network of shops.
"Now, 100% of Warta's network claims are visually checked by the AI, allowing cases without anomalies to be immediately approved, to the benefit of repairers," Tractable wrote. "Meanwhile, claims with anomalies are flagged to engineers along with all the information and photos needed to resolve them – helping Warta review each claim up to 3 times faster."
Warta project manager Jakub Polnik said Tractable allowed it to "make sure every claim is being repaired according to the damage and technology provided by the car producer. As a result, we have a much greater oversight of every aspect of our repair network, ensuring we are providing the best possible service for our customers."
More information:
"GEICO partners with Tractable to accelerate accident recovery with AI"
GEICO, May 26, 2021
"Tractable partners with Covéa, France's leading auto insurer, to deploy AI"
Tractable, April 22, 2021
Images:
A GEICO office is seen. (jetcityimage/iStock)
Tractable released this image of AI Review in conjunction with an April 22, 2021, news release announcing French insurer Covéa would use the AI photo estimating software to analyze estimates from its network of body shops. (Provided by Tractable)
Share This: