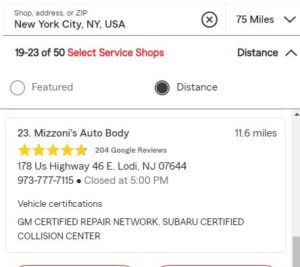 State Farm has made good on plans to flag certified auto body shops on its Select Service network locator.
It's unclear which OEMs are reflected in State Farm's records and which one have yet to be added. For now, the locator is only sortable by distance or featured facilities; you can't filter it by other data present in the chart. (In addition to certifications, State Farm's locator also offers shop-specific information like Google reviews and hours.)
We ran 75-mile searches Wednesday in five major metro areas across the country — Chicago, New York City, Seattle, Houston and Los Angeles — figuring these would be prone to yield a variety of certified repairers among the pool of results. We found shops identified as certified for General Motors, Subaru, Toyota, BMW and Mercedes on the consumer-facing tool. As noted above, other brands might be present as well.
State Farm did not respond to a request for details on the date the initiative started and how customers have been responding.
State Farm claims consultant Chris Evans in November 2020 had estimated that such certification listings would appear in the first quarter of this year.
"We believe that that's what our customers're asking for, and that's what we're gonna give 'em," Evans said.
Evans told the virtual MSO Symposium last fall that State Farm didn't require automaker network participation for Select Service shops, but it was exploring the concept of OEM certification.
"It's not going away," Evans said.
He called it "really about the customer." What did customers want, and were they pursuing OEM certification? State Farm saw an "increasing trend in that direction," he said. "… We are serious about it."
The move by the nation's No. 1 insurer could increase overall consumer awareness of the concept of OEM networks, which could benefit both DRP and non-DRP certified repairers. It also rewards Select Service shops who put in the time and expense of certification by recognizing that distinction from their peers.
It might also spur other insurers to support customers and the carriers' own certified business partners in such a fashion.
Appearing on the virtual MSO Symposium panel with Evans was Liberty Mutual auto physical damage Vice President Scott Kohl. He called OEM certification "more and more important," particularly as vehicles become more complicated.
"OEM certs do matter," he said. "… While it isn't a requirement, it certainly is beneficial."
He called it important that Liberty Mutual supported its certified direct repair program facilities with volume "so that that moves to their body shops."
More information:
State Farm Select Service facility locator
State Farm's online Select Service shop locator now displays OEM certifications for at least some automaker brands. (Screenshot from repair.claims.statefarm.com)
Share This: