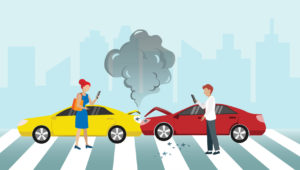 The LexisNexis 2021 "Future of Claims Report" released last month found customers less satisfied with the noninjury auto claims experience overall than in 2019 but nonetheless more supportive of virtual claims handling than they were two years ago.
The results suggest that insurers virtual claims handling techniques such as photo estimating or even completely touchless claims — fully automated, AI-driven processes — are likely to continue after the end of the COVID-19 pandemic. But "insurance carriers have some work to do to keep the industry moving toward a future of touchless claims," LexisNexis wrote in an a May 3 news release.
"While the past year has proven to be a great awakening for claims automation, we're now at a crossroad, and what will set insurers apart is a complete claims handling digital transformation and move from traditional to touchless," LexisNexis U.S. auto claims strategy Vice President and study author Bill Brower said in a statement. "As we look ahead to 2025, the industry should be optimistic that we will soon see a day when the vast majority of claims will be processed virtually. But it will take hard work to get there."
The study reiterated author Brower's predictions from this winter that 80 percent of claims will be virtual  — handled remotely by minimal insurer staff — in 2025. Up to 50 percent would be "touchless" — potentially completely automated.
LexisNexis said the pandemic pushed an auto insurance industry handling less than 15 percent of auto claims handled virtually to become one handling nearly 100 percent of them online, based on its conversations with insurers.
"Now, just over a year later, virtual claims handling has settled to a level of a little over 60%, illustrating that while consumers are getting comfortable with automated processes, insurance carriers have some work to do to keep the industry moving toward a future of touchless claims," LexisNexis wrote in the May 3 news release.
Brower told an A.M. Best webinar May 26 he didn't know if it would even take four years to reach the 80 percent figure again. "I think it's coming a little quicker," Brower said.
Brower predicted that 50 percent of noninjury claims would be reported using a customer self-service tool like an app. The study found consumers who had filed a claim during the COVID-19 pandemic were less likely to want more human interaction in future non-injury claims. Instead, they'd prefer to use more self-service.
Brower said the move to virtual claims handling appeared to be something "consumers much appreciate."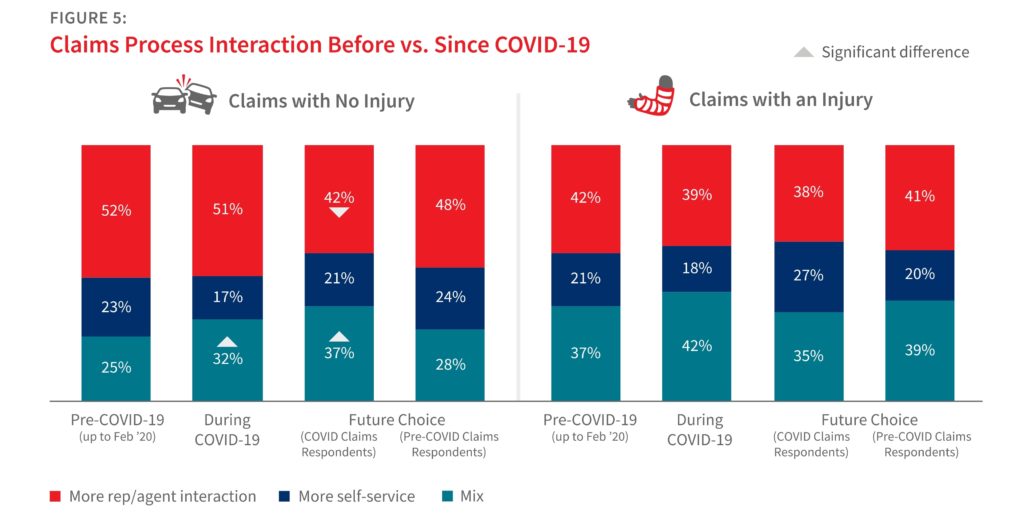 The "Future of Claims" study educates repairers on what kind of moods and attitudes they might find among customers as this virtual claims handling trend persists. The study also offers shops perspective on how to refine a shop's own virtual offerings — such as a scheduling or in-house photo estimating app — to suit customer tastes.
LexisNexis surveyed 1,750 consumers between ages 25-65, 1,000 of which had filed a claim in the past two years. Out of those, 284 had filed a claim during the COVID-19 pandemic. The percentage of all these customers declaring themselves "very satisfied" with a noninjury auto claim fell from 67 percent to 54 percent between 2019 to 2021, according to the 2021 study.
"Survey results were down just a little," Brower said on the A.M. Best webinar. He called the results "kind of surprising."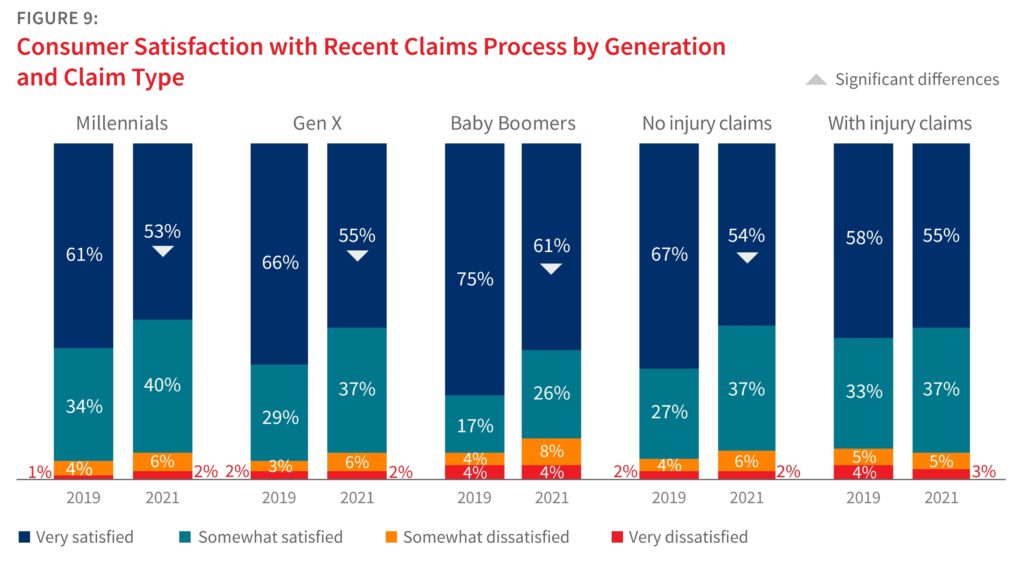 Brower attributed the decline to consumers being more familiar with digital products. The study predicted consumers have higher expectations that such tools will be easy to use.
"Many indicated dissatisfaction with some of the tools, particularly for more complex claims," LexisNexis wrote in a news release.  "To improve the customer experience with self-service claims, the study reports that timeliness, reducing the number of touchpoints, and utilizing features like data prefill are the areas of focus for carriers."
Allstate claims director Sandee Lindorfer told the webinar that customers expect what they've seen from existing all-digital industries. "They're craving and want that same experience," she said. Carriers must keep the customer at the forefront of their actions, she said.
Brower told the webinar that the "human touch" is important — but consumers don't want to talk to many people if they don't have to. The study said it found that customers "don't see any significant improvement in the number of 'touches' or people involved in their claims process over the past two years." (Emphasis LexisNexis.)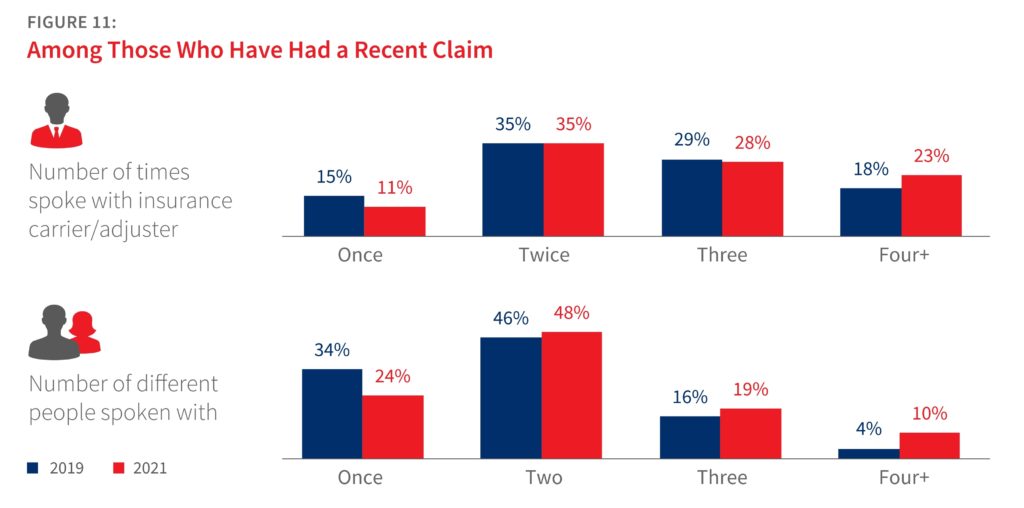 Though the proportion of extremely satisfied customers fell by double digits compared to 2019, consumers were more likely to feel various benefits existed in automated claims handling than they did two years ago, based on the survey results.
"I think I was most surprised that every metric improved," Brower said, referring to a chart of customers being asked if they agreed that various benefits existed.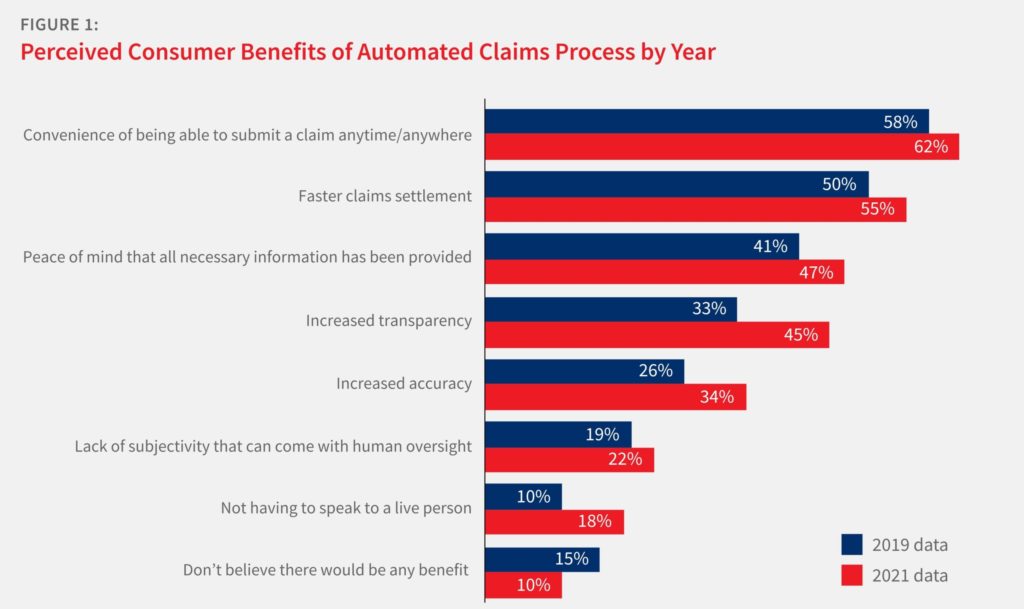 The largest gains came in the percentages of customers feeling that automated claims yielded "(i)ncreased transparency" and "(i)ncreased accuracy."
Brower highlighted his surprise at the perception of an accuracy benefit. He linked this to the notion of transparency — the customer has a record of communications on factors like the claim amount or timing. "
He also suggested that one might view information as accuracy "because it's digital."
He observed that in situations where something's texted to him or reported in an app, "I don't question that it's valid. … It feels more accurate to me as well."
We asked Brower last month if he could speak more on the perception of accuracy, for repairers complain that an initial estimate written off photos tends to be less accurate than one produced in-person.
"We did not ask customers any questions specific to their perception of accuracy with virtual claims," Brower said in a statement. "However we did ask customers who used a 'self-service claims option' for submitting photos/documents how they would rate their satisfaction with submitting photos/documents for their most recent claim? The response summary included 334 respondents (of 1,000 with a recent claim) across all age groups was 94% satisfied. Breaking this by generation all exceeded 90% and ranged from 92%-95%. (Baby boomers were the smallest group accepting self-service or only 10% of all using self-service in this category)."
Customers also overwhelmingly expressed they were comfortable with an automated claims process if they knew they could reach a live person if they needed it — and even millennials preferred to have that option.
"Comfort level increases even more substantially among those who've recently submitted a claim," LexisNexis wrote of all three demographics.
It's also interesting to note that the majority of two out of the three demographics studied (millennials, Generation X and baby boomers) would still be comfortable with the process even if they had no access to the "human touch." And even 45 percent of boomers said they too would still be very or fairly comfortable going completely touchless.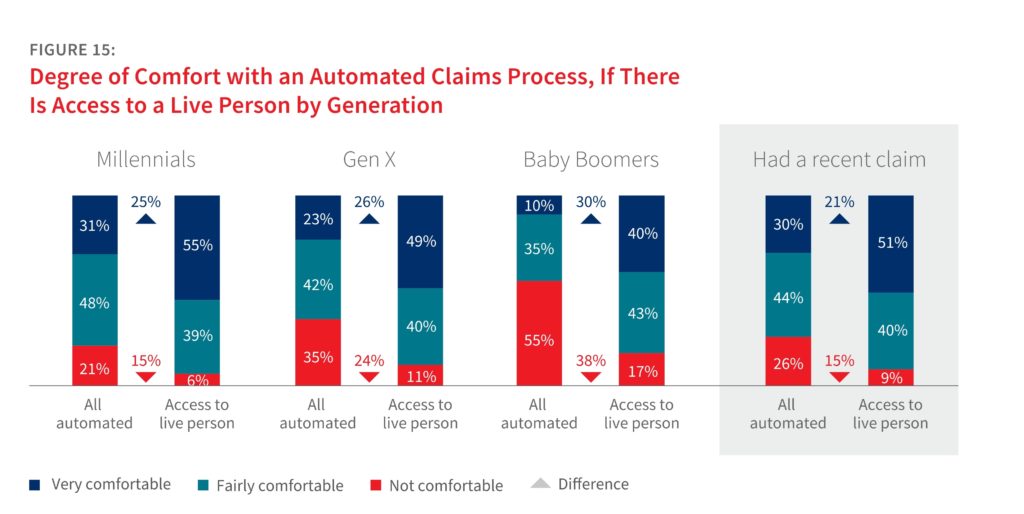 The study also found all three demographics agreeing their claims process was fast. However, "the younger generations in particular think too many questions are asked."
53 percent of millennials and 39 percent of Generation X agreed strongly or somewhat that insurers asked too many questions. For boomers, the percentage was just 13 percent.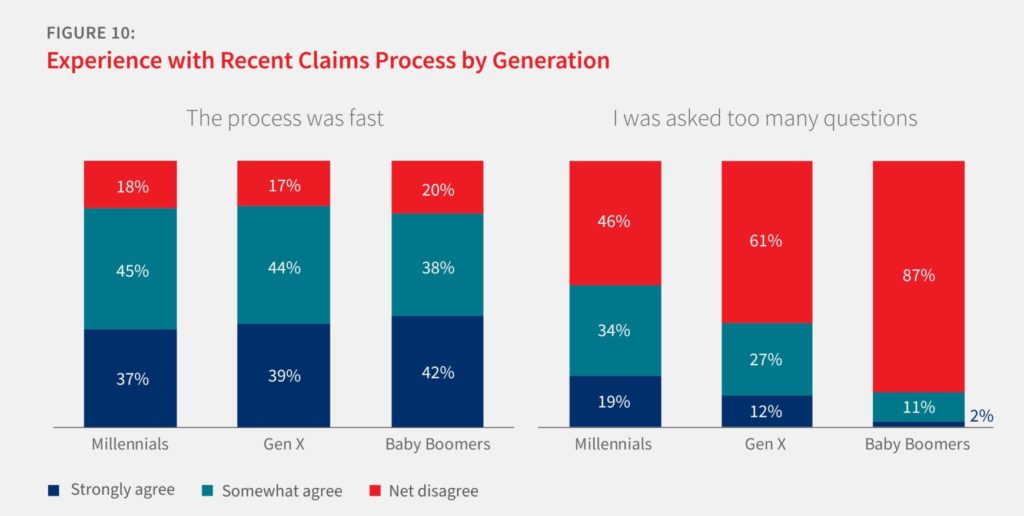 As the report observed, better data prefill might be helpful here. But on the other hand, LexisNexis also found consumers more worried about data privacy than in 2019.
"Our research shows that as consumer preference for self-service claims processing increases, so do their concerns about security," LexisNexis wrote. "More than 60% of the consumers we surveyed expressed concern around the security of their personal identifying information (PII) when submitting claims virtually. This is consistent across generations. Concerns about hacking have increased an average of five percentage points since 2019."
"I'm not suggesting anyone has a problem," Brower said. But he said LexisNexis wanted to encourage the insurance industry to think about data security.
More information:
LexisNexis 2021 "Future of Claims Report"
LexisNexis, May 2021
"LexisNexis Future of Claims Study Illustrates How COVID-19 Accelerated Claims Automation for Both Insurance Carriers and Consumers"
LexisNexis, May 2, 2021
"COVID-19's Impact on the Future of Insurance Claims Management"
A.M. Best, May 26, 2021
Images:
LexisNexis in May 2021 predicted that 80 percent of auto claims will be virtual  — handled remotely by minimal insurer staff — in 2025. Up to 50 percent would be "touchless" — potentially completely automated. (kate3155/iStock)
Consumers who had filed a claim during the COVID-19 pandemic were less likely to want more human interaction in future non-injury claims. Instead, they'd prefer to use more self-service, the 2021 LexisNexis "Future of Claims Report" found. (Provided by LexisNexis)
The LexisNexis 2021 "Future of Claims Report" released in May 2021 found customers less satisfied with the noninjury auto claims experience overall than in 2019. (Provided by LexisNexis)
The 2021 LexisNexis "Future of Claims Report" said it found that customers "don't see any significant improvement in the number of 'touches' or people involved in their claims process over the past two years." (Provided by LexisNexis)
Larger proportions of consumers studied in the 2021 LexisNexis "Future of Claims Report" felt certain benefits of automated claims existed compared to the 2019 study. (Provided by LexisNexis)
The 2021 LexisNexis "Future of Claims Report" found customers overwhelmingly expressed they were comfortable with an automated claims process if they knew they could reach a live person if they needed it. (Provided by LexisNexis)
53 percent of millennials and 39 percent of Generation X consumers surveyed in the 2021 LexisNexis "Future of Claims Report" agreed strongly or somewhat that insurers asked too many questions. For boomers, the percentage was just 13 percent. (Provided by LexisNexis)
Share This: