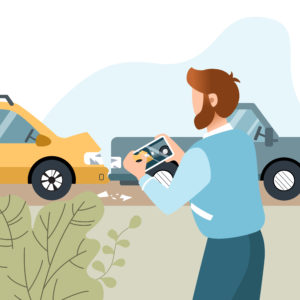 A 2021 "Future of Claims" survey of 25 leading auto insurers found six of them using or piloting "touchless claims" potentially fully managed by technology, LexisNexis reported last month.
Five of the six are from Top 10 carriers, according to LexisNexis. Two years ago, none of the executives LexisNexis polled had said they'd reached that level of deployment.
LexisNexis defines "touchless claims" as claims handled potentially without any involvement.
"Technology handles the entire claims process, including damage assessment and electronic customer communication," LexisNexis wrote in the "Future of Claims Report." "A system audit determines if the claim gets approved. If so, it is paid automatically without human intervention."
The study also found six more Top 50 insurers using "virtual claims" than two years ago. LexisNexis defines this as remote processes like human photo estimating or video chats.
Ironically, the number of executives sure they wouldn't use touchless claims rose by three from 2019, and another Top 50 executive agreed they wouldn't use virtual claims.
The slight rise in naysayers is interesting given LexisNexis also found some insurers who had gone nearly all virtual during the pandemic have scaled back this methodology.
"Prior to the shutdown, fewer than 15% of claims were handled virtually," LexisNexis wrote, citing feedback from LexisNexis Risk Solutions customers. "Based on our conversations with carriers, as soon as the first shutdown was implemented, virtual claims handling increased to nearly 100%. Almost a year later, virtual claims handling has settled to a level of a little over 60%." (Emphasis LexisNexis.)
LexisNexis found all 25 carriers were using traditional field inspections, and 23 were using "Fast Track" processes involving a third-party, such as a body shop, writing the initial estimate. Both were slight increases over 2019.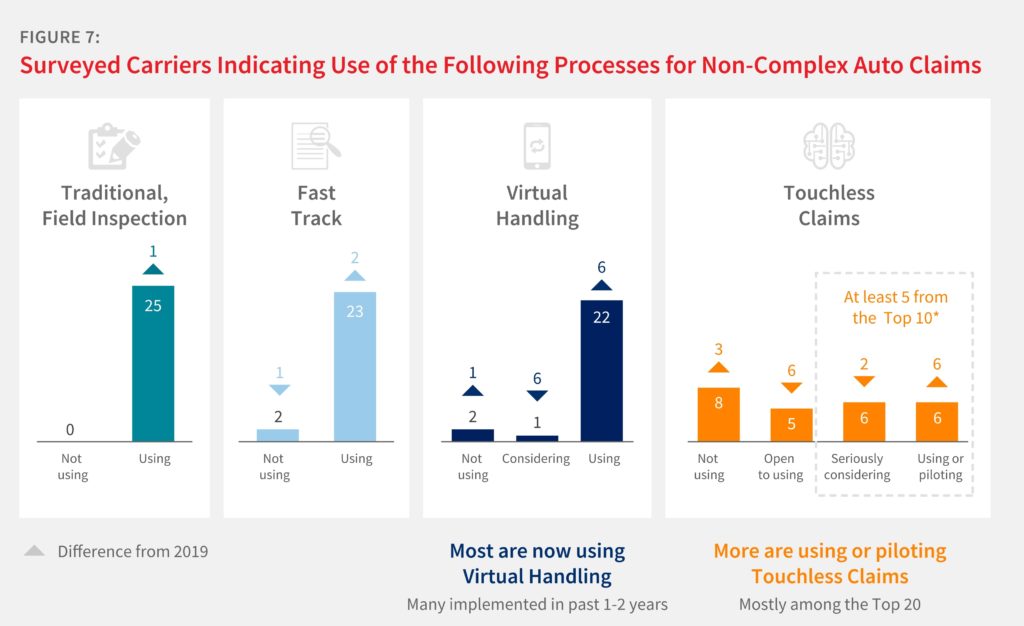 But it seems clear virtual claims and touchless claims are going to be the trends for shops to watch going forward, like it or not. The LexisNexis report reiterated author Bill Brower's predictions from this winter that 80 percent of claims will be virtual in 2025. Up to 50 percent would be touchless.
Brower told an A.M. Best webinar May 26 he didn't know if it would even take four years to reach the 80 percent virtual figure again. "I think it's coming a little quicker," said Brower, a LexisNexis vice president of U.S. auto claims strategy.
From a shop's perspective, it's also interesting to see the concepts insurers associated with automated claims in 2019 and 2021. Only two insurance executives surveyed linked autonomy to "Smarter solutions / AI" in 2019, according to LexisNexis.
In 2021, that number had soared to 13 — more than half of the carriers polled. It tied with speed as the most mentioned association related to automation.
LexisNexis broke it down further. Six insurers viewed autonomy as a way to make estimate decisions, and four saw it as a means of segmenting claims. Three were thinking of automated payouts, and two looked at the software making decisions at "Various points in claims process."
"The carrier conversation is shifting from automation driving efficiency to automation driving decisioning," LexisNexis wrote.
Perhaps surprisingly given body shops' criticisms of some insurers putting cost above proper repair, only five of the Top 50 insurers associated claims automation with saving money — the same number as in 2019. Yet this year's survey also found four more insurers linking AI with the idea of fewer touchpoints and two more viewing it as a means of reducing labor.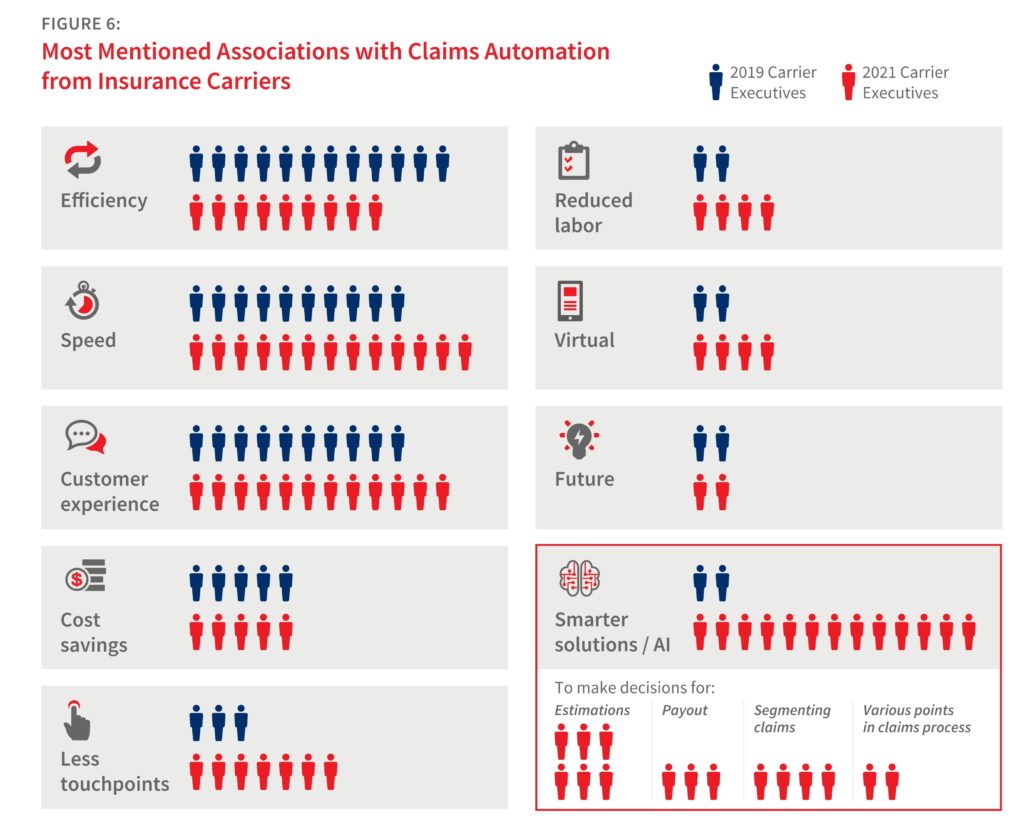 Besides Brower, the May 26 A.M. Best webinar featured two Top 5 insurers: No. 4 Allstate and No. 5 USAA. Both explored insurer deployment of virtual and touchless ones.
"I believe that future's here," USAA auto claims operations Vice President Ramon Lopez said of touchless claims. His company has since 2019 been working with Mitchell and Google on AI photo estimating, and Lopez described that project as suitable for low-complexity losses.
"It's not full-turnkey just yet," he said.
Lopez pointed out that organization was necessary for touchless claims. He noted that an insurer would still need to make a "human touch" available, and external considerations like body shops and rental cars would have to be integrated into whatever solution an insurer offered.
Allstate auto line director Sandee Lindorfer observed Allstate had already established virtual claims and had started video chatting with body shops on supplements prior to COVID-19.
"Our customers embraced the digital experience," she said.
She estimated about 18,000 body shops were using the video chat feature when COVID-19 struck. She said the pandemic boosted this number to more than 23,000 repairers using it for both initial estimates and supplements.
"It allows us to quickly service that customer," Lindorfer said. She said the video chat also proved helpful in situations where the customer still had the vehicle with them.
Lopez said USAA had already been moving to a more digital front, and he said they were able to expand virtual estimating across the USAA books during COVID-19.  He said it yielded "a brand new skill" for USAA staff and cut down on the labor required by policyholders.
Asked if they saw further claims automation beyond estimating, both Lindorfer and Lopez said yes.
Lindorfer said "the next step" would be to use AI to catch total losses.
'Early identification of total loss is underway," Lindorfer said. But the idea of automating total loss valuation was also a "big innovative idea," she said, describing this as another current effort within the insurance industry.
Photo damage detection at the first notice of loss might have a benefit besides obtaining an estimate, according to Lindorfer. She said using technology here might reduce the amount of information a customer must provide. (The LexisNexis study found a majority of millennials strongly or somewhat agreed that insurers asked too many questions during a claim.)
"I couldn't agree more," Lopez said after Lindorfer finished speaking.
Lopez also pointed out that fraud prevention would be vital to a digital experience. "We're gonna be so much more sophisticated in fraud modelling," Lopez said.
Lindorfer agreed, calling combating fraud "such a critical part" of digital claims.
Lopez said touchless claims would "absolutely be a reality," and this would be the case on many claims. He also predicted that through telematics "fairly soon," insurers would "with your permission" know if a customer had been in an accident.
"This unlocks a whole new bevvy of services," Lopez said. Data permits "very effortless experiences," he said.
Lopez also predicted sophistication would grow. He said insurers might also expand to "value-added services" such as leveraging data to predict who might be affected by a storm and help mitigate damage to the vehicle in advance.
More information:
LexisNexis 2021 "Future of Claims Report"
LexisNexis, May 2021
"LexisNexis Future of Claims Study Illustrates How COVID-19 Accelerated Claims Automation for Both Insurance Carriers and Consumers"
LexisNexis, May 2, 2021
"COVID-19's Impact on the Future of Insurance Claims Management"
A.M. Best, May 26, 2021
Images:
Virtual claims skyrocketed during the 2020 COVID-19 pandemic, according to LexisNexis Risk Solutions customer feedback. (Gulnara Ussenova/iStock)
A 2021 "Future of Claims" survey of 25 leading auto insurers found six of them using or piloting "touchless claims" potentially fully managed by technology, LexisNexis reported in May 2021. (Provided by LexisNexis)
Only two Top 50 insurance executives surveyed in 2019 linked autonomy to "Smarter solutions / AI," according to LexisNexis. In 2021, that number had soared to 13 — more than half of the carriers interviewed. (Provided by LexisNexis)
Share This: