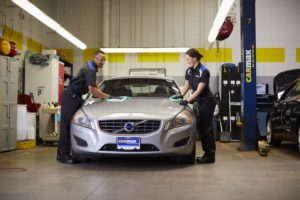 CarMax on Wednesday announced it planned to hire 1,800 automotive professionals "by the end of summer," and the job openings available include roles the collision industry might be trying to fill as well.
CarMax said it would hire for "technicians, detailers, painters, supply associates, and more."
A CarMax spokeswoman said 600 of the positions are completely new, and the remainder involved existing vacancies within the company.
"Newly hired automotive service professionals will help the company increase its production of vehicles for retail to support the company's increasing demand," CarMax wrote in a news release. "CarMax's highly trained associates will primarily work on reconditioning vehicles and preparing them for sale."
The company said it would hold its first CarMax Curbside Career Day in partnership with Indeed on June 10. Sixteen CarMax facilities nationwide will be interviewing candidates "with potential for jobs to be offered on the spot. Some positions will also offer sign-on bonuses."
The hiring events will occur in Alabama, Florida, Georgia, Illinois, Kansas, Massachusetts, Maryland, Missouri, North Carolina, Nevada, New York, Ohio, Tennessee and Texas. Shops in those states might particularly want to make sure staff are happy or risk defections.
"CarMax continues to grow and the need to produce more vehicles to keep up with anticipated consumer demand is great," CarMax regional service operations Vice President Tyrone Payton said in a statement. "We are introducing CarMax Curbside Career Day as an opportunity for automotive professionals across the country to check out our award-winning culture in-person and learn why CarMax is the best place to work."
The CarMax news release also offers perspective on what repairers might need to be competitive with employment rivals. CarMax said its benefits include paid vacation, health insurance and retirement, "free or discounted tools," reimbursement for ASE certification and "strong opportunities to grow long-term careers."
CarMax last month said it wants to sell 2 million used cars per year by the 2026 fiscal year, which would represent a compound annual growth rate of more than 10 percent from this year. It also wants to grow revenue to $33 billion, which would be a 12 percent CAGR. Achieving this volume could mean snapping up vo-tech students or existing body techs, detailers and painters to meet demand.
ASE Education Foundation Vice President George Arrants presented the Jan. 21 virtual Collision Industry Conference with Bureau of Labor Statistics data indicating that the "Automotive body and related repairers" sector had 155,500 employees in 2019 and projecting it'd need 159,900 by 2029. Repairers would also average 13,600 job openings a year which would need to be refilled.
The collision sector isn't lacking students, according to Arrants. But it was losing vo-tech programs which could feed the local collision workforce, he said. It also was doing a poor job of retaining the entry-level techs it had, he said.
More information:
"CarMax Hiring 1,800 Automotive Service Professionals Nationwide"
CarMax, June 2, 2021
Featured image: CarMax seeks to hire about 1,800 people with a particular focus on preparing used cars for resale. (Provided by CarMax)
Share This: