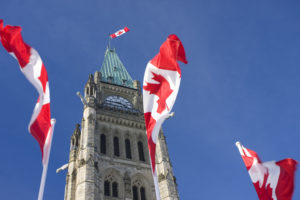 Canada on Tuesday announced it would require all new light-duty cars and trucks sold in 2035 to produce no emissions.
The government had previously made this a goal for 2040.
"Today, we take another important step on the road to net zero by accelerating our zero-emission vehicle targets to 2035," Canadian Natural Resources Minister Seamus O'Regan Jr. said in a statement Tuesday. "Achieving this target will require all Canadians, and businesses big and small, to embrace the change and go electric. That is why we will continue to invest in measures that put Canadians in the driver's seat to a net zero future."
Canada defines zero-emissions vehicles ("ZEVs") to include plug-in hybrids, which do still include a traditional gas engine for longer distances. (This might be a nod to the large rural areas in that country.) But at least in the U.S., the fully-electric range is long enough on such vehicles that a typical day's commuting can be done without burning any gas.
Obviously, Canada considers fully electric vehicles "ZEVs." It also feels the same about hydrogen fuel-cell models. (Fuel-cell cars emit just water vapor, which unlike carbon dioxide and other greenhouse gases isn't considered an environmental problem.)
The shift in the nation's powertrains could mean training, operational, equipment and regulatory considerations for Canadian repairers.
The decision also gives the North American operations arm of automakers a market nearly the size of California setting parameters on which powertrains can be sold. (If Canada were a state, it'd be No. 2 in population.)
One wonders if this would shape OEMs' plans for their U.S. operations as well and crystallize 2035 as a de facto industry target date in North America. No. 1 U.S. automaker GM has already said it'd quit selling cars with traditional combustion engines — even plug-in hybrids — by 2035.
States have begun to set target dates (California's is 2035), but no broader, official U.S. rule exists. Canada said Tuesday it'd take into consideration whatever the U.S. wound up doing on the subject.
"The Government of Canada also remains committed to aligning with the most ambitious light-duty vehicle greenhouse gas emission regulations in the United States," Transport Canada wrote in a news release. "Supporting a strong and unified North American automotive sector to transition towards zero-emission vehicles contributes to Canada's climate change goals, and positions Canadian and American workers alike to benefit economically from this global shift.
"… Following the United States announcement, the Government of Canada will complete consultations with Indigenous Peoples, other levels of government and stakeholders to confirm Canada's approach to ensure we meet 100 percent zero-emission vehicle sales target by 2035."
Vehicles are growing more electrified in the U.S. and Canada regardless.
Cox Automotive and Kelley Blue Book in April said sales of hybrids, plug-in hybrids and fully electric vehicles popped to 7.8 percent of the U.S. market, up from a 4.8 percent market share in January-March 2020. StatsCan says those categories of electrified vehicles grew to 6.2 percent in 2020, up from 4.9 percent in 2019. Granted, regular hybrids aren't considered zero-emission, but the trend still seems telling.
Canada said it would drive the nation to the 2035 goal with a mix of "investments and regulations." It said it would also "develop interim 2025 and 2030 targets, and additional mandatory measures that may be needed beyond Canada's light-duty vehicle greenhouse gas emissions regulations."
"Only bold climate policies lead to bold results," Canadian Transport Minister Omar Alghabra said in a statement. "Through measures aimed at accelerating the transition to 100 percent zero-emission vehicles sales, we will continue building a cleaner and more resilient economy, while also creating good jobs and opportunities for all Canadians. We will also continue to support the automotive sector, including through our investment of $8 billion to accelerate the industrial transition thanks to the Net Zero Accelerator."
The Canadian Parliament also on Tuesday passed the Canadian Net-Zero Emissions Accountability Act and saw it become law following royal assent. The bill establishes legal rules on the country's government to take the nation to a net-zero emissions footing by 2050.
This includes giving the nation's environmental minister deadlines between 2024-2034 to set targets for the country's 2035, 2040 and 2045 emissions.
Canada pointed out Tuesday that setting a 2035 zero-emissions vehicle sales requirement meant all older powertrains would basically end up off the road naturally by 2050. The nation said the average light-duty vehicle there has a service lifespan of about 15 years.
"Cutting our transportation emissions is one of the most readily achievable and economically beneficial paths Canada can take on the road to net-zero emissions by 2050," Environmental Minister Jonathan Wilkinson said in a statement Tuesday. "That's why we are committed to aligning Canada's zero-emission vehicles sales targets with those of the most ambitious North American jurisdictions. We will work with the United States to harmonize performance-based greenhouse gas regulations and greenhouse gas emission standards. We're investing in consumer rebates, charging stations, business tax breaks and industry transition costs to make the shift to zero-emission vehicles as seamless as possible for drivers, workers and entrepreneurs."
More information:
"Building a green economy: Government of Canada to require 100% of car and passenger truck sales be zero-emission by 2035 in Canada"
Transport Canada, June 29, 2021
"Government of Canada legislates climate accountability with first net-zero emissions law"
Environment and Climate Change Canada, June 30, 2021
Images:
Canadian flags fly near the Peace Tower of the Canadian Parliament in Ottowa. (Vladone/iStock)
Traffic in Montreal, Canada, on July 30, 2020. (Marc Bruxelle/iStock)
Share This: