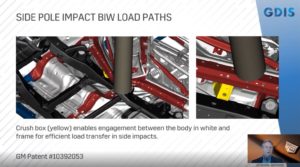 For a vehicle as large as the 5,635-pound 2021 Cadillac Escalade, "collision energy management is critical," GM lead upper structure engineer Jeff McCormick said recently.
The sheer mass of the next-generation SUV means the Escalade must absorb 75 percent more energy during a crash than a midsize sedan would, McCormick told the virtual 2021 Great Designs in Steel on May 19.
"That's our challenge going forward," said McCormick, who explained some of the OEM's strategies for protecting what potentially could be several passengers inside the new model — including a patented crush box connecting the Escalade's body and frame. Properly restoring all of these crash performance measures will be critical in a collision repair.
McCormick said Cadillac also had to manage the pitch of the vehicle, which has a center of gravity above the Escalade's frame. He said the SUV tends to pitch when it hits a barrier, and "the front-end structure's very critical in managing that pitch."
He said high-strength steel helped the automaker in this regard. "We still need to absorb energy," he said.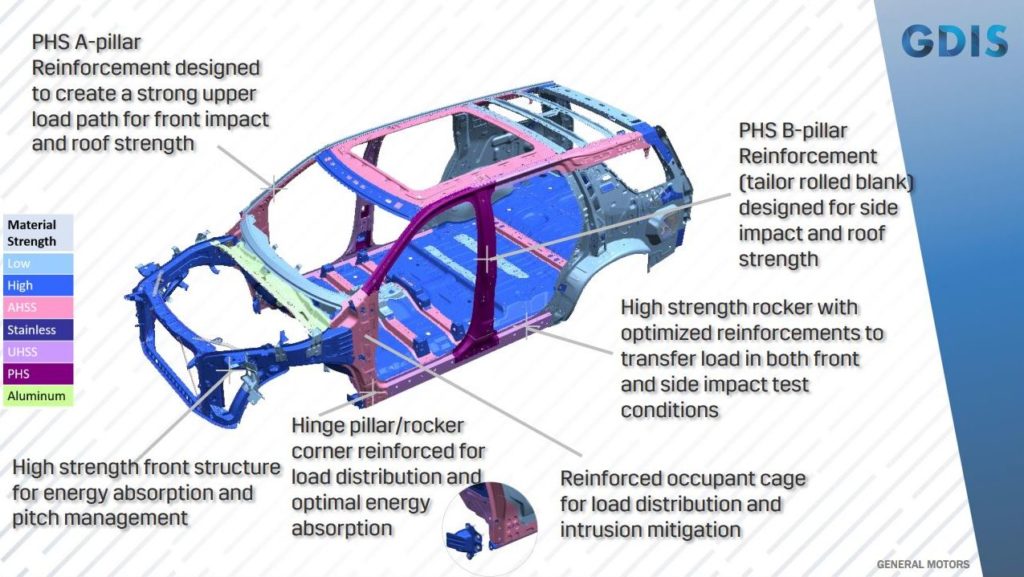 The 2021 Escalade has an "integral front end," McCormick said. He described this as similar to what repairers would have seen in vehicles within GM's truck platform (for example, the Chevrolet Silverado). "The front end is very much shared," he said.
McCormick said the Escalade has 420LA low-alloy steels in its engine compartment rails, while many other elements of the structure are 180B2 steel, he said.
An advanced high-strength steel hinge pillar stops intrusion, McCormick said. He said upper and lower pillar reinforcements "really strengthen that panel."
Cadillac bolted a bracket onto both the rocker inner and outer for even crash energy load distribution. "We didn't want to bias that load" to either individual rocker part, he explained.
"That does a nice job for us there," he said.
The bracket's angled face can deflect the wheel and help push it outside the well during crashes, he said.
The rocker outer itself is Grade 12 multiphase steel, which helps with both front and side impacts, according to McCormick.
McCormick also pointed out some other lower-body structures which helped manage front or side crashes. Diagonal members extending from the base of the hinge-pillar to longitudinal parts "actually help stabilize the rocker" during a frontal crash by distributing load to the center of the floorpan, he said.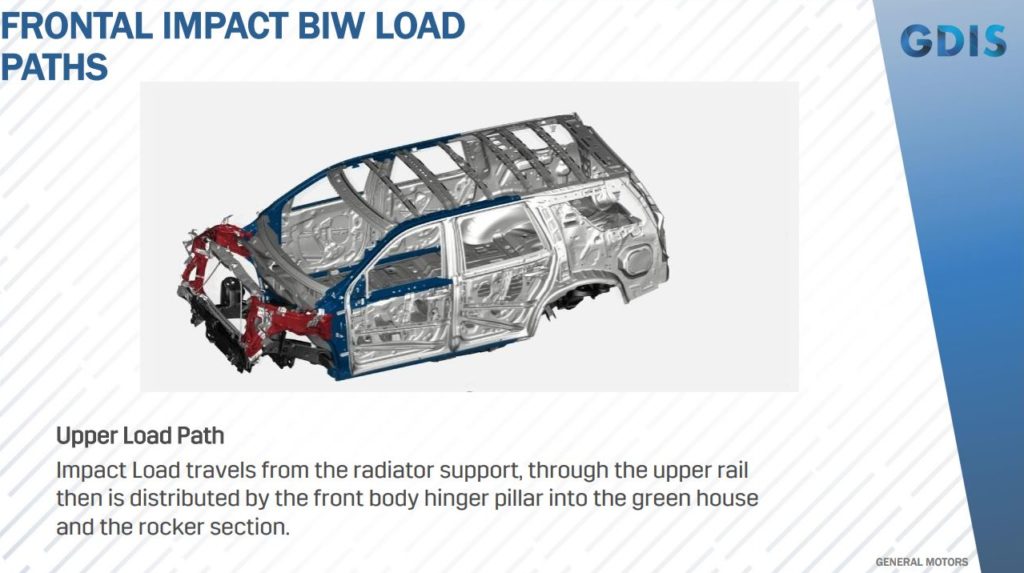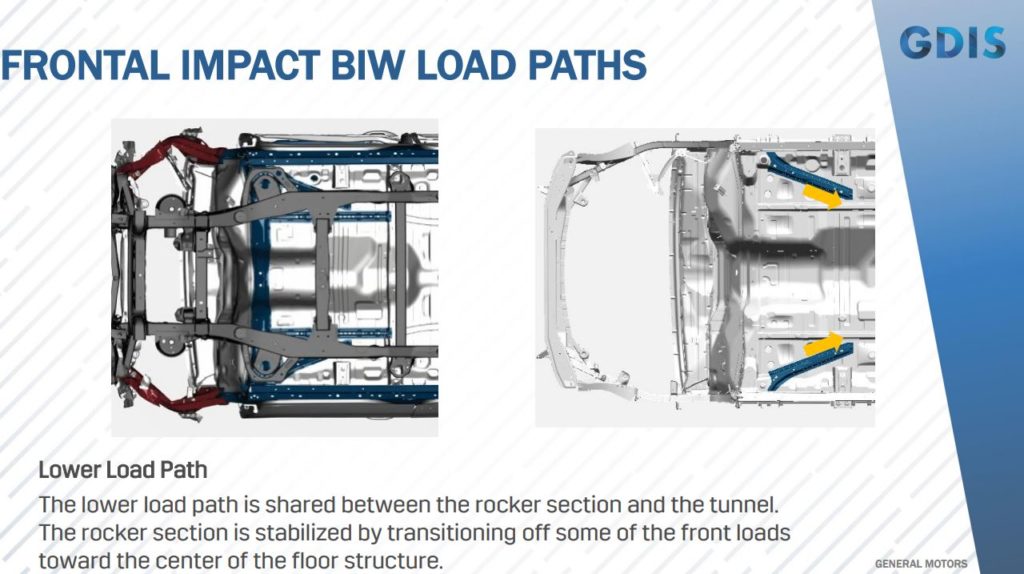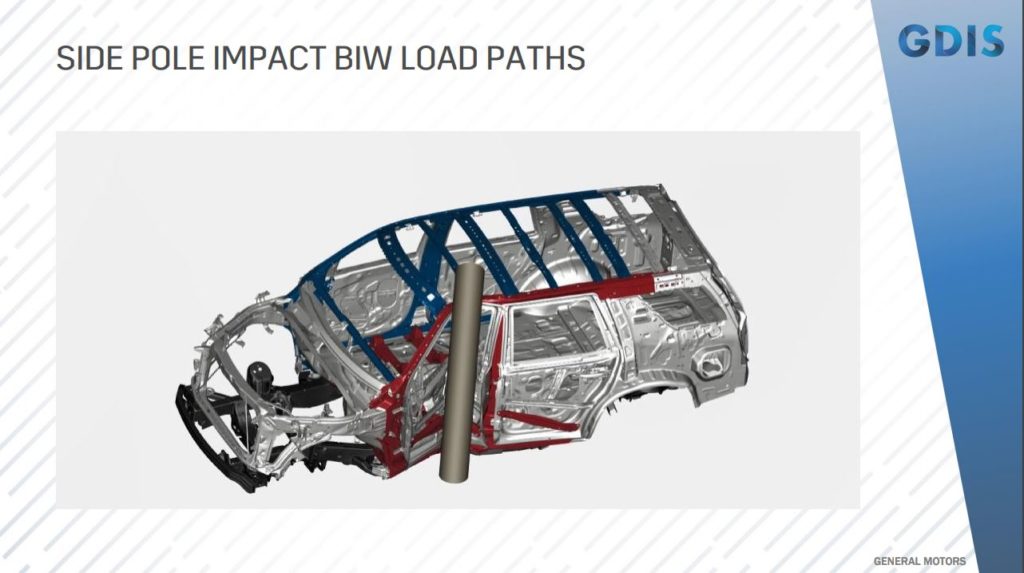 The rocker is ultra-high-strength steel and reinforced with 14 DP800 bulkheads, which places "a lot of crush resistance down low" during a side-impact pole collision, McCormick said.
He said two of the bulkheads are aligned with the GM-patented crush box connecting the body to the frame.
The crush box engages the side-impact crash load quickly and sends the energy through chassis crossmembers, and "the whole body gets moving" off the barrier, he said.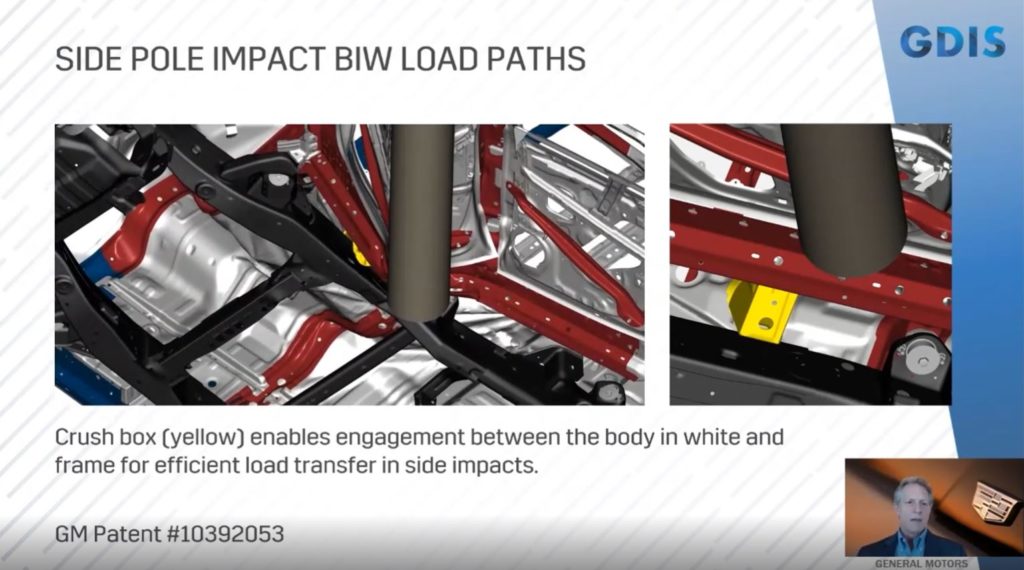 More information:
General Motors at Great Designs in Steel, May 19, 2021
"2021 CADILLAC ESCALADE STRUCTURE REVIEW"
General Motors at Great Designs in Steel, May 19, 2021
Official GM OEM repair procedures
Images:
A patented crush box, seen here in yellow, transmits side-impact pole crash energy from the 2021 Cadillac Escalade's body to its frame, according to General Motors lead upper structure engineer Jeff McCormick, seen at bottom right. (Screenshot of General Motors presentation on 2021 Great Designs in Steel)
Body materials and crash mitigation strategies in the 2021 Cadillac Escalade are shown. (General Motors slide provided by Great Designs in Steel)
Diagonal members transmit the load of a frontal impact through longitudinal members of the 2021 Cadillac Escalade. This helps stabilize the rocker, according to a GM engineer. (General Motors slide provided by 2021 Great Designs in Steel)
A representation of frontal crash mitigation in the 2021 Cadillac Escalade. (General Motors slide provided by 2021 Great Designs in Steel)
A representation of side-impact crash mitigation in the 2021 Cadillac Escalade. According to GM, the roof bows stay relatively intact. (General Motors slide provided by 2021 Great Designs in Steel)
Share This: