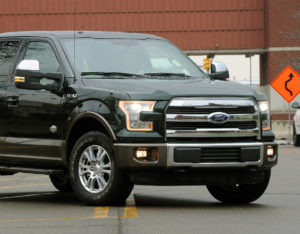 The Database Enhancement Gateway, which allows repairers and insurers to make inquiries and suggestions of the estimating providers at no cost, offers weekly tips for repairers on the Audatex, Mitchell and CCC programs online and through the Society of Collision Repair Specialists' email list.
If you haven't used the free service before to submit questions about estimating collision repair work or just browse responses to other carrier and shop questions, check it out. It's a good way to find information provider best practices and help write the most accurate estimates or appraisals possible.
Here's our latest monthly roundup of areas spotlighted as tip-worthy by the DEG. To receive the tips as soon as the DEG releases them, like/follow the DEG's Facebook and Twitter feeds. (It also posts videos to a YouTube channel once in a while.) Or just browse the more than 18,000 inquiries and responses in the database and see what else you learn.
CCC: Manual sectioning overlap adjustments
CCC's MOTOR Guide to Estimating P-pages entry for sectioning advises that sometimes, the work doesn't include an overlap consideration.
"Some sectioning operations are not subject to Overlap Operations listed in the Headnotes of varying component groups," CCC writes in a passage emphasized by the Database Enhancement Gateway with an April 12 tip. "Adjacent components factored into Overlap Operation considerations may not apply due to the sectioning approach being implemented. Overlap deductions should be determined after an on-the-spot evaluation once section approach has been determined."
The DEG had previously highlighted this point in a response to a March 15 inquiry by a user regarding sectioning a 2019 Ford F-250 cab.
"When sectioning the LOCK PILLAR ( Cab Corner) and R/R Roof panel, the system is deducting -6.0 hrs," the user wrote. The headnotes indicated this only applied when one removed and replaced a full aperture panel "and not the section of the 'LOCK PILLAR,'" the user wrote.
CCC replied that its time wasn't meant to apply to that sectioning labor.
"After review of the concern, the R&R Aperture Panel with Roof off overlap operation is appropriate," the information provider wrote.
"MOTOR can only code to the main component and not sectioning operations."
The DEG directed the user back to the CCC P-pages.
"Please reference the P Pages of included and not included operations specific to the areas being replaced / sectioned," the DEG wrote. "Manual adjustment of labor times and overlap may be required to support the correct time based on the GTE ( P Page logic) which cannot be self calculated in CCC."
The DEG's April 12 tip provided this screenshot of a note illustrating how an estimator might document the absence of an overlap deduction: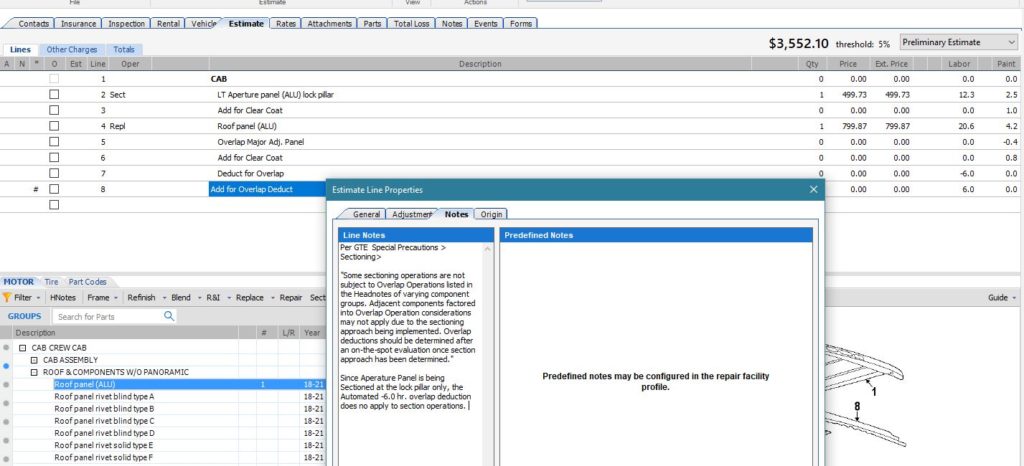 Mitchell: Pulling back versus replacing carpet
A DEG user on March 23 had asked if removing the carpet to access the floor of a 2021 Ford Explorer was an included operation.
The user said the Mitchell Collision Estimating Guide P-pages describe pulling back the carpet. "In the case that the carpet has to be completely removed, is this an included operation?" they asked.
Mitchell said no. "Pull back the carpet is simply to pull it back out of the way to facilitate the repair," it wrote. "Complete removal of the carpet is not included in floor replacement."
The DEG shared this exchange in an April 19 tip. "Always reference footnotes if a specific procedure and/ or operation is listed," it wrote. "Footnotes take precedence over the CEG logic."
Audatex seam sealer exceptions
Audatex's Database Reference Manual P-pages state that the act of replacing a door shell includes "Seam sealing (when required)."
But at least one exception exists, according to an April 26 Database Enhancement Gateway tip.
"Audatex users may find contradicting information regarding labor operations," the DEG wrote about the door shell entry.
A March 30 DEG inquiry shows an example of this situation in the wild. 
A user complained Audatex's 3.8-hour door shell replacement time for a 2019 Toyota Tacoma was insufficient for a variety of reasons, including potentially seam sealer labor.
"Total time to replace door shell with transfer and replacing new components took technician 5.8 hours plus additional labor to set up seam sealer equipment, material," the user wrote. "Since application to create water tight seal is only included, just this process takes .3. Please clarify in the labor report where the seam sealer application time is included in which process? … Seam Sealer to replicate the oem look. is that included specifically in the shell R/R time with seam sealer being included for water tight."
Audatex said that contrary to the P-pages, it didn't actually include the seam sealer on this door shell.
"We have reviewed the current OEM information for the DOOR SHELL,FRONT (GN 0207/0208)," Audatex wrote. "The DOOR SHELL,FRONT (GN 0207/0208) labor allowance is ok as it is. Audatex labor time only includes reasonable adjustment for correct fitting. Seam sealer application time is included in any piece that the OEM service requires, per the OEM service information we have not added this time for the DOOR SHELL,FRONT (GN 0207/0208) as its is not mentioned. No change warranted at this time."
Audatex users could double-check the status of other door shell seam sealer with DEG inquiries, the DEG suggested.
"This suggests that it may be necessary to confirm whether Audatex has included the seam sealer," the DEG wrote in the April 26 tip. "Inquiries related to the inclusion of seam sealer on door shell replacements, can be submitted through the DEG, at www.degweb.org."
The DEG also reminded users that other related variables aren't part of the estimating system time either.
"Material costs, additional labor to duplicate the factory appearance, and application of corrosion protection (i.e epoxy primer) prior to seam sealer work are all NOT included in the labor time," the DEG wrote.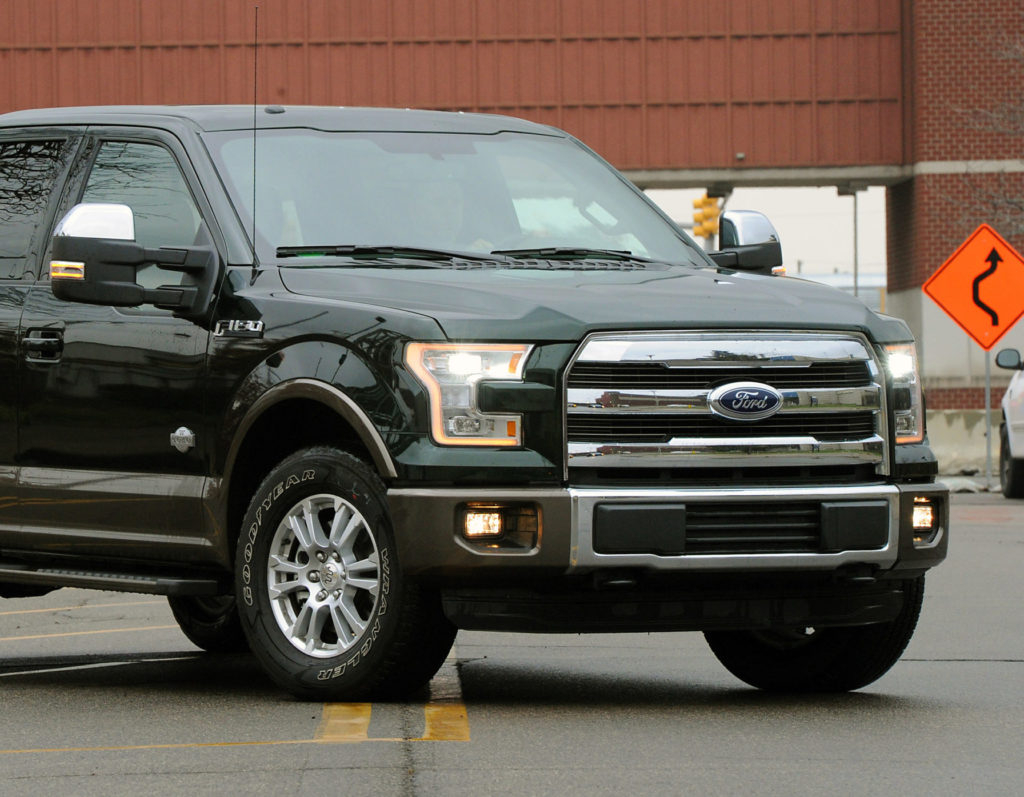 CCC defines aiming headlights
CCC spelled out what it meant by "Headlamp Aim" in a response to an April 12 inquiry, the DEG said in a May 3 tip.
"Is verifying proper function, checking tire inflation pressure, cleaning the lamps, and adding interior weight compensation included in headlamp aiming (0.3)?" a DEG user had asked about a 2015 Ford F-150.
The user proposed the labor might be more like 45 minutes and suggested CCC "Add a p-page in the next database update or add operation clarification."
CCC said the time was 0.5 hours. It also obliged the user with specifics about what "Aim Headlamps" meant:
The estimated work time for "Headlamp Aim" includes the following.
• Vehicle staging (parked on level ground)
• Adjust to specifications
The estimated work time for "Headlamp Aim" does not include the following.
• Component part replacement.
• Inspect vehicle for damage.
• Verify Oil level.
• Verify Coolant level.
• Verify Tire Pressure.
• Verify Trunk & Vehicle cargo removal.
• Load "150 LBS" in Front Seat.
• Special Equipment Set-Up. (Minor formatting edits)
The DEG tip advised that the work could be even more technical than this.
"Before finalizing a damage assessment, always reference OEM repair information for required steps to perform proper headlight aiming," the DEG wrote. "Some OEM headlight aiming procedures may be complex, requiring non-traditional tools such as an OEM Scan tool and/or specific measuring equipment."
Proper headlight restoration might be more critical than shops realize. In fact, even some OEMs might not have recognized its importance until a little while ago. The Insurance Institute for Highway Safety in recent years has found improper factory aiming to be one of the primary reasons certain models produce insufficient — and potentially unsafe — illumination.
CCC: Certain seat belt parts mechanical
CCC confirmed this spring that two seat belt parts on a 2019 Nissan Sentra deserved "M" mechanical classifications due to their relationship to SRS connections.
"MOTOR will investigate any other instance where this may not be consistent in other vehicles and update accordingly," the information provider wrote in response to an April 20 inquiry.
The DEG mentioned the inquiry in a May 10 tip and encouraged repairers and insurers to look for other instances where an "M" designation would be appropriate.
"CCC users should be aware that some SRS components with a SRS squib connector may not show a 'M' classification," the DEG wrote. "Users should submit an inquiry through the DEG … for SRS components with squib connectors that do not show a "M" classification for the component."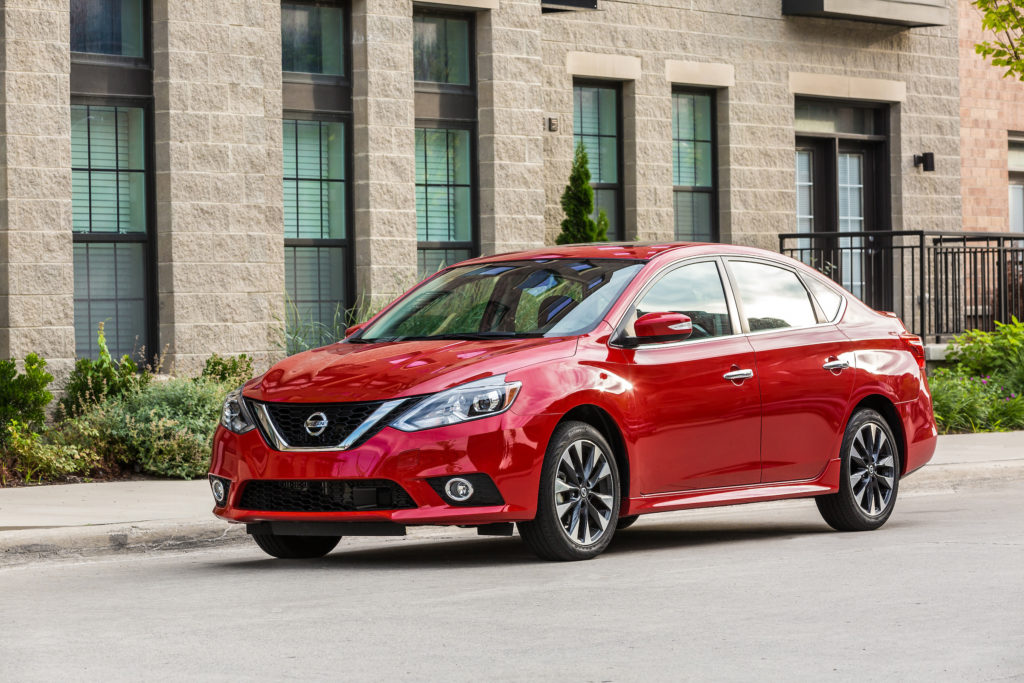 The DEG pointed out that CCC defined mechanical components as parts "that transform one form of motion or energy into another. Mechanical components would likely be serviced at a mechanical service facility rather than a body repair facility if that component failed during normal operation."
"Seal Belt Retractors and Buckles have SRS connection plug," the April 20 user wrote about parts on the 2019 Sentra. "Because it requires a technician with special tools and training (Mechanic), the system needs to designate a Mechanical symbol to these components Front Seat Airbags missing (M) desgnation as this SRS equipment requires special tool and training."
CCC said that effective June 1, "in the Restraint Systems group, Front Seat Belts subgroup" the buckle, belt and retractor would be described as mechanical parts within its software.
"Sentra's list of standard safety and security features include the Nissan Advanced Air Bag System (AABS) with dual-stage supplemental front air bags with seat belt and occupant classification sensors; front seat-mounted side impact supplemental air bags; roof-mounted curtain side impact supplemental air bags with rollover sensor for front and rear-seat outboard occupant head protection; 3-point front and rear seatbelts, front seat belts with pre-tensioners and load limiters and adjustable upper anchors; and LATCH System (Lower Anchors and Tethers for CHildren)," Nissan wrote of the 2019 Sentra.
Have a question?
Have a question about AudaExplore, Mitchell or CCC? Submit inquiries to the DEG here. Inquiries and responses are free.
More information:
Images:
A 2015 Ford F-150 stands Nov. 11, 2014, at the Ford Rouge Center. (Provided by Ford)
CCC's MOTOR Guide to Estimating P-pages entry for sectioning advises that sometimes, the work doesn't include an overlap consideration. This note depicts how a repairer might indicate the absence of 6.0 overlap on a lock pillar sectioning operation performed in conjunction with replacing a roof panel. (CCC screenshot provided by the Database Enhancement Gateway)
A 2019 Nissan Sentra SR Turbo is shown. (Provided by Nissan)
Share This: