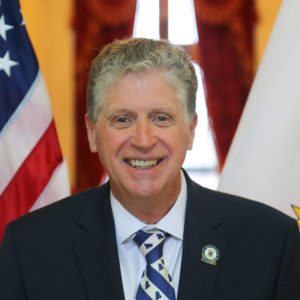 Declaring that the bill would raise costs "without adding commensurate benefits to consumers," Rhode Island Democratic Gov. Dan McKee on Friday vetoed legislation supported by the auto body repair industry.
House Bill 6324 and the virtually identical Senate Bill 870 held that insurers couldn't refuse markups and other charges relating to auto body shops' paint and material and sublet expenses. They also required insurers to alert customers when the carriers total vehicles but don't want to keep them.
The Senate passed SB 870 in a 28-9 vote on June 24. The House passed HB 6324 with a 47-18 margin on July 1 and SB 870 in concurrence, 67-0. The Senate passed HB 6324 itself on July 1, 30-7. The votes suggest enough support might exist to override McKee's veto.
"While I recognize the stated intent of this bill is to protect consumers, and there are portions of this legislation that I could support, overall the legislation will add costs without adding commensurate benefits to consumers." McKee wrote to lawmakers Friday.
"… According to the National Association of Insurance Commissioners, Rhode Island ranks 7th in the nation for highest auto insurance premiums. As we look to restart our economy after the pandemic, we cannot implement measures that may drive costs even higher for consumers and small businesses. Our focus must be reducing costs to help our economy grow.
"Now is the time to identify what is driving the rising cost of auto body repair and insurance premiums in Rhode Island, including the role insurance companies can play in lowering rates."
The veto message illustrates a paradoxical stumbling block repairers who seek to advocate for such legislation must overcome: Officials easily voice concern over the prospect of consumers paying higher premiums. But there's little discussion of the risk of consumers forced to pay higher out-of-pocket costs if insurers arbitrarily refuse appropriate charges.
However, McKee expressed concern that the terms of markup and sublet discussed in the bill were too vague. His implication here seemed to be the prospect for body shops to abuse their ability to be reimbursed for those charges.
"The legislation would add two types of costs ('markup' and 'sublet services') that insurers would be required to pay to auto body shops when repairing a vehicle covered by insurance," McKee wrote. "Neither of these terms are defined and there are no clear limitations of when those costs might be appropriate."
HB 6324 and SB 870 would have prohibited an insurer from ignoring the markup found within paint, body and refinishing materials calculation software.
"An insurer shall not discount documented charges by failing to use a system in its entirety, including an automotive industry standard markup," states a passage SB 870 would have added to Rhode Island's unfair claims practices statute, General Laws 27-9.1-4.
Another section of the bill would add completely new language related to sublets. It would be an unfair claims practice if insurers were found "Refusing to pay an auto body repair shop for documented necessary sublet services paid out to vendors or incurred by the auto body repair shop, for specialty or unique services performed in the overall repair process, including costs and labor incurred to research, coordinate, administrate or facilitate the necessary sublet service, and an automotive industry standard markup. Examples of sublet services include, but are not limited to, towing, transportation, suspension, alignments, electronic calibrations, diagnostic work, mechanical work, and paid charges to release a vehicle."
Leading national insurers do commonly reimburse sublet markup, based on responses from a couple hundred shops polled during the January 2020 "Who Pays for What?" survey by Collision Advice and CRASH Network.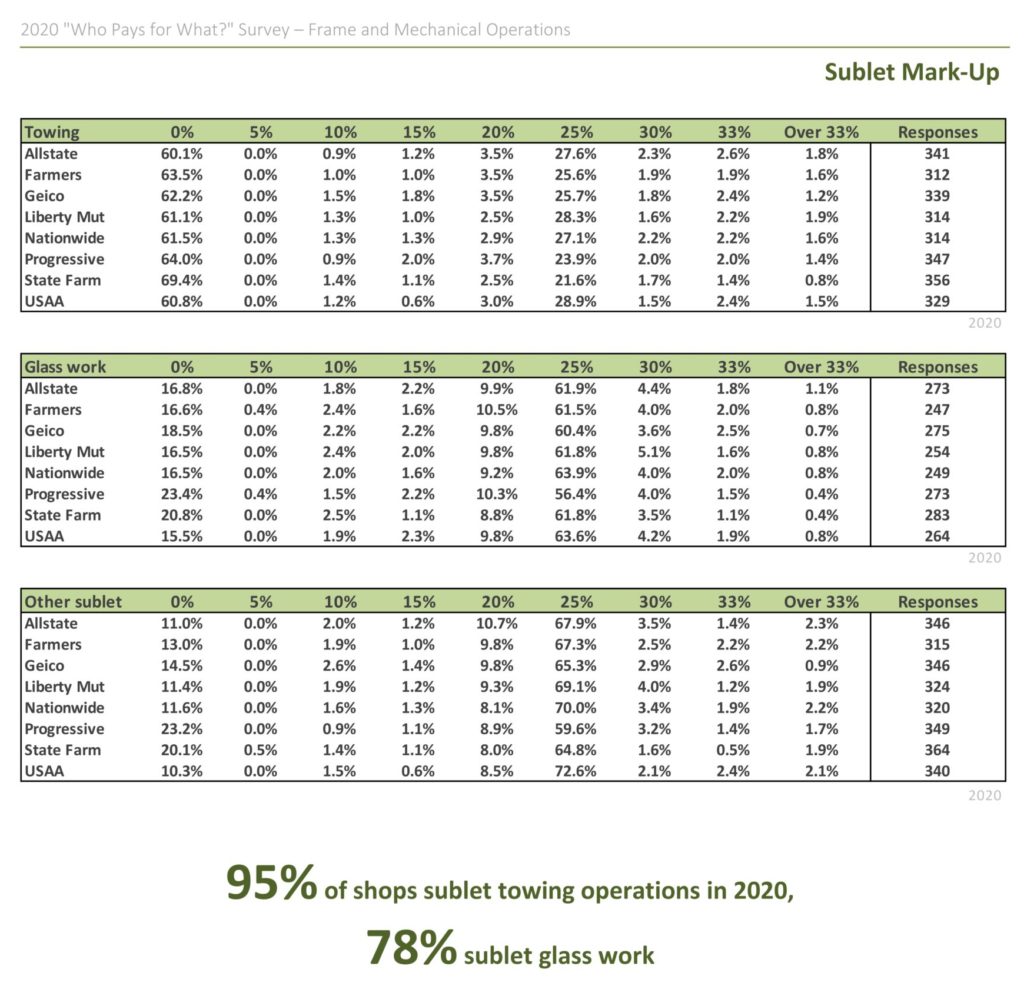 As noted above, McKee said he could support some parts of the bill.
"I am open to working with Legislators on language that would address the remaining issues in the legislation such as industry software and the salvage vehicle process," he wrote.
Rhode Island's current law 27-9.1-4 says an insurer who doesn't want to keep a totaled car "must notify the owner of the vehicle in writing of the requirements of obtaining both a salvage title and a reconstructed title." It implies the carrier isn't keeping the vehicle, but it doesn't spell out that fact.
SB 870 would add a requirement that an insurer "must obtain, in writing, the owner's consent and acknowledgement that the insurer is not retaining the salvage and include a statement of the owner's obligation and potential costs to dispose of or otherwise retain the salvage."
McKee's reference to "industry software" also refers to paint, body and refinishing materials calculators.
The unfair claims practice law already states insurers must "compensate an auto body shop for documented charges as identified through industry-recognized software programs or systems for paint, body and refinishing materials in auto body repair claims."
Under SB 870, this language would state that an insurer must "compensate an auto body shop for their documented charges as identified through the most current version of automotive industry-recognized software programs or systems for paint, body and refinishing materials in auto body repair claims, including, but not limited to, programs such as Mitchell's RMC, PMC Logic, Paint, Micromix, or a paint manufacturer's programs. An insurer shall not discount documented charges by failing to use a system in its entirety, including an automotive industry standard markup." (Emphasis added to show text added by the bill.)
It's unclear how much of this additional language McKee supported (obviously, we know he disagreed with the markup reference). But based on bill advocates' comments to a House Corporations Committee hearing May 20, the non-markup revisions could have value to repairers and consumers as well.
Randy Bottella, owner and operator of Reliable Collision, said the list was necessary because many insurers only recognize one materials system — which calculates a blended average rather than reflecting the actual items used in the repair.
Rep. Robert Craven Sr., D-North Kingstown, reported that body shops have a "general frustration" with carriers and described insurer practice of attempting to elude auto insurance law with nitpicking.
The Legislature requires insurers to cover paints authorized for the repair, according to Craven. He asked lawmakers to consider a situation where an insurer agrees, "'Yes, we will pay you for the paint,'" but refuses to reimburse tape. When challenged that the tape is part of a paint job, the insurer retorts, "'No, that's not what the General Assembly said.'"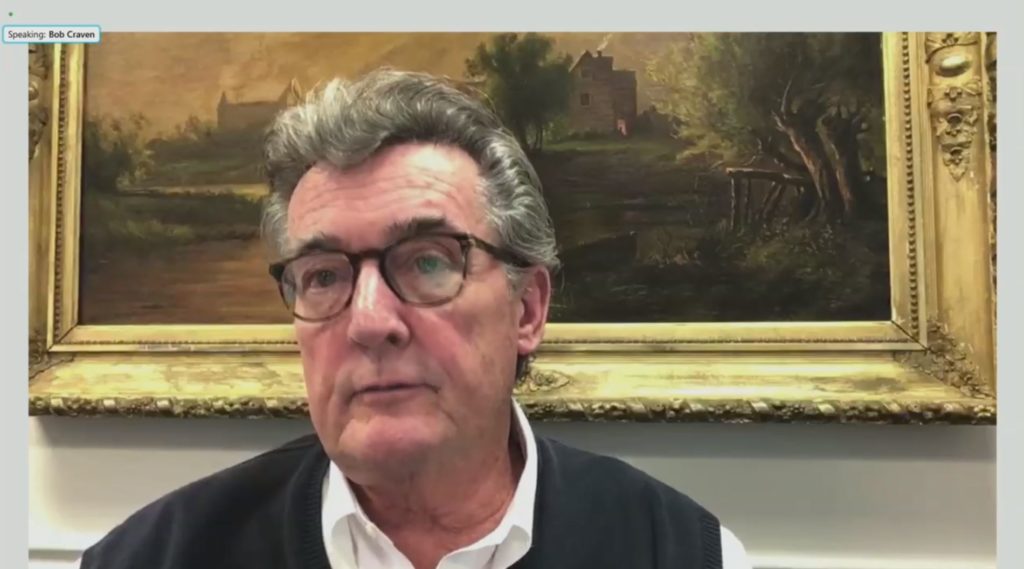 Rhode Islanders are fortunate repairers often will eat the costs, but "it's not fair" and it was "irritating to see people ripped of by this kind of nitpicky practice."
The body shop and Legislature outline what's necessary, and insurers "start cutting around the edges," Craven said. He said it was time insurers were told to stop.
This wasn't a problem with all insurers, "just some of them," Craven said.
SB 870 Senate Majority Whip Maryellen Goodwin, D-Providence, has not yet responded to an email late Monday afternoon seeking comment on the veto and its prospects for being overridden in the Legislature. Neither Craven nor bill sponsor Rep. William O'Brien, D-North Providence, have yet responded to similar emails early Monday evening. Continue to check Repairer Driven News for updates.
Be heard: Rhode Island lawmaker contact information can be found here and here.
Images:
Democratic Rhode Island Gov. Dan McKee. (Provided by Rhode Island Governor's Office)
Rhode Island state Rep. Robert Craven Sr., D-North Kingstown, spoke in favor of HB 6324 during a House Corporations Committee hearing May 20, 2021. (Screenshot from Rhode Island Legislature Capitol TV)
In 2016, only 19 percent of repairers responding to a "Who Pays for What?" question said they billed for materials with a calculator/invoice method. When the researchers asked the same question in January 2020, 27.5 percent of shops replying said they used an invoicing system rather than multiplying refinish hours by a labor rate. (Provided by Collision Advice and CRASH Network)
A summer 2020 "Who Pays for What?" study by Collision Advice and CRASH Network found numerous body shops charging 25 percent markup on sublets. (Provided by Collision Advice and CRASH Network)
Share This: