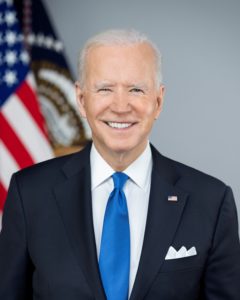 An informal poll of collision shops at a collision industry event earlier this year found that 60% of shops don't yet repair electric vehicles, but that's likely to change dramatically in the coming years based on an executive order signed August 5 by President Joe Biden.
Biden signed an executive order setting a new target to make half of all new vehicles sold in 2030 zero-emissions vehicles, including battery electric, plug-in hybrid electric, or fuel cell electric vehicles, as well as announcing that the United States would invest in the first-ever national network of electric vehicle charging stations.
The Big Three automakers issued a joint statement in support of the President's plan, underscoring their commitment to increasing production of low emission vehicles.
"Today, Ford, GM and Stellantis announce their shared aspiration to achieve sales of 40-50 percent of annual U.S. volumes of electric vehicles (battery electric, fuel cell and plug-in hybrid vehicles) by 2030 in order to move the nation closer to a zero-emissions future consistent with Paris climate goals," the automakers said.
The presidential executive order also included a schedule for development of fuel efficiency and multi-pollutant emissions standards through at least model year 2030.
The year 2030 may seem too far off for collision repairers to worry about their shop filling up with electric vehicles, but if the consumer demand is there, the U.S. could hit that mark far sooner. Some countries have already exceeded those levels. Last year, nearly three-quarters of all cars sold in Norway, and more than half of those sold in Iceland, were electric, according to Pew Research Center. In a survey by Pew Research, only seven percent of U.S. adults said they own an electric or hybrid vehicle, but 39 percent said they were very or somewhat likely to seriously consider buying an electric vehicle the next time they're in the market for a new car.
In a study conducted this spring by automotive research firm IMR Inc., 67 percent of independent automotive service shops indicated that a portion of their business includes servicing battery electric vehicles (BEVs), and 71 percent said they service hybrid electric vehicles (HEVs).


An informal poll of collision repairers during the virtual Collision Industry Conference (CIC) in January showed that about 40% of those responding were currently repairing electric vehicles, and of those nearly two-thirds were repairing them daily.
The shift toward electric vehicles may have a mixed impact on claims. Last spring, Matt Moore of the insurer-funded Highway Loss Data Institute (HLDI), told attendees at the Women's Industry Network (WIN) virtual conference, that Electric vehicles have lower frequencies but higher severity than comparable models with internal combustion engines. "For collision losses, about a 4% increase," Moore said.
As far as new equipment considerations for shops, Mark Quarto of Futuretech, an electric vehicle training organization, told CIC attendees in March that he expects the number of body shops with electric vehicle charging stations to grow significantly. He said most EVs will be compatible with any 220-volt charger that is SAE J 1772 compliant. "It's considered to be a Level 2 charger," he said, which can charge most vehicles in four or five hours, as compared to a 110-volt charger that will require two or three times that long.
Another speaker during the discussion of EVs at that CIC meeting mentioned that shops may also want a forklift to load or unload EV battery packs into or from delivery vehicles. David Willett of ProSight Specialty Insurance said forklifts come with their own special considerations.
"We haven't had those in many shops, and for those in the collision repair industry thinking about having a forklift, there's a lot of additional training and safety requirements," he said.
The timeframe for preparing your shop to repair electric vehicles will vary depending on your shop's geographic area. A small shop in rural Iowa may see considerably fewer electric vehicles than one located in an urban California market. As of 2018, the most recent year for which federal data is available, California had about 12 electric vehicle registrations per 1,000 people. Mississippi only had 0.25 per 1,000 people.
More Information:
Impact of battery electric vehicle and hybrid electric vehicle repair and service at independent repair shops
https://www.automotiveresearch.com/insights/battery-electric-vehicle-hybrid-electric-vehicle-impact-auto-repair-shops
Today's electric vehicle market: Slow growth in U.S., faster in China, Europe
https://www.pewresearch.org/fact-tank/2021/06/07/todays-electric-vehicle-market-slow-growth-in-u-s-faster-in-china-europe/
California had the highest number of plug-in electric vehicle registrations per 1,000 people
https://www.energy.gov/eere/vehicles/downloads/fotw-1173-february-15-2021-california-had-highest-number-plug-electric
Related Story
Mercedes 'ready to go all electric' by decade's end; expects 50% sales electrified in 2025
https://www.repairerdrivennews.com/2021/07/22/mercedes-ready-to-go-all-electric-by-decades-end-expects-50-sales-electrified-in-2025/
Images:
Featured image: A Nissan Leaf is featured at the grand opening of the DRIVETHEARC network of fast chargers in California. (Provided by Nissan)
Percent of all vehicles serviced are BEVs (Provided by IMR Inc.)
Percent of all vehicles serviced are HEVs (Provided by IMR Inc.)
Investments in tools, equipment and training. (Provided by IMR Inc.)
PEV registrations per 1,000 people in 2018. (U.S. Department of Energy, Vehicle Technologies Office)
Share This: