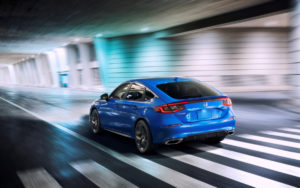 An aluminum hood, a front bulkhead assembly made from a resin composite material, and 2-piece repairable rear rails are among the changes Honda has made to the 2022 Civic, according to the automaker's June 2021 Body Repair News.
The prior model Civic had a steel hood, but "for weight reduction and improved fuel economy," the hood, like the front and rear bumper beams, are aluminum on the 2022 model. "Minor damage to the aluminum hood may be repaired by body shops that have dedicated aluminum repair facilities and tools," Honda's documentation states.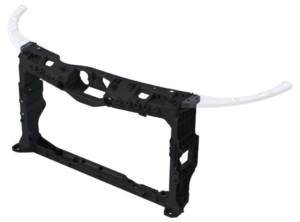 The resin composite front bulkhead design improves access to the engine compartment for assembly and service, according to the automaker, but it must be replaced if damaged. Again, this part was mild steel on the previous Civic model.
Inner and outer door stiffener rings that were a single layer of 1500 MPa steel are now two layers.
Perhaps most significant for collision repairers is a change made to the vehicle's rear rails. The 2021 Civic 4-door had one-piece 1500 MPa rails that were not repairable or sectionable. The 2022 model are 2-piece, including a replaceable or repairable rear portion made from 590 MPa steel.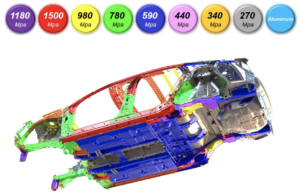 Lazer brazed roof panels will require a combination of welding, adhesive and mechanical fasteners for replacement.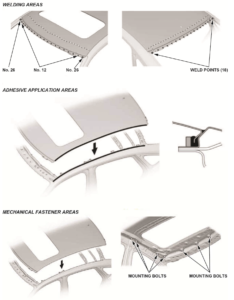 The 2022 Civic has a hem flange on the rear side outer panel (the 2021 model did not).
"During the replacement of the rear side outer panel, it will be necessary to hem the entire wheel arch using modified commercially available tools, or Honda special tools," the automaker documentation states, listing a Honda part number for the 3-piece tool set.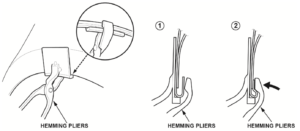 As in the past, Honda cautions that the content of the 2022 Civic bulletin is only a summary, and repairers should always refer to the complete service information and body repair manual (subscribe at techinfo.honda.com).
Honda representatives will discuss other changes to 2022 model vehicles, as well as changes to the automaker's training and shop certification program, during an August 12 Guild 21 webinar. For more details or to register, visit https://us02web.zoom.us/meeting/register/tZAuc–ppjgiEtJx726h7ked87u49gYtBDGQ.
More Information:
Honda Body Repair News June 2021
https://techinfo.honda.com/rjanisis/pubs/web/ABRN16559.PDF
Next-gen 2022 Honda Civic includes stronger, stiffer body, more airbags
https://www.repairerdrivennews.com/2021/04/30/next-gen-2022-honda-civic-includes-stronger-stiffer-body-more-airbags/
Images: Courtesy of American Honda Motor Co.
Share This: