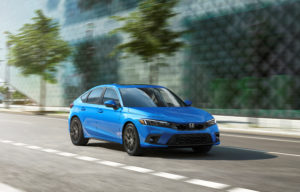 Technicians will have the option to perform either dynamic or static aiming of the behind-the-windshield camera on the 2022 Honda Civic thanks to the vehicle's new driving support system.
The change is one of the items the automaker highlighted in the June 2021 Body Repair News. Honda said the new multipurpose camera doesn't include a millimeter radar unit, and that in-shop or on-the-road calibrations are both possible depending what the shop's facility or road and weather traffic conditions allow.
The 2022 Civic is also equipped with a new style of blind spot information unit that also simplifies the aiming procedure. Prior model blind spot systems required a specific radar aiming inspection procedure. The new system is capable of self-learning while the vehicle is driven more than 18 mph.
Honda cautions, however, that it is important to reset the blind spot learning status (using Honda's i-HDS software) when one or both of the radar units are removed and reinstalled, after repairing the rear body panel where the radar unit mounts, or when certain diagnostic trouble codes are set.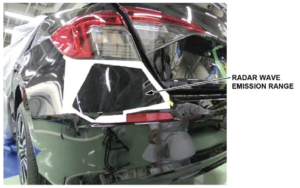 Those test driving the vehicle should be aware that until the self-learning is complete, the reset system is limited to 9.8 feet of detection.
Honda also offers specific cautions about the type and locations of repairs that can be made to the rear bumper to prevent interference with the extended range of the new blind spot information rear radar units.
"Cracks or dents within the radar wave emission range cannot be repaired and will require bumper replacement," Honda's documentation states. "Scratches inside or extending into the radar wave emission range will require that the whole area be painted and polished."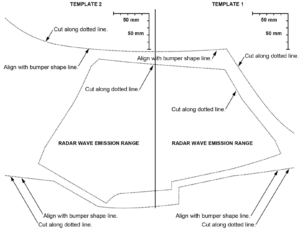 Honda provides a printable template technicians can tape onto the bumper to determine where the radar wave area is.
Honda said a security key code protocol is also being introduced for some electronic control units (ECU) on the 2022 Honda Civic to provide secure communication between control units and help prevent cyberattacks. When replacing these control units, technicians will need to access the "ECU Key Write" application within the i-HDS software. There's a "Using the ECU Key Write" job aid within the i-HDS.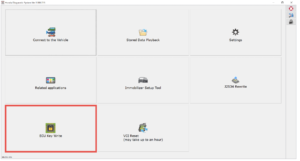 As in the past, Honda cautions that the content of the 2022 Civic bulletin is only a summary, and repairers should always refer to the complete service information and body repair manual (subscribe at techinfo.honda.com).
Honda representatives will discuss other changes to 2022 model vehicles, as well as changes to the automaker's training and shop certification program, during an August 12 Guild 21 webinar. For more details or to register, visit https://us02web.zoom.us/meeting/register/tZAuc–ppjgiEtJx726h7ked87u49gYtBDGQ.

More Information:
Honda Body Repair News June 2021
https://techinfo.honda.com/rjanisis/pubs/web/ABRN16559.PDF
Aluminum hood, 2-piece rear rails among changes to 2022 Honda Civic
https://www.repairerdrivennews.com/2021/08/11/aluminum-hood-2-piece-rear-rails-among-changes-to-2022-honda-civic/
Next-gen 2022 Honda Civic includes stronger, stiffer body, more airbags
https://www.repairerdrivennews.com/2021/04/30/next-gen-2022-honda-civic-includes-stronger-stiffer-body-more-airbags/
Honda 'looking at solutions' on recalibration space requirements
https://www.repairerdrivennews.com/2017/12/15/honda-looking-at-solutions-on-recalibration-space-requirements/
Images: Courtesy of American Honda Motor Co.
Share This: