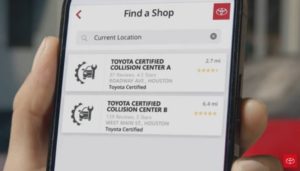 OEM-certified collision repairers anxious for the day when automakers detect a vehicle has been in an accident and automatically offer assistance to the driver – including information on certified body shops – may not see the new mobile "Collision Assistance" app from Toyota and Lexus as a significant a step toward that vision.
For one thing, "accidents are not detected with the app at this time," according to Toyota. It's purely dependent on the driver to choose to launch it either at the scene of an accident or later.
For another, the shop locator within the app will include both certified and non-certified body shops, although it will identify which shops are certified.
Toyota teamed up with CCC Intelligent Solutions to develop the app which, once launched by the driver, initially confirms he or she is safe and not injured. It then guides a driver through the process of documenting the accident details, pre-populating the report with the vehicle information. The app then gives the driver the option of transmitting that information directly to their insurance company.
An animated video about the app provided by Toyota shows the shop locator listing two Toyota certified body shops, but the automaker acknowledged that non-certified shops will be listed as well. Shops listed will be determined as "part of our partnership with CCC and their network," the automaker told Repairer-Driven News.
Marc Fredman, CCC's chief strategy officer, said the app will identify "shops within a default radius of 25 miles from the scene of the accident." That will include not only dealer-owned shops but also "all shops within that radius that are part of CCC's ecosystem of 26,000 repair shops."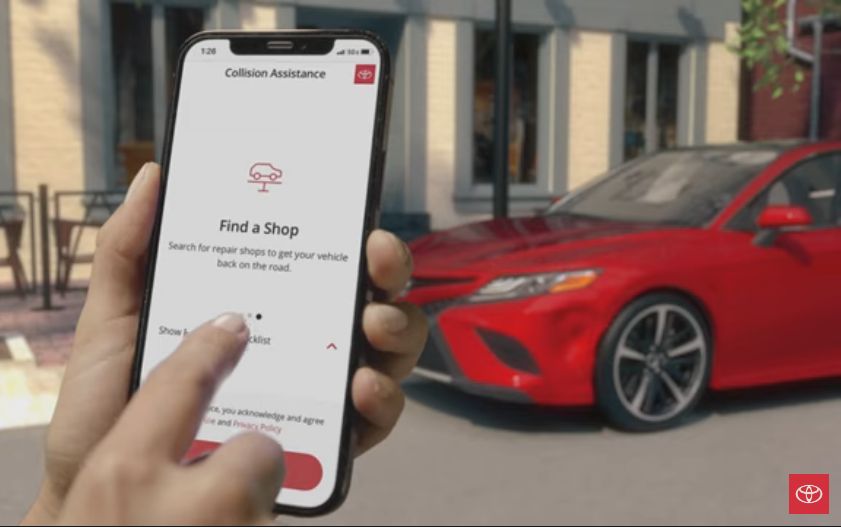 Collision Assistance is an extension of the "Safety Connect" suite of features available to Toyota and Lexus owners who subscribe or are within the trial period of select 2018 model year or newer Toyota and Lexus vehicles.
"Safety for our customers is paramount," Steve Basra, connected technologies group vice president for Toyota Motor North America, said in a press release announcing "Collision Assistance" mobile app. "The minutes following an accident can be critical — drivers are often confused and uncertain about what to do. By incorporating 'Collision Assistance' into our owner app, we can offer help when it is needed."
The Toyota and Lexus owners app downloads are available for iPhone or Android smartphones. 
More Information:
Toyota Debuts Mobile Collision Assistance Service
https://pressroom.toyota.com/toyota-debuts-mobile-collision-assistance-service/
Toyota lowers dealer ownership threshold for certified auto body shops
https://www.repairerdrivennews.com/2020/10/06/toyota-lowers-dealer-ownership-threshold-for-certified-auto-body-shops/
Images: Screenshots from Toyota "Collision Assistance" video
Share This: