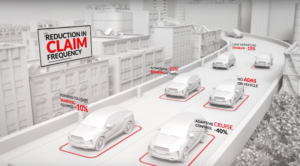 Vehicles equipped with ADAS features are less likely to be involved in collisions, but are not more expensive to repair than those without those advanced features, according to a study conducted by LexisNexis Risk Solutions.
The presence of at least one ADAS feature resulted in an 8-percent decrease in collision claims frequency, while claims severity fell by 3 percent, according to the study, titled "ADAS and Auto Insurance Claim Severity."
LexisNexis found even greater reductions in frequency of bodily injury (BI) and property damage (PD), of 27 percent and 19 percent, respectively. The study was based on a random selection of more than 11,000,000 vehicles from model years 2014-2019.
BI and PD showed increases of 2 percent and 1 percent, respectively, in severity. The analytics provider called this "minimal movement."
Contrary to "market perception," frequency reduction was not negated by an increase in severity. "Our research suggests that change in claim severity is minimal and improvement in loss cost is attributed overwhelmingly more to reduced frequency," reads the report, written by John Kanet, P.E., director, Auto Insurance, for LexisNexis.
"The conventional wisdom has been that ADAS technologies should mitigate the number of insurance claims, but the impact of ADAS on claim severity has been less clear. ADAS features include expensive and complex technical components and are often installed on exposed areas of vehicles, making them susceptible to damage from a collision," the report states.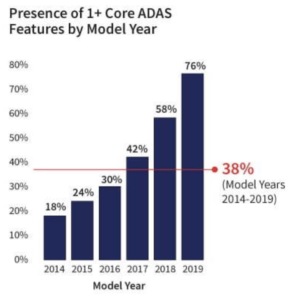 LexisNexis quantified the increasing adoption of ADAS features by OEMs. Based on its representative industry sample, the report states, 38 percent of vehicles from model years 2014 to 2019 had at least one core ADAS feature — and that number is certain to continue rising.
The report found that, as of August 2020, 40 percent of registered vehicles in the United States are from what it termed the "ADAS Era," which it said began with the widespread availability of the technology in 2014. Thanks to vehicle turnover, that number is rising by 6 percent per year, the report said.
Naturally, the newer a vehicle, the more likely it was to have at least one ADAS feature. LexisNexis found that the number stood at 76 percent for 2019 vehicles, compared to 18 percent for 2014 vehicles.
Under the $1.2 trillion federal infrastructure bill awaiting the signature of President Joe Biden, all new vehicles will be required to have automatic emergency braking and lane-keeping assist, under a timetable to be set by the secretary of transportation.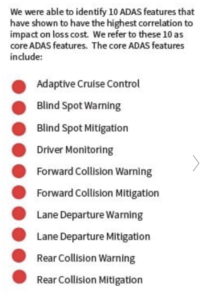 The preceding findings were from LexisNexis' "univariate"examination, in which the only variable was whether or not a vehicle had at least one ADAS feature. LexisNexis further analyzed the data, zeroing in on the effect on claim frequency based on combinations of what it calls "core ADAS features." Researchers examined some 60 unique features offered by OEMs, and categorized the 10 core features as adaptive cruise control, blind spot warning, blind spot mitigation, driver monitoring, forward collision warning, forward collision mitigation, lane departure warning, lane departure mitigation, rear collision warning and rear collision mitigation.
Pairing these features with one another had an effect on claims frequency and severity, LexisNexis found. For example, it found that the combination of forward collision mitigation, adaptive cruise control, blind spot mitigation and lane departure mitigation was responsible for an 18 percent reduction in property damage claim frequency in comparison with vehicles with none of these features.
Because some features, such as adaptive cruise control and forward collision mitigation, use similar sensors, many OEMs find it cost effective to offer ADAS features as part of a package. In fact, it found that 92 percent of vehicles with at least one feature in fact have more than one.
"It can also be a marketing policy to offer a more comprehensive set of safety features to appeal to the consumer," the report states.
LexisNexis concluded that insurers have an opportunity to provide "significant pricing segmentation" for ADAS and non-ADAS vehicles, using a service such as its Vehicle Build, which provides build data on specific vehicles. A vehicle identification number, or VIN, seldom provides detailed information about which ADAS features a particular vehicle may have.
But when carriers do apply a unique pricing advantage for ADAS-equipped vehicles, this should lead to less friction in the claims process when the loss and repair require restoring and calibrating ADAS systems. Failure to properly reestablish the safety system would negate the potential benefit the discount is being offered for.
"With newfound underwriting data available through LexisNexis Vehicle Build, guesswork involving a vehicle's ADAS features is now a thing of the past, and we look forward to continuing to bridge the automotive and insurance markets so consumers can shop for auto insurance in a new and empowering way," Adam Hudson, vice president and general manager, U.S. Connected Car, at LexisNexis Risk Solutions, said in a statement last month.
According to data from the Insurance Information Institute, in 2019, the most recent typical year, combined BI and PD losses amounted to $96.19 billion, while collision and comprehensive losses totaled $62.64 billion.
More information
LexisNexis Vehicle Build Webcast
https://solutions.risk.lexisnexis.com/320201
Images
Featured image: Using OEM data, Vehicle Build helps insurers determine exactly what ADAS features are in place on any particular vehicle. (LexisNexis via YouTube)
Graphics provided by LexisNexis.
Share This: