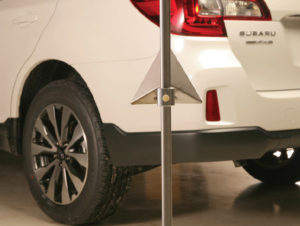 The evolution and proliferation of advanced driver assistance system (ADAS) technology on vehicles makes it critical that collision technicians follow OEM repair procedures to ensure that these safety features continue to work as they were meant to, industry representatives said during an OEM Collision Repair Technology Summit at the 2021 SEMA Show.
There has been no movement toward standardization of the types and locations of cameras and other sensors, even within a single manufacturer's products, making OEM guidance an absolute necessity, representatives of Honda, Subaru and electric vehicle startup Rivian told the audience during a 90-minute session on on ADAS and safety presented by the Society of Collision Repair Specialists (SCRS).
Moderators Abey Abraham, managing director of Automotive and Materials for research firm Ducker, and Scott Ulnick, managing principal at Ducker, delivered a market-based overview of ADAS and safety technologies, and a look at some likely effects of developments to come.
Abraham noted that OEMs have embraced a variety of technologies, including cameras, radar, lidar, sonar, infrared and high-definition mapping, from a variety of suppliers.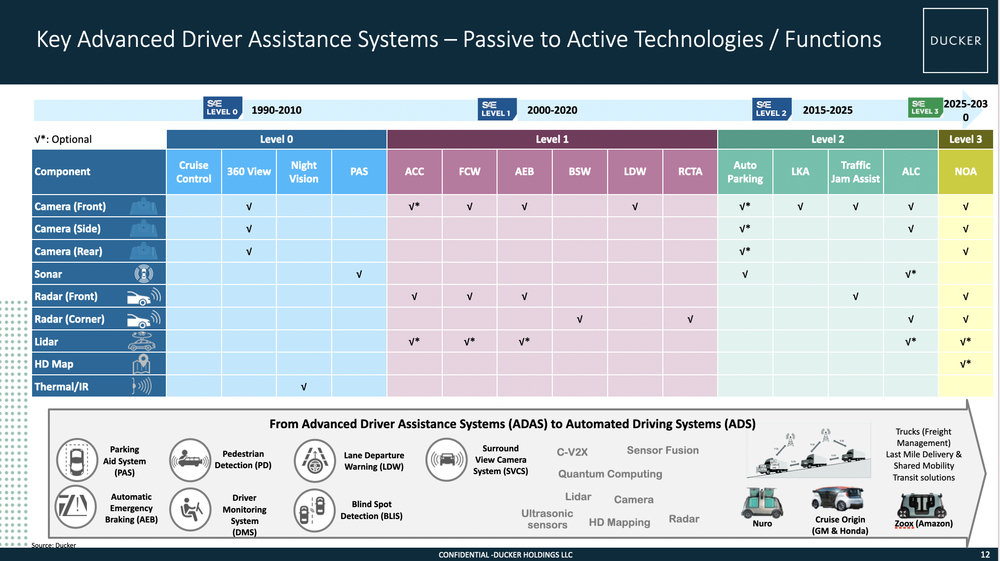 Some OEMs, most notably Tesla, have developed camera-only solutions that involve seven or eight high-definition cameras and "a lot of software and computing technology" to make them work together, Abraham said.
"At the other end of the spectrum, you have a multitude of different technologies working together, in concert" he added. "There's really no right or wrong answer here. We're not here to judge that."
Abraham noted that manufacturers are approaching Level 3 on the six levels of autonomous driving, in which a vehicle will be able to take complete control of the driving without human intervention. At Level 3, the driver will have to be monitored at all times, and will have to be prepared and able to take over control of the vehicle, if alerted to do so.
All OEMs now offer Level 1 or Level 2 systems, which offer driver assistance, such as lane departure warning, or partial automation, such as lane keeping, adaptive cruise control and automatic braking.
Level 3 and Level 4, a total self-driving capability with no need for human intervention, are technologically possible, but still lie in the future, Abraham said. "We have the hardware, we have the software, but we need some regulations to guide us into how to implement that," he said.
"As we have more vehicles that have these systems, and as you see these vehicles rolling in through your doors, you'll figure out which ones are easier to work with, and which may not be as well," Abraham said. Repairers' experience will help OEMs determine "what's the best solution for the best price that consumers need," he said.
In any case, Abraham said, the presence of ADAS technology has made vehicles more expensive to repair. Before ADAS systems became common, a typical low-speed collision — 15 miles per hour — resulted in $1,000 to $1,500 in damage, he said. Now, repairing and calibrating the added technology has driven costs to an average of $5,300.
"That's going to continue to be true, because we're going to have more systems, more technology, more sensors that need to be calibrated or replaced," Abraham said.
OEM representatives highlighted the differences between their companies' approaches.
"Even within Honda and Acura, we've got so many different systems, so many different calibrations, there is no one standard way even within our own company," said Scott Kaboos, national assistant manager of collision repair training and technology for American Honda Motor Co.
Kaboos noted that just last month, Honda announced a new suite of technologies called Honda Sensing 360 that will use five radar units deployed around the vehicle, integrated with a camera. The technology will require new requirements for tools, space and procedures when it arrives on North American roads within a couple of years, he said.
Panelists outlined the various types of ADAS technology used on their vehicles, highlighting the varied approaches OEMs are taking.
Rivan uses a mixed approach of multiple cameras and corner-mounted radar for driving assistance, as well as ultrasonic sensors for assistance in parking, said Frank Phillips, the manager of Rivian's collision repair program. It's similar to the approach taken by other premium OEMs, he said.
Subaru's driver assistance system, called EyeSight, uses a pair of cameras mounted at the top of the windshield, and rear-mounted radar for cross-traffic warning, according to Ted Hicks, regional technical training manager for Subaru of America. These two systems are not integrated, he noted.
Customers appreciate the added safety that ADAS systems provide, and seem willing to pay for the technology at the time of purchase, and to have it repaired properly after their vehicles have been in a collision, panelists agreed.
Taylor Jozwiak, Collision R&D Workshop manager for Rivian, said the automaker made ADAS standard on all of the vehicles it offers, based on research into the wants of its prospective customers. "Rivian didn't make its decision on a whim," he said.
Subaru has nearly standardized EyeSight across its vehicle lineup, Hicks said, estimating that more than 90 percent of the manufacturer's products has been so equipped since 2013. "Our customers are paying for it, and they're liking it, and they're appreciating the concern that we're showing for their safety," he said.
At Honda, ADAS systems have "trickled down" to the lower-priced offerings as the hardware has become less expensive, but are not yet universal, Kaboos said. "At the current cost point, I don't think it's cost prohibitive for anyone," he said.
While full autonomous operation is at least 20 to 30 years away, Abraham said, most cars will have Level 1 or Level 2 capability "within the next five years."
Consumer and OEM demand for ADAS technology is not rooted only in a desire to eliminate crashes, he said, but in the need for efficiency as well — both for traditional internal combustion-engine driven and electric vehicles. ADAS systems can help increase the efficiency of a trip from point A to point B, adding range to EVs without the cost of increasing battery size.
The increasing role and complexity of ADAS systems will present a challenge to the repair industry, Abraham said.
"At the end of the day, it's the repair specialists such as yourselves that have to navigate through this, and make sure that you are certified to work on these," he said.
Images
A chart shows the technology required in the evolution from advanced driver assistance systems (ADAS) to automated driving systems (ADS). (Provided by Ducker)
Honda video introduces new Honda Sensing 360 system as latest step toward achieving goal of zero traffic collision fatalities by 2050 (Provided by Honda)
Featured image: Aiming radar reflector (Provided by Subaru)
Share This: