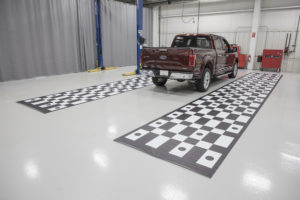 MOTOR has updated its Guide to Estimating to address included and non-included operations involved in camera and sensor aiming, and the addition of "Minor Panels/Components" to the refinishing procedure section.
Estimating system end-users will want to review these and other changes to ensure estimates and repair plans continue to adequately capture the steps necessary to produce a proper and safe repair.
As always, sections that have been changed on CCC's interactive, online MOTOR GTE are designated with a yellow star. Pages that have been changed are also marked with yellow stars, and the changed text is displayed in blue type.
Here are some of the highlights from the November 2021 update.
"Minor Panels/Components" update
A section adding a definition of minor components has been added to the section on refinishing procedures as a result of an inquiry to the Database Enhancement Gateway (DEG).
The new section states that "A panel or component with a base refinish time of less than 1.0 hour is a Minor Component. A minor panel(s) or component(s) are based on the panel or component being refinished in conjunction with a major panel. Therefore, retrieving color information, including paint chip info, mix paint, load sprayer, and clean sprayer would not be included when a minor panel would be refinished independent of a major panel."
DEG Administrator Danny Gredinberg said the new section "explains that minor component times were figured when the work has been done in conjunction with a major part of the vehicle." One example, he said, would be the refinishing of smaller brackets as part of repairs made to the front of a car. It could also be similarly small, common items, such as refinishing a mirror cover or a door handle.
He said the issue was raised in DEG inquiry No. 18282, which involved a 2019 Jeep renegade.
"Refinish of ONLY the mirror with no other panels results in a refn labor time of 0.5 base coat and 0.1 for clear coat. How does the guide account for Basecoat Color Set Up and Clear Coat Set Up Time? 0.6 is not enough time for the complete operation," the user wrote on May 6, 2021.
CCC responded within 2 days, providing greater clarification with an update to finalize the inquiry on 5/14, "Estimated refinish times for minor panels are based on the component being refinished in conjunction with a major panel(s). Therefore, retrieving color information, including paint chip info, mix paint, load sprayer, and clean sprayer would not be included when a minor panel would be refinished independent of a major panel(s). Not included operations should be considered after an on-the-spot evaluation. An update to the Guide To Estimating will be made later this year to include language indicating this."
"That one, in my opinion, was a big win for repairers," Gredinberg said.
"When you're doing these as standalone operations, there's going to be times that some of these otherwise included operations in a larger job — such as like setting up the paint and mixing the paint — are not factored into that standalone time," he said. "So, as an estimator, you can now justify potential charges for those additional steps necessary beyond just that half an hour to refinish that component."
Camera and sensor aiming added
A new section, added under the Front Bumper section, spells out included and not-included procedures involved in aiming cameras and sensors.
Included operations are:
Connecting scan tool
Measure for and setting up targets
Physical alignment of Camera/Sensor
Putting the vehicle in position – dedicated area or alignment rack
Use of scan tool for aiming procedure
Non-included operations are:
Adjusting tire pressure
Checking levelness of the ground
Creating targets
Filling the gas tank
R&I of parts for alignment
Removing/replacing customer valuables from vehicle
Repair of any mounting surfaces
Road test – dynamic aiming
Wheel alignment
"The estimating system was providing labor times for some of these components. But they didn't define how these labor times were being developed, or what's included or not included."
Thanks to feedback through the DEG and other sources, "now there's a set of rules," he said. That set of rules, however, appears to conflict with Estimated Work Time Premise Language that specifies, "Due to the variety of vehicle manufacturer approved scan tools, both OEM and aftermarket, as well as the variation from vehicle to vehicle and repair to repair, MOTOR is unable to develop a time that accounts for these different scenarios. Therefore, MOTOR recommends an on-the-spot evaluation to determine an appropriate estimated time to perform diagnostic scans for each repair."
"When it comes down to whether there's a published work time for aiming distance sensor or camera of some sort, you now have a set of rules to play by, you know what's currently included and not included in that labor time."
The industry can also be assured that initiatives like the DEG, and the involved associations are continuously working to address misperceptions and conflicts within the rules, and to advocate for better clarity.
"It is a big change. And my hat's off to them," Gredinberg said.
'Estimated work time'
The "Estimated Work Time Premise" section has been amended with the substitution of "estimated work time" for the previous "labor time."
"'Estimated work time' is the more dominant term now," Gredinberg noted. He said the change reflects the understanding that the P-Pages are "a guide, and not the Bible."
It's important to remember that the auto body professional performing the repair is in a position to thoroughly inspect, diagnose and identify the methodology and their unique cost of the vehicle damage repair.
Other changes
In the sections on door shells and tailgates, "Removal of shipping brace(s)" has been added under non-included procedures.
In the sections for quarter panels with and without convertible roofs, "Air bag components" has been added to non-included procedures.
More information
CCC Guide to Estimating P-Pages
https://help.cccis.com/webhelp/motor/gte/guide.htm
Database Enhancement Gateway
Submit a DEG inquiry
https://degweb.org/deg-database-parent/submit-a-database-inquiry
CCC stresses using, double-checking OEM procedures in P-pages update
Images
Featured image: Calibration mats are positioned along the left and right sides of the 2015 Ford F-150 to recalibrate the surround view cameras. (Provided by I-CAR)
Share This: