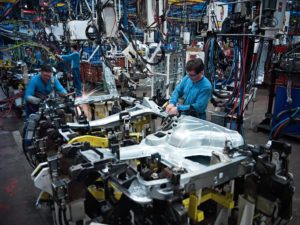 An issue likely familiar for more than a year now to repairers is long wait times on parts and materials. That's a topic the Collision Industry Conference (CIC) plans to tackle at its Jan. 20 meeting.
In what is being billed as a more interactive committee presentation, the agenda earmarks about an hour of discussion on "supply channel pressures in collision repair" led by Society of Collision Repair Specialists (SCRS) Executive Director Aaron Schulenburg. Repair businesses are encouraged to share their perspectives and offer solutions to the challenge.
The meeting will be held at the Hilton Phoenix Resort at the Peak in Phoenix, Arizona from 8 a.m. to 5 p.m. A reception will follow at 6:30. Pre-registration is required by Jan. 12. Regular registration is $125. Register here.
Three SCRS members shared their thoughts with RDN on dealing with the current supply chain shortages caused by the COVID-19 pandemic.
SCRS National Director Dave Gruskos with Reliable Automotive Equipment in New Jersey said his business is impacted in every aspect.
"You can't even get the high-end raw materials to make a product let alone to have the product," he said.
It's a global challenge to get containers to ship equipment in and/or ships for the containers to go on, and with that the price of shipping has gone up tenfold, Gruskos added.
"Something that normally would've taken say six weeks to get, is going to take a year," he said. "My business bottom line is affected greatly because you can't pass these costs off overnight to people. We're in an industry that the costs that the insurance companies are paying is already established."
Gruskos doesn't see supply issues getting better any time soon. In fact, he thinks it's only going to get worse.
SCRS National Director John Mosley with Clinton Body Shop in Mississippi said the pandemic has brought him trouble with getting parts, especially from Honda and Ford. It can take as long as a month to get parts when it previously took one to three days.
"The last six months has been the worst," Mosley said. "Possibly that's because they've (OEMs) exhausted all their inventory that they had built up when the pandemic hit."
Cargo ships in California not being able to unload containers has added to the problem, he said. The Wall Street Journal reports the backup of container ships at Los Angeles and Long Beach ports "has come to symbolize U.S. supply-chain bottlenecks." A voluntary system of waiting further out at sea from the ports was set up last month by maritime officials because of fears the ports can't safely accommodate the crush of waiting vessels as winter weather sweeps in with strong winds and rough seas, according to the report.
At least one shop – Kallemeyn Collision Center in Illinois – has experienced Honda and General Motors dealers cancelling parts orders without notification, according to Jeff Kallemeyn with the center.
SCRS member Ron Reichen with Precision Body & Paint in Oregon said he's been having trouble getting red and yellow paint toners, headlights, bumpers, seatbelts and supplemental restraint items, but noted "it's a moving target." And costs have gone up exponentially, he said.
"They (OEMs and other manufacturers) dumbed everything down when everybody stopped driving and everybody became a mole and hunkered down," Reichen said. "They were working from home. They weren't driving their cars. They weren't buying new cars. They weren't sure what their income cashflow was going to be.
"Manufacturers starting slowing down their production because demand was low and that trickled into all the subcontract vendors that support the manufacturers."
Reichen has 190 work-in-progress vehicles at one of his locations waiting on parts to be delivered.
"We'll survive," Reichen said. "We always do. That's what we do − we fix things. There's no question − these are some new challenges that we haven't had before but we're working through them."
The CIC meeting will also include:
An introduction to augmented and virtual reality by Frank Terlep and Jake Rodenroth.
"Stop Guessing and Start Researching for Safe Repair Outcomes" presentation by Danny Gredinberg will delve into the research required on today's "modern and complex vehicles."
Two Q&A and open mic sessions.
A tooling and safety procedure demonstration on EVs and I‐CAR by Dirk Fuchs and Niel Speetjens.
A panel discussion about tool and equipment updates for scanning, diagnostics, programming and advanced driver assistance system (ADAS) calibrations by Bob Augustine and Chuck Olsen.
Vehicle construction advancements relevant to ADAS by Jason Bartanan and Scott VanHulle.
"Totals…Is the Industry at a Loss?" presentation by Jim Keller and Jonathan Chase.
The Collision Repair Education Foundation will make an announcement.
"Digits and Why They Are Coveted" presentation by Dan Risley and Trent Tinsley on how the VIN is used for loss documentations, vehicle estimates, to order parts and more.
Employment law update by Cory King regarding mandatory COVID vaccinations and testing as well as lawsuits.
IMAGE
Repairers and parts suppliers have been met with longer wait times and higher costs for parts and materials due to shutdowns and other issues stemming from the COVID-19 pandemic. (Credit: gerenme/iStock)
Share This: