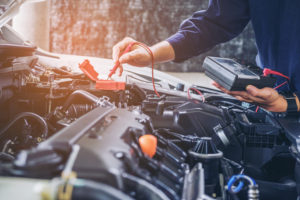 The latest edition of Ford's "On Target" newsletter highlights how to conduct circuit analysis using jumper wires and making voltage-drop measurements.
While using an F-150 as an example, Ford notes the general guidelines given aren't all-inclusive. Ford also cautions repairers against using the procedures in place of symptom-based or workshop manual diagnostics.
Find more in-depth repair information and repair procedures on Ford's service information website and at www.oem1stop.com/content/ford.
In the collision industry, Database Enhancement Gateway (DEG) Administrator Danny Gredinberg said the diagnostic methods won't always be used because every vehicle doesn't require it. They're not included in any of the published labor times and are not-included operations in all three estimating systems – CCC, Mitchell and Audatex – unless it's specifically identified in a service procedure. For example, to remove a bumper but that's rare, Gredinberg said.
Circuit analysis
"On Target" states fused jumper wires should always be used with a recommended universal-testing jumper wire fuse of 5 amperes or less as well as flex probes or the equivalent to prevent connector terminal damage. Flex probes shouldn't be used to connect power for cooling fans, blower motors or other high-current devices.
Diagnostic test directions should be followed carefully when using jumper wires to avoid component or harness damage caused by incorrect jumper connections, according to the newsletter.
A circuit should never be repaired by adding a new wire in parallel to the old one without fully understanding the cause of the circuit failure. Instead, "On Target" recommends correcting the root cause and repairing any adjacent wiring that has been damaged.
In 2021 Volume 2 of "On Target," Ford describes another way to check circuits: back-probing. Ford states the last-resort testing method should only be used when a diagnostic step requires a circuit to be tested under actual operating conditions because it's a "risky testing method due to the uncertainty of the probe connection and the possibility of damaging terminals."
When using the method, Ford says not to force the test leads or other probes into the connectors and use back probes designed to assist in making a good test connection and to prevent connector or terminal damage during back-probing. Repairers should keep in mind that they won't be able to tell the difference between a bad probe and a zero-volt result or an open circuit.
Back-probing may be used when the circuit must be analyzed with the voltage-drop method.
Voltage-drop measurements
A voltage-drop test measures the loss of power or voltage in a circuit. The test requires a voltmeter connected at the beginning and end of the suspect circuit and a circuit that is operating or attempting to operate.
The polarity of the voltmeter lead connections should follow conventional current flow. A small amount of voltage indicates normal circuit loss while voltage indications greater than 0.5 volts indicate abnormal voltage loss and abnormally high voltage drop indicates bad wires or connectors are causing high circuit resistance.
IMAGES
Featured image credit: SARINYAPINNGAM/iStock photo
Share This: