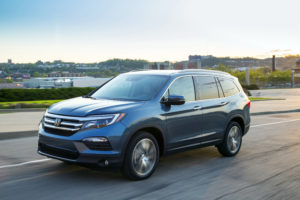 Following a Nov. 29 Honda recall of 725,000 vehicles for a hood gap issue, the Certified Automotive Parts Association (CAPA) has decertified aftermarket 2016-2021 Honda Pilot hoods made by Gordon Auto Body Parts Co. and Tong Yang Industry Co.
The Honda recall affects the 2019 Passport, 2016-2019 Pilot and 2017-2020 Ridgeline. Honda spokesman Chris Martin told RDN adjustment of the hood gap can damage the metal around the hood striker after extended high speed driving. The hood striker areas on the recalled vehicles will be reinforced and the hood inspected for related damage, according to Honda's written statement about the recall. Honda hoods will be replaced by Honda at no cost if related damage is found.
The CAPA-certified aftermarket hoods used on the Honda Pilot, model years 2016-2021, may also open while being driven, according to the CAPA/Intertek notices. Nearly 4,000 made by Gordon Auto Body Parts Co. and 1,147 by Tong Yang Industry Co. have been decertified.
Both Dec. 20, 2021 notices state, "Since CAPA certification of the parts identified above is based on demonstrated comparability to the Honda parts, this notification is being issued out of an abundance of caution." Rahal said as of Monday no issues with the hoods had been reported to CAPA or Intertek.
Intertek/CAPA spokesperson Jillian Rahal said the "public safety notices" aren't recalls because the third-party certification organizations aren't the manufacturer – they only certify parts. So how do consumers and shops find out there are aftermarket recalls and what's the repair process?
While Honda filed its recall with the National Highway Traffic Safety Administration (NHTSA) and plans to mail recall notices to owners by Jan. 17 Rahal said it's up to manufacturers to let consumers, shops and the NHTSA know when their CAPA-certified aftermarket parts have been decertified. Shops need to contact the part distributor for advisement on replacing the hoods, according to Rahal.
"If a formerly CAPA-certified part is included in a NHTSA recall, CAPA will then update the Public Safety Notice to include the NHTSA Campaign ID and any other information pertaining to that part," Rahal said.
CAPA encourages shops to use "CAPA Tracker" – a CAPA-certified parts usage database. "In the event of a problem, CAPA will inform the repairer if one of its repair orders contained that part," Rahal said.
Consumers and shops can use CAPA's online "Seal Search" with CAPA seal numbers or "Parts Search" to look up the certification status of parts. Users can also register for weekly or monthly parts updates as well as decertified part reports online at https://e1.intertek.com/capa.
IMAGES
Featured image: A 2016 Honda Pilot Elite, one of the vehicles subject to Honda's recall for a hood gap issue. (Provided by American Honda)
Share This: