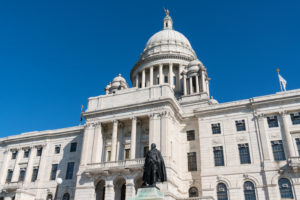 R.I. lawmakers override gov.'s veto of bill requiring payment of sublet markup
By on
Announcements | Insurance
The Rhode Island General Assembly voted Tuesday to override Gov. Dan McKee's veto of legislation requiring insurance companies to pay for markups on auto body shops' paint and material and sublet expenses.
The override was approved 43-17 in the House, and 24-6 in the Senate. Both margins easily exceeded the 60 percent majorities required to override a veto under Rhode Island law.
In brief remarks before the votes, supporters stressed that the legislation, called the Unfair Claims Practices Act (H6324 and S870), was simply a codification of practices widely accepted among collision repairers and insurance companies.
The act states that insurers cannot refuse to pay a shop for "documented necessary sublet services paid out to vendors or incurred by the auto body repair shop, for specialty or unique services performed in the overall repair process, including costs and labor incurred to research, coordinate, administrate or facilitate the necessary sublet service, and an automotive industry standard markup."
Opposition to the bill was "based on fear-mongering on behalf of a few insurance companies here in the state of Rhode Island," Sen. Maryellen Goodwin said before the vote. "This is just a ruse by some unscrupulous insurance companies not to pay legitimate claims of our constituents."
"There are over 200 small business auto repair auto repair shops here in the state of Rhode Island," Goodwin said. "I will side with them every single day over some of the deepest pockets in all of America, the insurance companies."
In his July 16 veto message, McKee said he believed that the legislation would "add costs without adding commensurate benefits to the consumers," and contended that it "would add two types of costs, markup and sublet services, that insurance would be required to pay to auto body shops."
"Neither of these terms are defined, and there are no clear limitations of when those costs might be appropriate," McKee said.
State Rep. Christopher R. Blazejewski, speaking Tuesday in favor of an override, pointed out that insurance industry representatives had testified before a House committee on May 20 that "in reality, many of the services listed in the bill are already customary and usual charges that are already being reimbursed on a regular basis by insurers. That's from the insurance lobby. That's their statement."
Although some opponents had painted the bill as special-interest legislation to benefit body shops, Blazejewski, a Democrat from Providence, argued that it was in fact consumer protection legislation, intended to make sure that customers get the coverage they expect when they pay their premiums.
"Unfortunately, a few rogue actors, a few rogue insurers have recently decided they don't want to pay customary and usual charges," he said. "So they accepted premiums under the basis that people thought they were going to get certain costs and charges paid for and now don't want to have to pay for those charges when it comes time to make those payments."
"Since these charges are already being reimbursed on a regular basis by insurers, it is false to claim that the legislation will raise insurance rates, since these potential costs were already priced into any premiums collected," Blazejewski said. "The only difference here is that the consumers might not get what they expected when they paid for their premiums in the first place."
"It will not be a change for the majority of [insurance] companies," the bill's sponsor, state Rep. William W. O'Brien, D-North Providence, said. "It will only be a change for bad actors who are making up their own costs."
House Minority Leader Blake A. Filippi, a Republican from New Shoreham, urged a no vote on the override. He said the legislation contains "tons of minutiae" and was "pushed through a little too quickly," and argued that it would result in higher insurance premiums for Rhode Island drivers.
Filippi said that the way to deal with "bad actors" who are not meeting their obligations to their customers is through civil action, not state legislation.
"We don't need to take a broad sword to deal with all insurance policies in the state because of a few bad actors, we have judicial remedies for that," he said.
"I think I'm concerned about what the auto body industry will do once we pass this bill or override the governor's veto in terms of markup and setting rates that maybe are unfair to the insurance companies and get passed down to the consumers," he added.
That drew a response from Blazejewski, who pointed out that payment of sublet charges and markups is already standard practice, and should be reflected in current premiums.
Repairer Driven news has reached out to the Auto Body Association of Rhode Island (ABARI) and the American Property Casualty Insurance Association (APCIA) for their comments on the vote.
In recent days, the prospect of an override vote stirred supporters and opponents of the bill to take their cases to the public, through commentaries in the state's largest newspaper, the Providence Journal.
Francis C. O'Brien, vice president for state government relations for APCIA, sounded a claim often made by opponents of the legislation: that the bill would benefit auto repairers, rather than auto insurance customers.
O'Brien called the bill "special-interest legislation … that will benefit a small number of auto body industry insiders by allowing them to charge an undefined, uncapped 'industry standard markup' when repairing your vehicle."
Thomas Casale of Casale's Auto Body in Johnston, R.I., a board member of the Auto Body Association of Rhode Island, argued that the act "does not add any new costs at all. Payment of industry standard markup and sublet services have always been honored by most insurance companies."
Casale said the act was necessary because "A small number of mostly out-of-state insurers take their customer's premium payments, but want to get away without paying for what is necessary to repair the vehicle." The bill codifies what is in fact industry practice, he said.
Leading national insurers do commonly reimburse sublet markup, based on responses from a couple hundred shops that responded to a nationwide "Who Pays for What?" survey by Collision Advice and CRASH Network this past summer.
The survey showed that 95% of responding shops charged an insurer a markup for towing services, 76% for glass work and 68% for wheel alignments."
More information
R.I governor vetoes auto body markup, sublet, total loss notification bill
R.I. lawmakers to vote Tuesday on overriding veto of sublet markup bill
Images
Featured image: The Rhode Island State Capitol building in Providence. (pabradyphoto/iStock)
Share This: