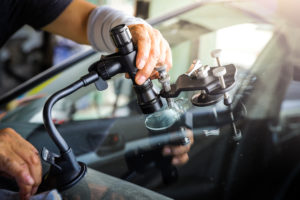 Driven Brands announced Tuesday it will now be part of the U.S. auto glass industry with its $170 million acquisition of Auto Glass Now's more than 75 locations in the Southeast and Midwest.
Driven Brands is the parent company of several in the auto industry including CARSTAR, Meineke Car Care Centers, Maaco, 1-800 Radiator & A/C, Car Wash USA Express and many others. The company ventured into the auto glass industry in 2019 and now owns more than 240 locations in Canada. Its glass companies serve insurers as well as the retail side of the auto collision industry through Maaco.
"Our size, scale and scope enables us to have some pretty solid understanding of the changing vehicle complexity," said Driven Brands Executive Vice President and Paint, Collision and Glass Group President Michael Macaluso. "Vehicles are definitely getting more sophisticated each day and changing in so many different ways as these manufacturers line, it seems like, every inch of their makes and models with different sensors and cameras to power some of the accident avoidance systems in [advanced driver assistance systems] ADAS.
"Even that glass within the car is embedded with technology and cameras. … Our technicians have to use the right equipment, right technology validating all those safety systems to ensure the repair is done properly, accurately and to the right OE standards."
For example, Ford wrote in a 2020 collision position statement regarding the use of non-OEM glass that ADAS – lane-keeping, pre-collision assist with automatic braking, evasive steering assist and auto high-beam headlamps – use images from a camera mounted to the windshield.
CNET Roadshow editor-at-large Brian Cooley in an April 2021 video brought up the statement noting that Ford requires windshield replacement when certain types of glass are removed regardless of whether the windshield was damaged.
"HUD [Head Up Display] windshields, windshield glass equipped with a camera bracket and windshield glass equipped with adhesive moldings must be replaced anytime the original glass is removed from the vehicle," the statement says.
"The original glass used on Ford Motor Company vehicles is designed and built to provide optimum fit, function, safety and structural integrity. The quality, performance and safety of aftermarket replacement windshield and side glass may not meet Ford Motor Company's exacting specifications, and can result in key safety features not functioning properly and reduced customer satisfaction in the performance of their vehicle. For these reasons, Ford Motor Company does not approve the use of aftermarket windshield or side replacement glass."
The position continued that, "during windshield and side glass replacement and performing collision repairs requiring repair to the front and/or rear window channels, it is important to utilize Ford OEM repair procedures to ensure complete proper repairs are performed," and that "failure to follow the Ford OEM repair procedures may result in improper repairs and key vehicle safety systems not functioning correctly."
Due to the complexities of glass-related repair, I-CAR announced in June its new Mopar Certified Glass Installer Program, touting it as "the industry's first OEM glass repair certification." BMW has warned that the wrong windshield could throw off ADAS by distorting a camera's view of the road and might fail to produce the HUD image at all if it's missing an "invisible reflective layer."
Macaluso said AGN is already an industry leader and that all of its locations have the ability to complete the full suite of repairs from calibration to windshield repairs and replacement. However, if necessary, Driven Brands will consider collaboration between the parent company's brands, he said.
AGN will keep its name and continue to provide its windshield and side window repair and replacement services already in place.
Driven Brands Corporate Communications Senior Director Taylor Blanchard said there are "many individual players in the auto glass market," but Driven Brands "has a range of competitive differentiators" including data analytics, purchasing power, marketing, real estate capabilities, and fleet services.
Echoing sentiments made by Driven Brands President and CEO Jonathan Fitzpatrick in a September 2021 third quarter earnings call that customer data is collected and used to "drive higher frequency," Macaluso said Driven Brands, and now AGN, have the competitive advantage.
"AGN will benefit from an extremely strong engine within our customer data and insights group," Macaluso said. He added Driven Brands is looking into how to grow AGN's business footprint.
IMAGES
Featured image: Ran Kyu Park/iStock
Share This: