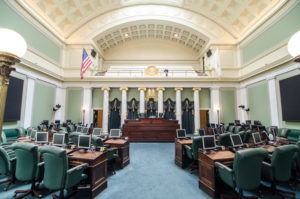 R.I. lawmakers to vote Tuesday on overriding veto of sublet markup bill
By on
Announcements
Rhode Island lawmakers are scheduled to vote tomorrow, Jan. 4, on whether to override the governor's veto of a requiring insurers to pay for markups on auto body shops' paint and material and sublet expenses.
A vote has been added to the legislative calendars of both the House and Senate for Tuesday, the first day of the General Assembly's 2022 session. Contact information for the bill's sponsors, Senate Majority Whip Maryellen Goodwin (D-Dist. 1, Providence) and Rep. William W. O'Brien (D-Dist. 54, North Providence), and all other lawmakers can be found here and here.
The House bill, H 6324, and its Senate equivalent, S 0870, would "prohibit auto insurers from refusing to pay standard insurance industry costs for auto body repairs," the calendar item states.
The bill is one of three overrides the chambers are to consider when they convene at 2 p.m.
The legislation would prohibit insurers from refusing to pay auto body shops for "documented necessary sublet services paid out to vendors or incurred by the auto body repair shop, for specialty or unique services performed in the overall repair process, including costs and labor incurred to research, coordinate, administrate or facilitate the necessary sublet service, and an automotive industry standard markup."
Examples of sublet services include, but are not limited to, towing, transportation, suspension alignments, electronic calibrations, diagnostic work, mechanical work, and paid charges to release a vehicle.
In his July 16 veto message, Gov. Dan McKee said the bill would raise costs "without adding commensurate benefits to consumers," although he noted that "there are portions of this legislation that I could support."
House Speaker K. Joseph Shekarchi told The Providence Journal newspaper in a recent interview that the bill is one of two override candidates "that have the strongest amount of support from the membership."
The act passed with broad support in both legislative chambers. The Senate passed SB 870 in a 28-9 vote on June 24. The House passed HB 6324 by a 47-18 vote on July 1 and SB 870 in concurrence, 67-0. The Senate passed HB 6324 itself on July 1, 30-7.
Under Rhode Island law, overriding the governor's veto requires a 60 percent majority vote in each chamber of the Assembly — 45 of the 75 representatives, and 23 of the 38 senators. The votes suggest enough support might exist to override McKee's veto.
As Repairer Driven News reported last week, proponents and opponents have been making their cases recently in anticipation of an expected override vote.
In a commentary published in the Providence Journal, Francis C. O'Brien, vice president for state government relations for the American Property Casualty Insurance Association (APCIA), sounded a claim often made by opponents of the legislation: that the bill would benefit auto repairers, rather than auto insurance customers.
The legislation is "the latest in a long line of special-interest bills passed by the General Assembly that have benefited the auto body industry at the expense of drivers. These bills would make Rhode Island even more of an outlier nationally in auto-body issues," O'Brien said.
Like the governor, O'Brien did not mention the costs borne by drivers who must dig into their own pockets when an insurer refuses to cover all of the costs of a safe and proper repair.
He called the bill "special-interest legislation … that will benefit a small number of auto body industry insiders by allowing them to charge an undefined, uncapped 'industry standard markup' when repairing your vehicle."
In a commentary in support of the act also published by the Providence Journal, Thomas Casale of Casale's Auto Body in Johnston, R.I., a board member of the Auto Body Association of Rhode Island, argues that the act "does not add any new costs at all. Payment of industry standard markup and sublet services have always been honored by most insurance companies."
Casale said the act was necessary because "A small number of mostly out-of-state insurers take their customer's premium payments, but want to get away without paying for what is necessary to repair the vehicle." The bill codifies what is in fact industry practice, he said.
Results from a "Who Pays for What?" survey released by Collision Advice and CRASH Network this past summer show that the majority of shops, 60% or more, report charging no mark-up on towing, while 17%-25% report charging a 25% mark-up.
"For glass work and other sublet items, 25% mark-up is common. Survey results show that 95% of shops sublet towing operations, 76% sublet glass work and 68% sublet wheel alignments," the survey results note.
More information
R.I governor vetoes auto body markup, sublet, total loss notification bill
APCIA Warns Rhode Island Drivers that January 4 General Assembly Override Vote could Lead to Higher Auto Body Repair Costs
https://www.apci.org/media/news-releases/release/69340/
Auto Body Association of R.I. urges Assembly to override governor's veto of Unfair Claims Practices Act
https://www.valleybreeze.com/opinion/letters_to_editor/auto-body-association-of-r-i-urges-assembly-to-override-governors-veto-of-unfair-claims/article_72b21cd4-6758-11ec-b6cc-1b3a8dabd234.html
Rhode Island lawmaker contact information can be found here and here.
Images
Featured image: The Senate chamber in the Rhode Island State House. (Marc Dufresne/iStock)
Share This: