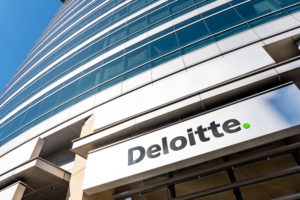 Deloitte Consulting's "2022 Global Automotive Consumer Study" on key trends in the automotive industry found that 69% of 1,031 Americans surveyed prefer internal combustion engine (ICE) vehicles over electric vehicles (EVs).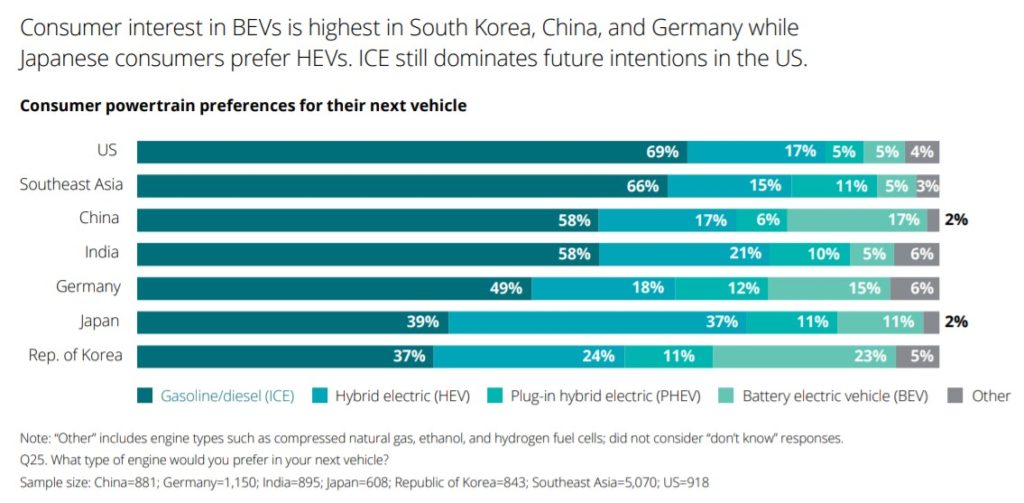 In addition to providing audit, consulting, tax and advisory services to brands as well as private and Fortune 500 companies, Deloitte began tracking automotive consumer trends 12 years ago.
Deloitte spokesperson Jenn Popovic said consumers of driving age were invited to complete a questionnaire via email for the study through Deloitte's partnership with a global consumer panel company, which provided the source of sample. "We also endeavor to ensure that the group of respondents within a given country covered in the study is representative of the general population by gender and age cohort," she said.
Age groups sampled were 18-35, 35-55 and 55 or older. The 55 or older demographic was the largest sampled in the U.S. at 42% followed by the 35-55 age group at 31%.
The takeaway that ICE vehicles aren't going anywhere soon backs up a comment made by GM Global Aftersales Mechanical Engineering Director Jennifer Goforth in November during the OEM Collision Repair Technology Summit session on EVs at the 2021 SEMA Show. She said that while the company plans to launch 30 new EVs by 2025, ICE vehicles will continue to be an essential part of the fleet for at least 20-30 years. The session and many others from the SEMA Show are available online at rde.scrs.com.
Consumer interest in EVs expressed in the Deloitte survey was based on lower fuel costs, emissions reduction and a better driving experience. However, Deloitte found that the distance EVs can go without being charged and a lack of charging infrastructure is keeping consumers anxious. U.S. consumers expect fully charged BEV driving range to be more than 500 miles.
While Lucid has cleared that mark with the Air Dream Edition R at a U.S. Environmental Protection Agency-rated range of 520 miles, other OEMs haven't quite reached that expectation. Ford's Mustang Mach-E is EPA-rated at 314 miles, which is comparable to General Motors' GMC HUMMER EV Edition 1 pickup with a GM-estimated range of 329 miles between charges. Tesla's Model S Long Range Plus vehicles have an EPA-rated range of 402 miles.
Our Next Energy, Inc. (ONE), a Michigan battery technology company, proved – at least experimentally – in a December road test that more than 500 miles on one charge can be achieved. A Tesla Model S retrofitted with a ONE Gemini 001 battery lasted 752 miles at 55 mph.
Seventy five percent of Americans surveyed by Deloitte said they would charge their EVs at home.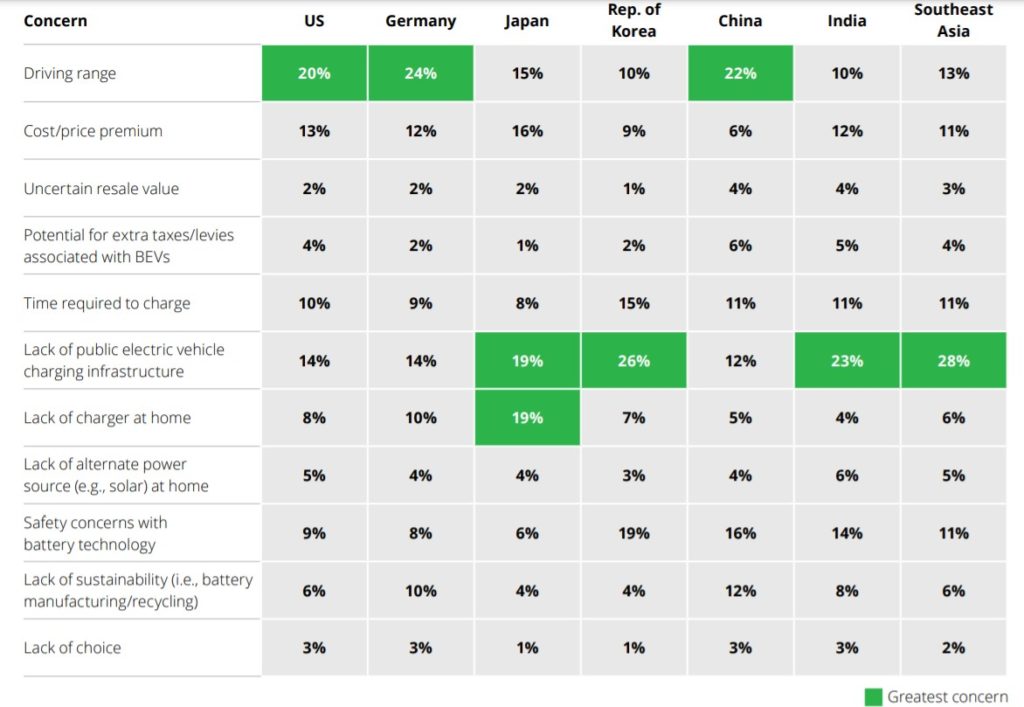 Lower fuel costs was the No. 1 reason consumers would choose EVs in the U.S. followed by emissions concerns. In the scenario given that the cost to charge would be similar to that of current fossil fuels, 31% of respondents changed their minds about purchasing an EV. Forty nine percent of Americans said they think all-battery EVs have a lower environmental impact than ICE vehicles
In most markets, respondents said they're not willing to pay around $500 more for advanced technologies, such as alternative powertrains and vehicle connectivity, because "they have been trained to expect new vehicle features as a cost of doing business for brands looking to differentiate themselves from their competitors," the study states. That's been unclear for a few years. In 2018, the global market continued to move away from ICE vehicles then in 2019 "pumped the brakes" on interest in autonomous vehicles (AVs), according to the study. By 2020, it wasn't clear if consumers were willing to pay more for advanced technologies, which remained limited based on survey responses gathered in late 2021.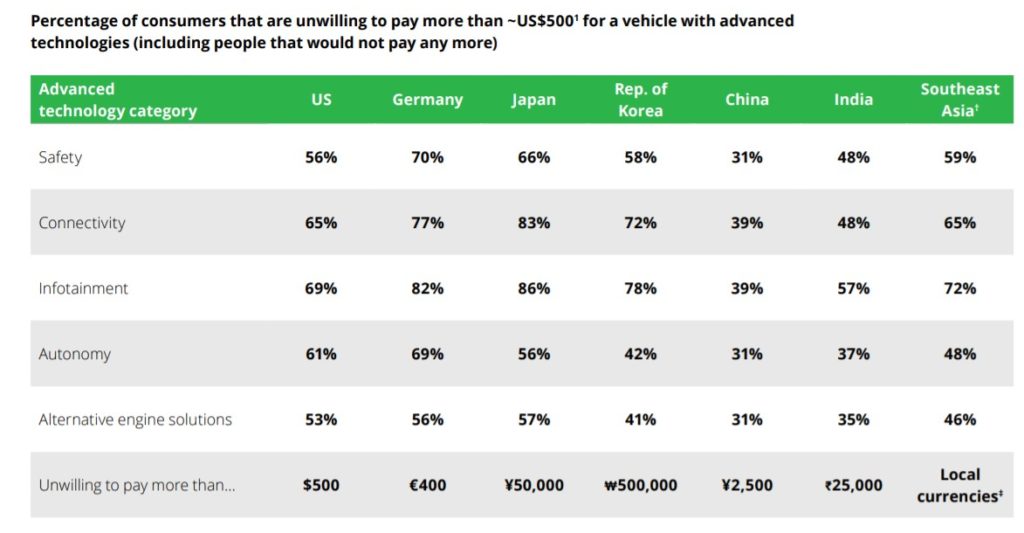 Americans were most unwilling to pay more for infotainment technology followed closely by connectivity. Respondents were willing to pay more for safety technology and alternative engine solutions.

"Current changes in the automotive industry are being driven by the pandemic, consumer behaviors, and new product and service offerings," said Deloitte U.S. Automotive Consulting Leader and Principal Jason Coffman, in a press release. "Agility around offerings that cater to consumer demands for convenience and ease of use, such as virtual purchasing and mobility applications, may prove successful for automotive leaders who are leaning into changing customer needs and demands for a better integrated driving and lifestyle experience.
"However, as we've seen with the global supply chain, challenging existing paradigms in the automotive sector is often complicated and costly and convincing the customer to pay for further mobility services in a free app world is a difficult proposition."
The rest of the study focuses on consumer in-person or online purchasing and EV subscription service preferences.
IMAGES
Featured image: Deloitte logo above the entrance to the company's offices in California (Credit: Sundry Photography/iStock)
Consumer powertrain preferences graph (Provided by Deloitte)
Consumers' greatest concerns regarding EVs chart (Provided by Deloitte)
Percentage of consumers unwilling to pay more for advanced technologies chart (Provided by Deloitte)
Share This: