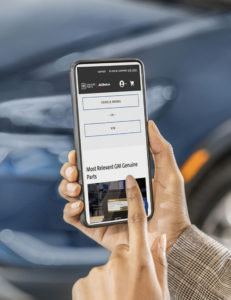 General Motors is launching a new online parts marketplace, making its catalog of 45,000 mechanical and collision repair parts more easily available to buyers, body shops included.
GM said the service will allow customers to choose home delivery or pick up their order at one of more than 800 participating dealers, where staff is available to answer questions.
It said that its online parts store "combines the most convenient aspects of online shopping and physical retail into one experience."
"Buying through GM's online store also provides customers with confidence that they are purchasing original equipment ACDelco and GM Genuine Parts that are compatible with their vehicles," the OEM said.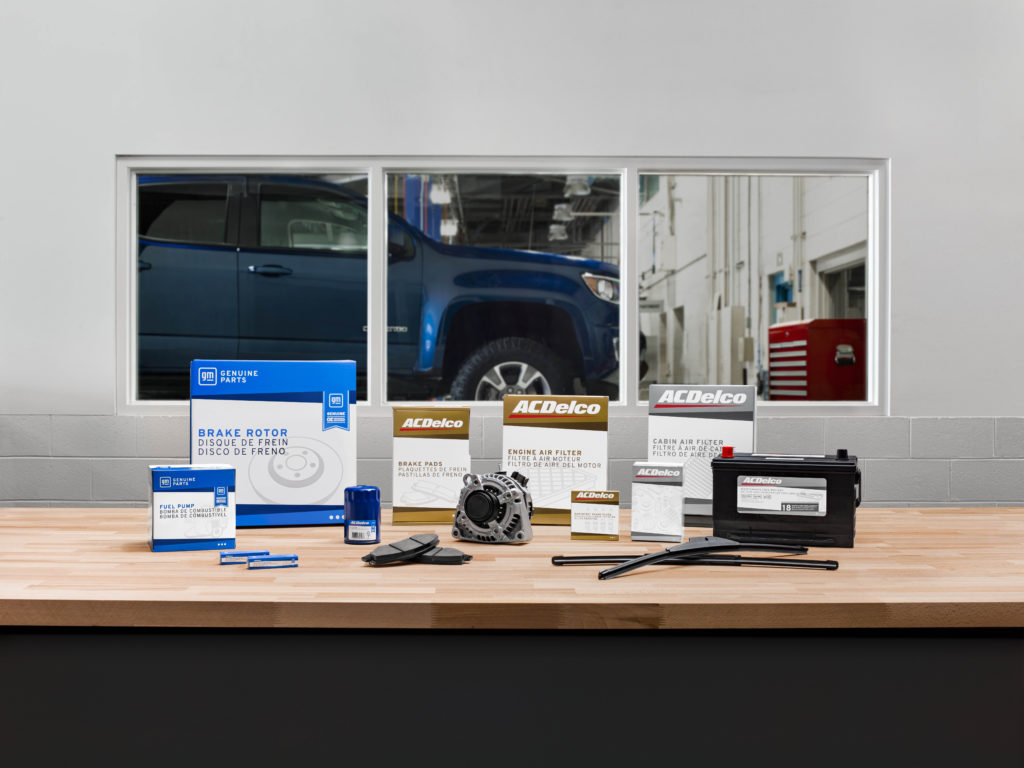 Julia Strong, senior manager of eCommerce Operations for GM, told Repairer Driven News that the current online catalog includes mechanical repair parts and some collision parts for Chevrolet, Buick, GMC and Cadillac vehicles. "We started with a smaller number of mostly maintenance and repair items and are currently working to expand our SKUs to include more collision parts," she said.
Strong said that the platform will give repairers one more option for purchasing parts. "Collision repair shops are welcome to use this eCommerce platform, but they can continue purchasing through their current process if they prefer," she said.
While GM is providing the digital platform, sales will be handled by participating dealers.
"Pricing is set by participating GM dealers and may differ from one dealer to another," Strong said. "Customers have the ability to view available parts based on region and will identify participating dealers in their geographic area."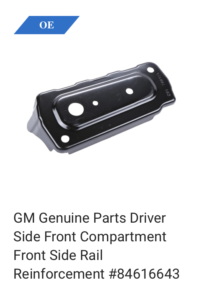 For certain parts, the platform allows shoppers to choose among "Silver," "Gold" and "OE" options, presumably at different price points and levels of quality. Strong told RDN that collision repair parts will be sold only as OE parts, but that some mechanical parts will be offered in the other categories.
Not all parts listed on the eCommerce platform can be ordered online. Some are labeled as unavailable to order, and direct the buyer to a dealer for availability.
Strong explained that there may be a number of reasons for that. "For example, parts considered to be hazardous material or parts warehoused in geographically distant facilities may not be available for online purchase by certain customers," she said.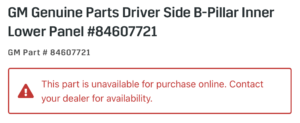 "Currently, eCommerce orders are fulfilled either from the dealer's inventory or using stock from specific GM facilities," she added. "In the future, we will open up more of our facilities, which will allow us to sell more of our parts online."
Asked if the online store might result in customers ordering and bringing their own parts to repair shops, Strong replied, "GM is providing an eCommerce platform for customers to order and purchase parts from GM dealers. The customer ultimately decides who actually installs the parts, which is similar to how the process worked when a customer purchases from another online source."
"Making our parts available online marks another step in transforming the ACDelco and GM Genuine Parts brands," GM Customer Care and Aftersales Global Vice President John Roth said in a statement. "Our premium parts are engineered with exceptional quality to provide assurance to our customers. The launch of this trusted online sales channel extends that peace of mind to the parts-buying experience."
The corporation said it forecasts that online sales of parts and accessories will make up a $40 billion market by 2030, and that it expects "significant revenue growth" through e-commerce.
GM launched online accessory sales in 2015 and sells all of its 5,000 accessory products online.
Among the products GM plans to offer through the store are upgrades to vehicle systems, such as added capabilities for its Super Cruise advance driver assistance system (ADAS).
At some point, the automaker said it expects to allow customers to shop for, buy and finance electric vehicles, in partnership with its dealers.
"We are placing software and digital services at the center of every part of our business," GM Chief Digital Officer Edward Kummer said in a statement. "The future of GM retail lies at the intersection of digital and physical e-commerce. Whether it's selling parts or vehicles, GM will meet our customers where it's most convenient for them."
More information
"General Motors Expands Digital Commerce with Launch of Online Parts Sales"
https://media.gm.com/media/us/en/gm/news.detail.html/content/Pages/news/us/en/2022/jan/0118-digital.html
Images
Featured image: GM's new online parts marketplace makes its catalog of 45,000 repair and maintenance parts more accessible. (Provided by GM)
A parts listing for a 2021 Chevrolet Silverado pickup truck from the GM eCommerce site. (Provided by GM)

The new online parts marketplace makes GM's catalog of repair and maintenance parts more convenient for Chevrolet, GMC, Buick and Cadillac owners. (Provided by GM)
A notification from a collision repair part listing for a 2021 Cadillac Escalade. (Provided by GM)
Share This: